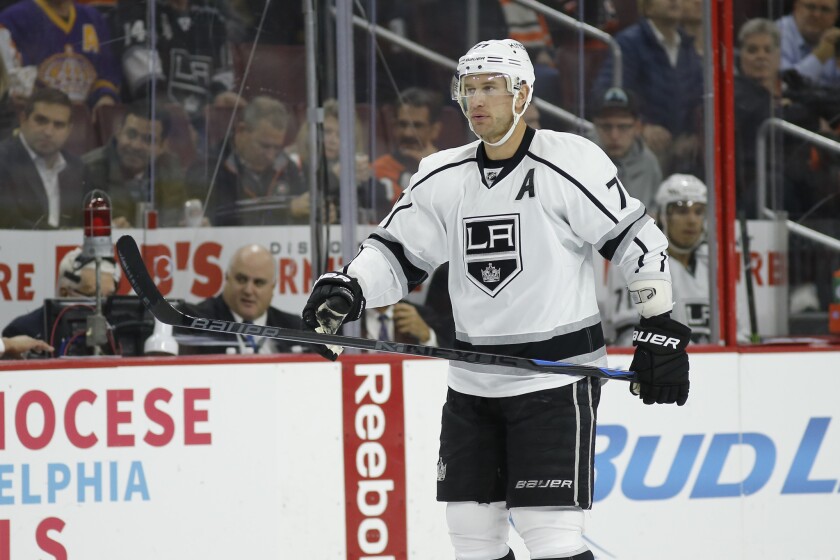 Vancouver —
You could call it an encouraging development for the Kings.
Center Jeff Carter was on hand Monday morning at Rogers Arena here in Vancouver, taking part in an off-ice workout.
The status report? Day-to-day, according to Kings Coach Darryl Sutter.
That's about as definitive as it would get about the Kings' leading scorer, who left Saturday's game in Arizona after two shifts with an upper-body injury. Following that, Carter was evaluated in Los Angeles. He said, cryptically, on Monday: "You guys don't really know what the full story was. … I was going home either way."
Join the conversation on Facebook >>
What that exactly meant was unclear. Considering that Carter has not skated since Saturday and Kings rookie forward Jordan Weal, a local, was set to play in front of family and friends for the first time as an NHLer here, signs pointed to Carter being out for at least one more game.
Of course, Carter did play a game last season, against Calgary, with a bad case of flu.
He confirmed that the injury occurred off Saturday's opening faceoff against the Coyotes.
"We just got tangled up on the draw," he said. "It was just kind of a freak thing. There was really nothing that could have prevented it. It just happened."
The second shift was enough for him to know that his night was over early. "I had to try it and see how it feels. I just didn't have it," Carter said.
He was impressed by the resilience of his teammates, saying: "Kopi [Anze Kopitar] played a lot of minutes. A lot of guys stepped up and did a great job."
Get the latest in sports with our free newsletter >>
Meanwhile, Sutter continued to be irked by the match penalty call on defenseman Jake Muzzin in the third period of Saturday's game. The Kings eventually won, 4-3, in overtime.
"We got screwed," Sutter said. "For lack of a better word. … It's a bad call. It's exactly what I said. They [the Coyotes] got a point because of a bad call.
"The three biggest things that affect making the playoffs: scheduling, injuries and officiating. We got all three last game."
MORE SPORTS NEWS
Kings get some good news regarding Jeff Carter and Jake Muzzin
Matt Barnes suspended for physical altercation with Derek Fisher
What we learned from the Kings' 4-3 overtime victory over Arizona
---