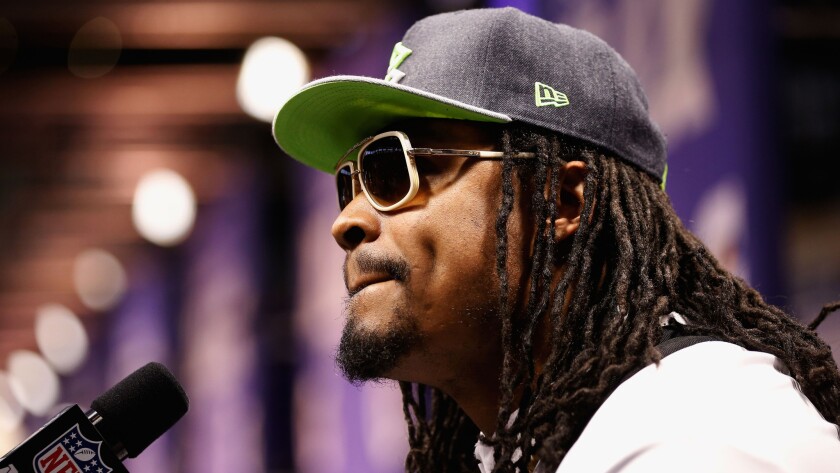 Marshawn Lynch has lost a lot of money by not talking to the media. It now seems he's trying to make some of it back.
The Seattle Seahawks running back has formally filed an application to trademark his now infamous Super Bowl XLIX Media Day line of "I'm just here so I won't get fined," according to the Seattle Times. Lynch repeated variations of the quote 30 times for a few minutes to a throng of reporters before leaving.
Lynch is seeking to use the quote on his "Beast Mode" apparel line, according to ESPN.com.
"We heard from our fans and so many of them were saying that they wanted that phrase on the clothing," said Chris Bevans, who runs the "Beast Mode" clothing line.
This isn't the first time Lynch has said something that has turned into a fashion statement. He is selling apparel with the phrase, "About That Action Boss," which is variation of what he repeatedly told reporters in 2013 when he refused to do interviews: "I'm just about that action, boss."
And Lynch isn't the first Seahawks player who has tried to get into the trademark game -- quarterback Russell Wilson has tried to make "No Time 2 Sleep" his marketable phrase, and safety Kam Chancellor has tried to trademark his nickname, "Bam Bam Kam".
One reason Lynch might be pursuing new revenue streams may be because he hasn't said whether he plans to return to the Seahawks next season. He's entering the final year of a four-year, $31-million contract, but reportedly has been offered a contract extension that could pay out $10 million next season.
"Obviously we think he's a hell of a player," Seahawks General Manager John Schneider said during an interview earlier this month. "We want to have him back; he knows that, his representatives know that. He knows that if he's back, he's not going to be playing at the same number he's scheduled to make."
---