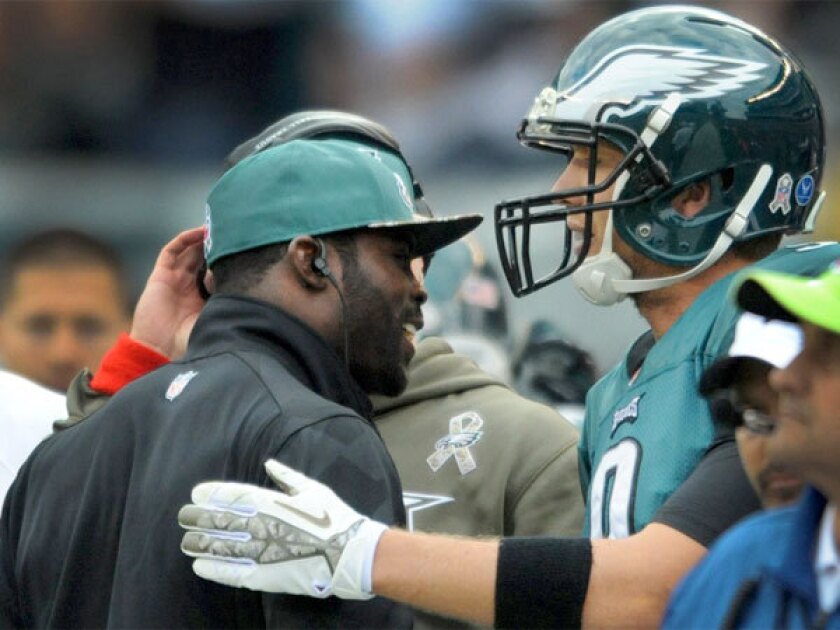 Nick Foles has been playing out of his mind ever since taking over for the injured Michael Vick as the Philadelphia Eagles' starting quarterback.
Now Foles has the backing of at least one prominent member of the Eagles organization, who says he should remain the team's starter even when Vick is back from his nagging hamstring injury.
That person is Vick himself.
The 11-year veteran told Philadelphia radio station 94 WIP that the Eagles would be crazy not to continue playing a guy who has thrown 16 touchdowns and no interceptions this season.
"In all honesty, in all fairness, how can you take a guy out of the game who's been playing so well?" Vick said.
Foles is 4-1 as a starter this season, with a passer rating of over 100 in all but one of those games, a 17-3 loss to Dallas. At times he's been downright spectacular, throwing for an NFL-record-tying seven touchdowns in just over three quarters against the Oakland Raiders.
The Eagles have a half-game lead over the Dallas Cowboys at the top of the NFC East.
Although Coach Chip Kelly hasn't made it official yet, pretty much everyone expects Foles to become the Eagles' permanent starter. Vick says he'll have no hard feelings when that happens.
"I understand the position that this team is in, and the one thing I never want to do is be a distraction or put our team or our coaches in a position where they feel like they're not doing the right thing or I feel like they're not doing the right thing," said Vick, a four-time Pro Bowler.
He added: "I trust what's going on, I enjoy being a part of it, I love the game of football in general. So it's important to me to be there in support and be ready if my name and number is called again."
ALSO:
Watch Shaquille O'Neal fall flat on his face on TNT set
Dwight Howard tosses ball at fan, receives technical foul
Watch Mike Tyson return Evander Holyfield's ear in new Foot Locker ad
---