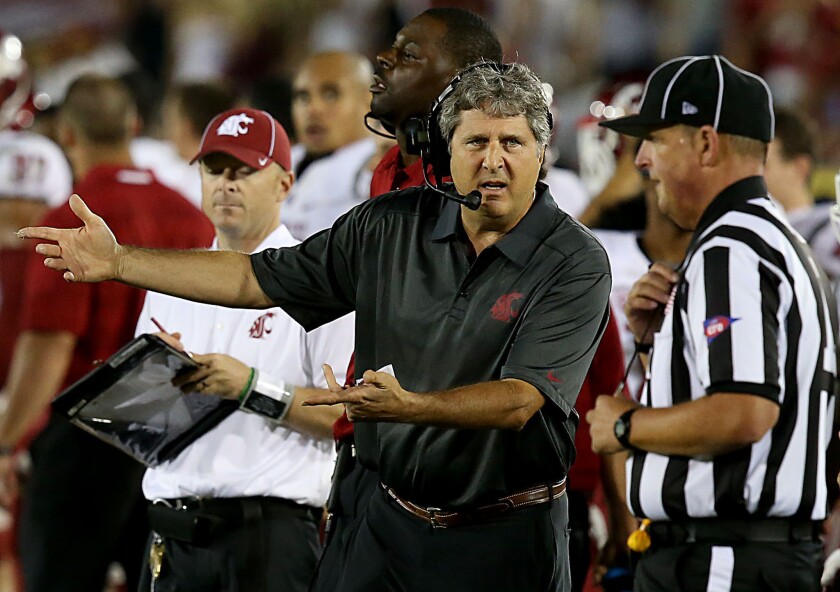 Washington State Coach Mike Leach is never shy about holding court, and Pac-12 media day Friday was as good a forum as any.
Leach discussed dating advice, rattlesnake hunting and Geronimo. He also made a pitch for Warner Bros. Studios, where the media sessions were held, after taking a break from his media day duties Thursday to join a Batman tour at the studios.
"I'm not a big Batman guy, but I do recommend that you go," Leach said. "They have everything from Batman helmet to some cool brass knuckles that the Joker has to Cat Woman outfits and some definite villains. You can upstairs to the Harry Potter exhibit and they'll tell you what tribe you're in, or the fraternity, or whatever. Mine was Huffle-something."
The Cougars might need a little of that magic. They are 7-20 in Pac-12 play in three seasons under Leach.
When hired, Leach said, "We were in a deep hole ... we had only six offensive linemen on scholarship and only three deserved one."
Follow Chris Foster on Twitter @cfosterlatimes
---