Maria Sharapova delivers perfect return to Caroline Wozniacki's scheduling complaints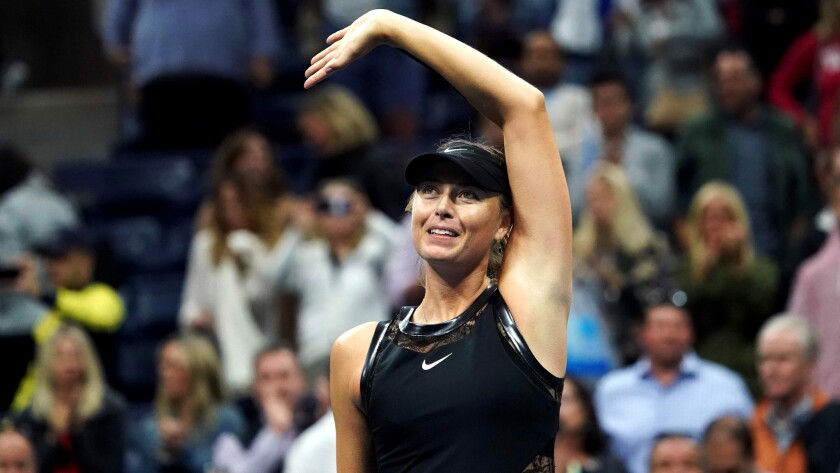 Reporting from New York —
Game, set and verbal match, Maria Sharapova.
Caroline Wozniacki, the No. 5 seed at the U.S. Open, had some harsh words for tournament schedulers after her second-round match late in the day Friday against Ekaterina Makarova was moved to one of the outer courts here instead of being played on one of the premier courts — Arthur Ashe Stadium, Louis Armstrong Stadium or the Grandstand.
She also questioned why Sharapova, who got a wild-card entry here only a few months after serving a 15-month suspension for using a banned drug, was assigned to play at Ashe, the largest venue and the prime stage at the Billie Jean King National Tennis Center.
"I understand completely the business side of things, but someone who comes back from a drugs sentence — performance-enhancing drugs — and all of a sudden gets to play every single match on Center Court, I think that's a questionable thing to do," Wozniacki told the Danish newspaper Ekstra Bladet after her three-set loss.
"Putting out a schedule where the No. 5 in the world is on Court 5, fifth match on, that's unacceptable .… I think someone who has fought their way back from injury and is five in the world deserves to play on a bigger court than Court 5. Finally, they moved us to Court 17, which is a really nice court, actually, and we had a great atmosphere out there. But they should look into what they need to do in the future."
Sharapova was suspended last year after she tested positive for meldonium at the 2016 Australian Open. Upon her return to competition in April she was given wild-card entries into several tournaments, despite the objections of some players who believed she did not deserve it because of her drug offense.
However, Sharapova has a strong resume as a five-time Grand Slam champion and she is a celebrity beyond tennis, making her a box office draw. That was a strong lure for tournament organizers who want to fill seats. Formerly the world's top-ranked women's player, she ranked 146th before the Open but is sure to climb into the top 100 based on her performance here.
Sharapova, speaking late Friday after her 7-5, 6-2 third-round victory over American teenager Sofia Kenin, minced no words when asked for her take on Wozniacki's remarks.
"With regards to scheduling, as you know, I don't make the schedule," Sharapova said. "I'm a pretty big competitor. If you put me out in the parking lot of Queens in New York City, I'm happy to play there. That's not what matters to me.
"All that matters to me is I'm in the fourth round. I'm not sure where she is."
Zing.
Sharapova, incidentally, next will face No. 16-seeded Anastasjia Sevastova of Latvia in the fourth round.
---
Get the latest on L.A.'s teams in the daily Sports Report newsletter.
You may occasionally receive promotional content from the Los Angeles Times.