Chris Weidman to defend UFC middleweight title versus Vitor Belfort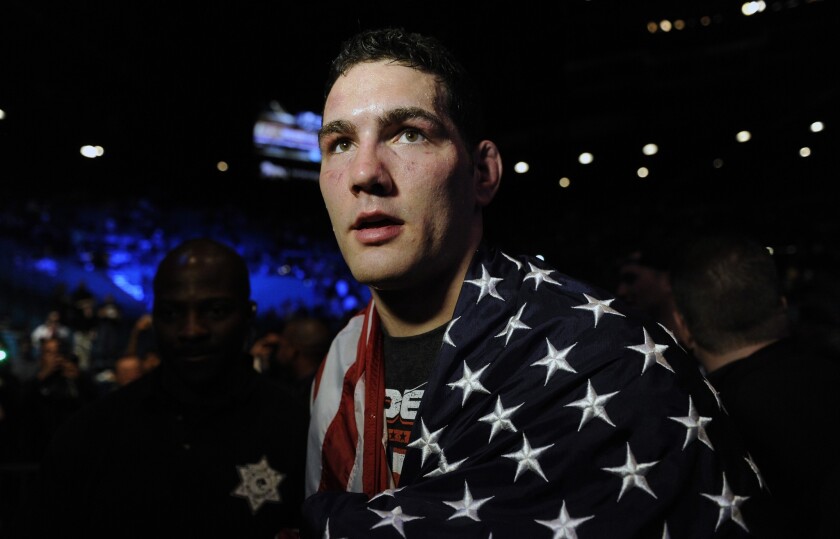 LAS VEGAS — Vitor Belfort said he hurts for injured countryman Anderson Silva, but has a plan to gain a measure of Brazilian revenge as the next opponent for Ultimate Fighting Championship middleweight champion Chris Weidman.
"The belt's in the hands of a guy named Chris Weidman, but it belongs to me," Belfort said late Saturday at the MGM Grand following the horrific lower-left-leg injury suffered by Silva in the second round of the UFC 168 title fight.
Silva, 38, underwent emergency surgery to treat the broken leg he suffered when kicking Weidman's left shin in the second round. The fight was halted and Weidman was declared the winner.
UFC President Dana White said the 36-year-old Belfort (24-10) is next in line for a middleweight title shot after consecutive victories over Michael Bisping, Luke Rockhold and Dan Henderson.
Belfort lost a shot at Silva in 2011 by a memorable first-round kick to the face.
Of Silva, Belfort said, "I feel for him."
Belfort previously won UFC 12 in 1997 and regained the belt in 2004 against Randy Couture.
"Eighteen years ago, I was winning my title by fighting two guys in the same night," Belfort said of the UFC's previous era under different ownership and regulations. "For me, it's a joy. I'm living my dream. I would make history, and that's what's going to happen in 2014."
One issue that remains to be settled is whether Belfort will fight Weidman in Las Vegas.
The Nevada State Athletic Commission adheres to the World Anti-Doping Agency Code, which won't allow a therapeutic-use exemption for testosterone if the reason for use is the effects of previous use.
Belfort was suspended for nine months by Nevada in 2006 for testosterone use.
The UFC has informally told Nevada commission officials that it would like to have Weidman-Belfort in Las Vegas. White didn't detail a date for the fight, and when Weidman was told the fight was on — somewhere — he said, "Cool."
Belfort said Saturday he is confident he can fight in Nevada.
"I'm able to fight anywhere, I have done everything by the book," Belfort said. "Everybody knows that people cheat, but I don't."
ALSO:
Ronda Rousey submits Miesha Tate in third round
UFC 168: Silva-Weidman card recap and highlights
---
Get our high school sports newsletter
Prep Rally is devoted to the SoCal high school sports experience, bringing you scores, stories and a behind-the-scenes look at what makes prep sports so popular.
You may occasionally receive promotional content from the Los Angeles Times.