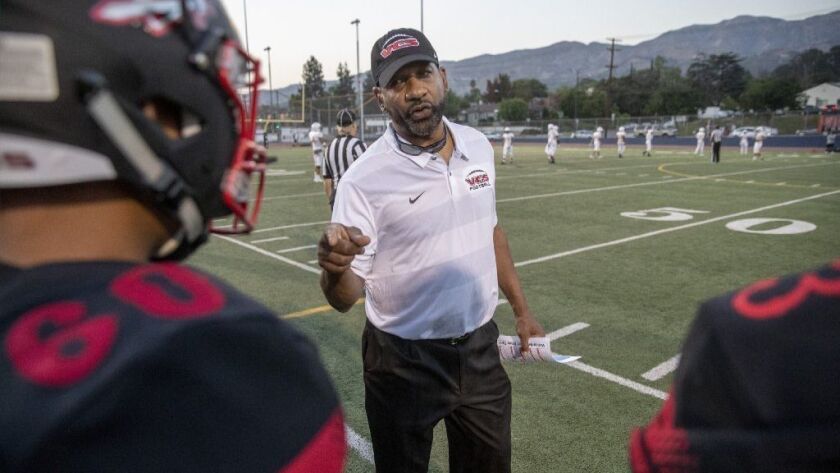 Todd McNair's legal fight with the NCAA isn't over.
Attorneys for the former USC running backs coach filed a motion in Los Angeles County Superior Court on Friday seeking a new trial in McNair's long-running defamation lawsuit.
At the center of the dispute is the foreman of the jury that found in May the NCAA didn't defame McNair in connection with the Reggie Bush extra benefits scandal.
The foreman, Anthony Bruno, worked as an attorney in the Los Angeles office of Latham and Watkins at the time of the trial. The firm, with offices throughout the world, represented the NCAA during a previous appeal in the lawsuit first filed in June 2011, though Bruno wasn't involved.
McNair's attorneys said in the motion they didn't recall the prior involvement of Latham and Watkins until NCAA attorneys brought it to their attention following opening statements.
"Rather, this is all about the presumption that someone in this juror's position was under pressures — real or perceived — that a juror should not be under," the motion said.
When McNair's attorneys asked for the foreman to be removed at the time, Judge Frederick Shaller questioned him and decided he wasn't personally aware of the work Latham and Watkins did for the NCAA during the appeal.
"This was in error and — because of the critical role this juror played in arriving at a verdict — it was prejudicial," the motion said.
Bruno told the Los Angeles Times he "laid his cards on the table" and "there were no secrets" during his discussion in chambers with Shaller and attorneys for both sides.
"The fact that Latham represented [the NCAA] didn't affect my view of the evidence," Bruno said.
McNair's attorneys also alleged in the motion there is "literally no evidence that supports the jury's finding that none of the statements made by the NCAA … were false." The motion said for the jury to reach its decision, the group would've had to judge each statement by the NCAA's infractions committee and appeals committee regarding the Bush scandal to be accurate.
"But even the NCAA admitted that statements in both of those reports were factually inaccurate," the motion said, pointing to the organization's characterization of a late-night phone call between McNair and sports marketer Lloyd Lake that served as a linchpin for the infractions committee finding McNair guilty of unethical conduct.
While Lake told the NCAA that McNair called him, phone records showed Lake placed the call. But the committee reports said Lake told the NCAA that he called McNair.
A hearing on the motion is scheduled for January.
Twitter: @nathanfenno
---