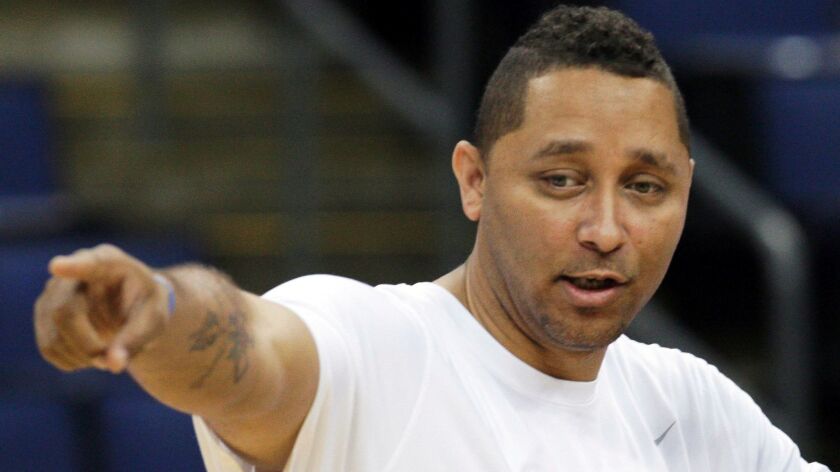 Reporting from New York —
USC associate head basketball coach Tony Bland pleaded not guilty Wednesday to four charges stemming from allegations he accepted a bribe in return for steering players to use a certain aspiring sports agent and financial advisor.
Bland, wearing a black suit and red tie, appeared quiet but relaxed before the proceedings in U.S. District Court in Manhattan. He was one of five defendants in the case arraigned Wednesday.
Oklahoma State assistant Lamont Evans, Arizona assistant Emanuel "Book" Richardson, would-be sports agent Christian Dawkins and Adidas employee Merl Code also pleaded not guilty.
In an interview after the proceedings, Bland's attorney, Jeffrey Lichtman, called the case "a waste of government resources," saying charges should never have been brought in the first place.
"I don't know what the evidence is," he said.
Asked whether he thought the case could expand, Lichtman said, "Based on the initial allegations, I would think there would be some head coaches involved."
Bland and seven other men, first charged in September, were indicted last week. Two others initially charged, financial advisor Munish Sood and Florida youth coach Brad Augustine, weren't indicted.
Prosecutors alleged Bland accepted a $13,000 bribe from Dawkins and Sood in exchange for directing USC players to use their services when they joined the NBA. Bland is also accused of helping to facilitate payments of $4,000 and $5,000 to associates of two USC players, a recruit and a sophomore, in late August.
USC has held sophomore guard De'Anthony Melton out of its first two games in connection with the matter. Melton's attorney said last week he has been cleared of any wrongdoing by federal authorities.
Bland remains on administrative leave from USC and is still listed in the university's staff directory. The three other assistant coaches charged — including Auburn's Chuck Person, who pleaded not guilty Tuesday — have been fired or are contesting their terminations.
"USC has been incredibly decent to him," Lichtman said. "I don't think the schools are following each other in lock step."
Times staff writer Nathan Fenno contributed to this report.
---