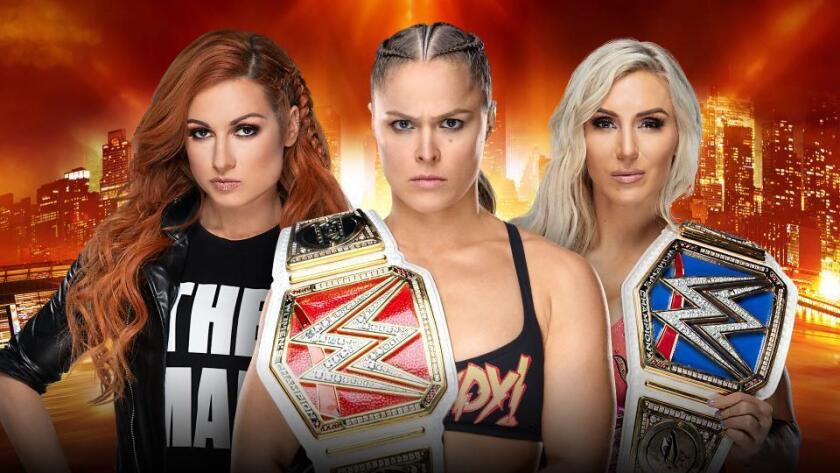 Becky Lynch defeats Ronda Rousey and Charlotte Flair to win the Raw and Smackdown women's titles
Joan Jett and the Blackhearts performed "Bad Reputation" as Ronda Rousey made her entrance. Then Flair and Lynch came out to their own respective music. The crowd is solidly behind Lynch, though you have to figure they would be louder if they hadn't been in the stadium for eight hours already.
The end came when Rousey and Lynch fought for their finishers, but Flair speared Lynch, then tried to cover both. They each kicked out. Flair speared Lynch and got a two count. She began to get frustrated. She went to spear both Lynch and Rousey, but they threw her into a table that had been set up earlier in the corner. Flair rolled to ringside. Lynch and Rousey squared off. Rousey performed a running kick on Lynch and set up for the Piper's Pit, but Lynch countered into a crucifix pin for the 1-2-3.
Crowd was not expecting that to be the finish, so it came off flat. Rousey clearly had her shoulders up at one, which made it worse. They either botched the ending, or they planned it and played it beautifully in giving Rousey an out for losing. If she is taking time off, this gives her great ammunition for a return. Heck, it does even if she isn't taking time off. Show ended with Lynch posing with both belts in the ring.
That show took so long I think we are only a couple of days away from Wrestlemania 2020. They really need to break this up and hold it over two days now. If the first day ended with Kingston winning, and the second day with Lynch winning, people would be talking about it for a long time.
The Demon Finn Balor defeats Bobby Lashley to win the Intercontinental title
Quick match, which is what was needed this far into the show. Balor won with a power bomb and coup de gras.
Baron Corbin pins Kurt Angle
I don't get it. You can't let Angle win his farewell match? Corbin hit the End of Days for the win in a match I don't even want to recap. The crowd gave Angle a standing ovation after. He gave a short speech and asked for his music to be played one more time. He walked up the ramp as the crowd chanted "You suck!" which must be one of the oddest farewells in history.
Triple H pins Batista in a No Holds Barred match
The audience was dead for this match, probably out of exhaustion as we approach the seven-hour mark.
Triple H used pliers to rip Batista's nose ring out. Various tables were destroyed. The finish came when Ric Flair came to ring side and handed Triple H the sledgehammer. He hit Batista in the temple with it, then hit the Pedigree and got the pin.
John Cena interrupts Elias
Elias came out to perform. They played a cheesy video showing him playing the keyboards and drums while he accompanied himself live in the ring. He said he had written a WrestleMania anthem that would go down in history. Suddenly, an old Babe Ruth video played. No one knew what was going on. Then Cena came out as his old character, the Doctor of Thuganomics. He had some rhymes for Elias, then gave him an FU and left Elias laying.
This was underwhelming.
Roman Reigns pins Drew McIntyre
Typical Reigns match, which is not a bad thing.
McIntyre took most of the match, until he slapped Reigns, which got Reigns angry. Reigns hit a Superman punch and the spear for the victory.
To come back from leukemia and perform at this level is quite amazing.
Kofi Kingston d. Daniel Bryan to win the WWE title
Great match. The crowd was really into it and Kofi got a massive pop when he was introduced. The New Day stayed at ringside, as did Rowan for Bryan.
They intercut the match with shots of other wrestlers cheering on Kofi in the back, which was a nice touch.
Finish came with Bryan throwing a series of kicks at Kingston, who had been beat down for several minutes. Kingston fired up and called for more, and the crowd erupted. Bryan went for a knockout kick but Kingston blocked it and got a near fall. Bryan rolled outside the ring. Kingston followed but Rowan blocked him. Kingston hit Rowan with Trouble in Paradise. Woods and Big E hit Rowan with the Midnight Hour, knocking Rowan out.
Back in the ring, Bryan ducked a Trouble in Paradise then hit the running knee for a great near fall. Bryan stomped Kofi's face into the match several times and applied to LeBell Lock. Kingston rolled out of it and punched Bryan repeatedly, then stomped Bryan's head into the mat several times.
Kingston then hit the Trouble in Paradise and pinned Bryan. The crowd went crazy, and his New Day teammates celebrated with him in the ring. They had a new belt made for Kingston. His kids came into the ring with him to celebrate.
Just what the match should have been. The question now: How long do they let him keep the title?
Samoa Joe defeats Rey Mysterio to win retain the U.S. championship
A nothing match. If they showed Mysterio's son at ringside, I never saw it. Mysterio hit the 619, but Joe locked in the Coquina Clutch for the quick win. Either they are running long, or Mysterio's ankle is really injured.
The IIconics defeat Sasha Banks and Bayley, Nia Jax and Tamina and Natalya and Beth Phoenix to win the women's tag team title
This seemed to be the match fans designated as the bathroom break, as a lot of fans got up and walked away.
Natalya applied a double Sharpshooter on Banks and Bayley, but Bayley prevented Banks from tapping out. Banks performed a top rope splash onto Phoenix for a two count. Phoenix performed a Glam Slam on Bayley from the second rope. While she was pinning Bayley the IIconics tossed her out of the ring and stole the pin for themselves. New champs.
Shane McMahon pins The Miz in a Falls Count Anywhere match
Shane slithered to ringside when the match started, using some stalling tactics. He grabbed Miz's father, who was sitting ringside, and Miz chased after him. Shane caught Miz with a punch and dominated, putting Miz on the announce table. Shane went to the top rope to jump onto Miz when Miz's father got in the way. Shane dared him to get into the ring. He did, and Shane sucker punched him. Miz then leapt in and started destroying Shane. They ended up around camera scaffolding. Miz gave Shane a Skull Crushing Finale on the platform, but Shane kicked out, effectively killing Miz's finish. They climbed to higher scaffolding, and Miz suplexed Shane off the top onto the heavily padded floor below. Shane landed on top of Miz and, with both knocked out, the ref counted Miz's shoulders down, giving the win the Shane.
The Usos defeat Rusev and Nakamura, Aleister Black and Richochet and The Bar to retain the Smackdown tag team title
Cesaro gave Ricochet about a 100-count Giant Swing that brought the crowd into the match. Non stop action that ended when The Usos hit a double top rope splash on Sheamus and pinned him for the win.
A.J. Styles pins Randy Orton
Good back-and-forth match. Orton hit the RKO and Styles kicked out. Orton hit a superplex. Finish came with Orton outside the ring. Styles hit him with the Phenomenal Forearm. Both men were down. They got back in the ring and Styles went for another forearm, but Orton tried to counter into an RKO. Styles blocked it and hit a Phenomenal Forearm for the pin.
Seth Rollins pins Brock Lesnar to win the Universal title
Hulk Hogan came out and started the show, but Paul Heyman walked down and interrupted. He got in the ring and said that if Brock Lesnar can't be in the main event, then he wants to win his match now and then fly to Las Vegas where he is "ultimately appreciated". He introduced Lesnar, who waited for Rollins. Rollins was getting into the ring when Lesnar attacked him. He threw him into the barricade and the ring apron. Gave him an F5 on the floor. Threw him into the announce table twice. Match hadn't even started yet. Then he threw Rollins into the ring and the ref started the match. Lesnar gave him several German suplexes. This is a massacre so far. Lesnar lifted Rollins for the F5, but Rollins escaped and pushed Lesnar into the ref, who was knocked out of the ring. Rollins gave Lesnar a low blow. A new ref came into the ring. Rollins gave Lesnar three curb stomps and pinned him to win the title.
Braun Strowman wins the Andre the Giant Memorial Battle Royal
It was all a set up to get to the final five: Strowman, The Hardy Boys and Saturday Night Live's Colin Jost and Michael Che. When the match started, Jost and Che went under the ring. At the end of the match, The Hardys had Strowman almost eliminated when Jost and Che crawled back from under the ring and ran in to help. Strowman threw them off easily and eliminated The Hardys. Jost grabbed a microphone and said violence is not the answer, and brought his therapist into the ring to talk to Strowman. The therapist looked remarkably like a wrestler they hired to take bumps. Strowman tossed him around and gave him power slam. Jost told Che to "Get him!" which was hilarious. Che tried to eliminate himself, but Strowman grabbed him an punched him off the ring apron. That left Strowman and Jost (who was wearing an Odell Beckham Jr. Browns jersey). Strowman grabbed Jost, hoisted him over his head and threw him out of the ring, where five wrestlers were conveniently stationed to break his fall.
Zack Ryder and Curt Hawkins defeat The Revival to win the Raw tag-team title
Hawkins came into the match riding a 279-match losing streak. He and Ryder last held the tag titles 11 years ago and are both from the New York area. WWE wouldn't possibly book them to lose would they? No.
There was a long part of the match devoted to Wilder and Dawson isolating Ryder and preventing him from tagging Hawkins. He finally did and dominated, before a brainbuster out on the floor seemed to knock him out. Wilder threw him back in and posed over him, as Hawkins seemed unconscious. When Wilder went to pick him up, Hawkins suddenly cradled him in a small package for the win. The crowd went nuts. Now, will they lose the titles right back on Monday Night Raw?
Carmella wins the women's battle royal
Most of the entrants came out without music, as a group: Mickie James, Ruby Riott, Liv Morgan, Sarah Logan, Lana, Maria, Sonya Deville, Mandy Rose, Ember Moon, Nikki Cross, Carmella, Kairi Sane, Dana Brooke, Zelina Vega, and Candice LeRae. Naomi and Asuka got separate entrances with music, making you think one of them would win.
Wasn't the smoothest battle royal in history, but it was entertaining. Dana Brooke got a chance to shine and had the crowd behind her before she was eliminated. The final three were Asuka, Logan, and Deville. Asuka eliminated Deville and then Logan eliminated Asuka, making Logan the winner. But wait, Carmella had never been officially eliminated, so she re-entered the ring and superkicked Logan out for the win. WWE has gone to the "not officially eliminated" well one too many times.
Tony Nese pins Buddy Murphy to win the Cruiserweight Title
A lot of great action interrupted by an ad for Wrestlemania. Sort of disrespectful to Nese and Murphy.
Nese hit a moonsault whole Murphy was hanging over the middle rope. Murphy went for Murhpy's Law, but Nese countered into a pin attempt for a two count. Nese hit a reverse huracanrana, but Murphy slid to ringside to avoid the running knee. Nese hit a Fosbury Flop and threw Murphy back into the ring and hit a 450 splash. Murphy kicked out at two for a great near fall. Murphy hit the Murphy's law, but Nese got his foot on the rope to break the count at two and three quarters. Nese hit a superkick, suplexed Murphy into the corner and hit the running knee for the pin. Good match.
Wrestlemania 35 is today in New York and we will bring you the live results here when the card begins at 2 p.m. PT. Here's a look at the announced matches.
Winner Take All: Ronda Rousey vs. Charlotte Flair vs. Becky Lynch: The first main even involving women in Wrestlemania history. Whoever wins gets the Raw and Smackdown women's championship.
Universal Championship: Brock Lesnar vs. Seth Rollins: Everyone expects Rollins to win, but WWE has surprised us before.
WWE Championship: Daniel Bryan vs. Kofi Kingston: Will we get the feel-good story with Kingston winning, or does Bryan retain the title?
Roman Reigns vs. Drew McIntyre
AJ Styles vs. Randy Orton
Triple H vs. Batista (No Holds Barred; Triple H's career on the line)
Intercontinental Championship -- Bobby Lashley vs. The Demon Finn Balor
United States Championship -- Samoa Joe (c) vs. Rey Mysterio
Women's Tag Team Championship -- Sasha Banks & Bayley (c) vs. Beth Phoenix & Natalya vs. Nia Jax & Tamina Snuka vs. The IIconics
The Miz vs. Shane McMahon (Falls Count Anywhere)
Kurt Angle vs. Baron Corbin (Farewell Match)
SmackDown Tag Team Championship -- The Usos (c) vs. Ricochet & Aleister Black vs. The Bar vs. Rusev & Shinsuke Nakamura
Raw Tag Team Championship -- The Revival (c) vs. Zack Ryder & Curt Hawkins
Cruiserweight Championship -- Buddy Murphy (c) vs. Tony Nese
Andre the Giant Memorial Battle Royal
Women's Battle Royal
​​​​​​​
---