Asked how many times in her life she had been told no, a woman can't do that, whether on a tennis court or in a board room, Billie Jean King lets loose a cackling laugh. Probably in the thousands, she estimates — not that she paid attention to the naysayers while she was winning 39 Grand Slam tournament singles and doubles titles or evolving into an iconic advocate for women's and LGBTQ rights.
"I think sports has a platform that we can help change the world, make it a better place," she says. "We want women's sports to keep moving forward because it's really a microcosm of society. … Whether it be at work, on the field, on the ice, on the court, whatever, it totally reflects where we're at, and we have a long way to go."
King grew up in Long Beach playing sports in local parks with her brother, Randy Moffitt, who became a major league pitcher. Basketball was her first love, and she competed in track and field. When fifth-grade friend Susan Williams asked her to play tennis, King replied, "What's tennis?"
She learned quickly.
"The first shot I hit went over the fence, because I'm used to baseball," King says. "She said, 'You know how hard you hit that? That's how hard you can hit it, but you've got to keep it in these lines.' I said, 'That would be fun, actually.'"
The daughter of a fireman, King did errands for neighbors to save the $8 she needed to buy a racquet. She couldn't afford to play in country clubs, but the city offered free court time and instruction.
"Long Beach made my life. My parents, and Long Beach," says King, who was honored in September when Long Beach named its main library for her. She skipped her graduation from Long Beach Poly High in 1961 to play doubles at Wimbledon with Karen Hantze; their victory was the first of King's 16 Slam event doubles titles.
Social awareness came gradually but emphatically for King, 76. Her age hasn't slowed her pursuit of equality in sports and society — if anything, it has inspired her to continue her decades-long battles.
Nearly 50 years after Congress passed Title IX, female athletes are still scrambling for a fair shot in the male-dominated world of sport. In hockey, top Americans and Canadians train with their national teams part-time; the rest of the season, they have only a small pro league that offers twice-a-week practices, weekend games and thin salaries.
Frustrated by the sparse prize money available to female tennis players, King and eight other women formed in 1970 a professional tour sponsored by Virginia Slims. Each signed a symbolic $1 contract to play. At the time, payouts were comically unbalanced: The prize for the men's singles winner at the 1968 U.S. Open was $14,000 (though Arthur Ashe was then an amateur and couldn't accept the money). Women's singles winner Virginia Wade got $6,000. King received $600 for winning the 1970 Italian Open; Ilie Nastase got $3,500.
In 1973, the year she defeated Bobby Riggs in the legendary "Battle of the Sexes," King helped found the Women's Tennis Assn. to unite the women's tours. In 1974, she and Olympic swimmer Donna de Varona founded the Women's Sports Foundation, a nonprofit that promotes girls' and women's involvement in sports. The same year, she cofounded World Team Tennis, a mixed-gender professional league that emphasizes entertainment. Later, King founded the Billie Jean King Leadership Initiative as a nonprofit "to try to help people be their authentic self, but more importantly get equal pay for equal work by gender, by race, whatever."
Equal prize money eventually became the norm at major tennis tournaments, but women in other sports are still fighting for equitable treatment and media coverage. Speaking during the U.S. Open last year, which is played at the Billie Jean King National Tennis Center in New York, King recalled sportswriter Frank Deford telling her in 1975, "I think women's sports has probably pretty much made it now, huh?"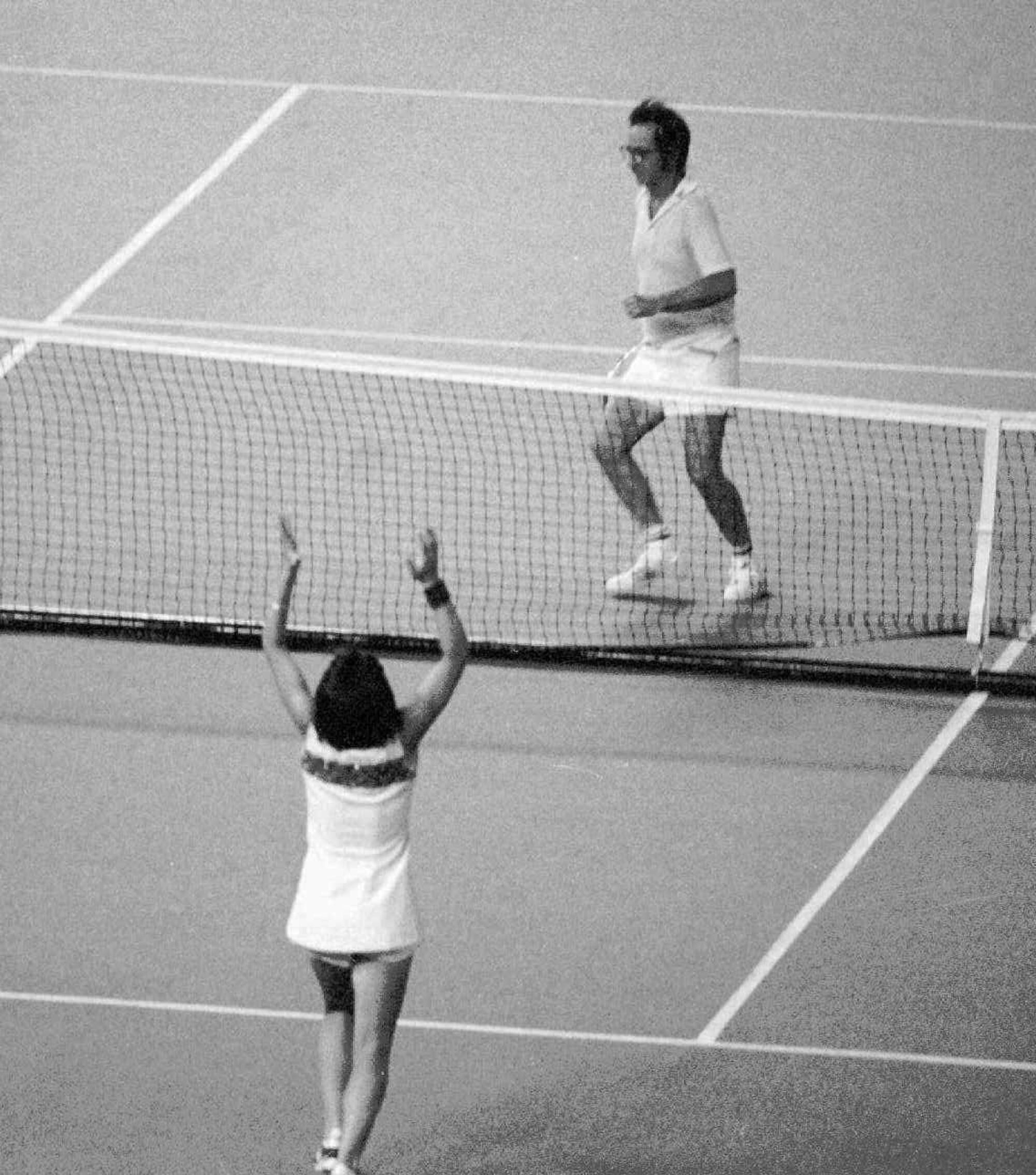 "I gave him the dirtiest look he had ever received and all I said was one word: 'Team,'" King says. "Like, until the team sports make it, we have not made it."
King said she'd love to become involved in marketing and promoting the WNBA, which is a natural: King and her partner, Ilana Kloss, are part of the Dodgers' ownership group, which also has an ownership stake in the Sparks.
"We're so late to the marketplace, compared to the boys, from a business point of view," King says. "And also, girls still can't have the dreams. If I'm a girl, I can't play baseball. We don't have a pro league. If I'm a girl, there's no pro hockey league for me. You can play for the national team, but I'm not talking about that. I want leagues. And soccer, we've got to promote the league, not just the national teams and all that. It's the leagues where women can make a living.
King wishes there weren't so many instances of inequality to address, but she's determined to prevail. She still doesn't take 'no' for an answer.
"Coretta Scott King had a great quote about freedom: It's never won. Every generation has to earn it and win it. So every generation has to keep putting the pedal to the metal. That's why it's important that I support the younger generations."
---
Get our high school sports newsletter
Prep Rally is devoted to the SoCal high school sports experience, bringing you scores, stories and a behind-the-scenes look at what makes prep sports so popular.
You may occasionally receive promotional content from the Los Angeles Times.