U.S. Open: Novak Djokovic out of tournament after hitting line judge with ball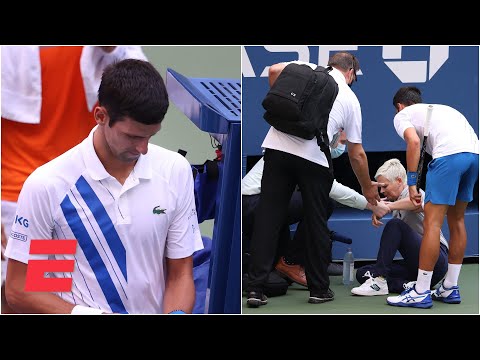 Novak Djokovic out of the U.S. Open after hitting line judge with ball.
Novak Djokovic apologized for inadvertently hitting a lineswoman after he struck a ball in anger Sunday, misconduct that resulted in the world's top-ranked male tennis player and overwhelming favorite at the U.S. Open being defaulted out of his fourth-round match and out of the tournament.
Djokovic had just lost a game to Pablo Carreno Busta at Arthur Ashe Stadium when he whacked a ball toward the back wall in frustration. The ball hit the lineswoman in the throat, dropping her to the ground in pain as she gasped for air. Djokovic's horror and dismay were evident as he realized what happened, and medical personnel rushed to help her.
The unidentified woman walked off for additional treatment and wasn't expected to return. Several minutes' consultation among tournament referee Soeren Friemel, Grand Slam supervisor Andreas Egli and chair umpire Aurelie Tourte resulted in Djokovic being defaulted because of "his actions of intentionally hitting a ball dangerously or recklessly within the court or hitting a ball with negligent disregard of the consequences."
Djokovic, who was 26-0 this year, did not dispute the ruling and congratulated Carreno Busta before leaving the court. The rule violation will cost Djokovic the $250,000 he had earned in reaching the fourth round. He's also subject to a fine.
"This whole situation has left me really sad and empty," Djokovic said on Instagram. "I checked on the lines person and the tournament told me that thank God she is feeling ok. I'm extremely sorry to have caused her such stress. So unintended. So wrong."
"As for the disqualification, I need to go back within and work on my disappointment and turn this all into a lesson for my growth and evolution as a player and human being," he added. "I apologize to the @usopen tournament and everyone associated for my behavior. I'm very grateful to my team and family for being my rock support, and my fans for always being there with me. Thank you and I'm so sorry."
With Roger Federer recovering from knee surgery and Rafael Nadal declining to play in New York because of his concerns about traveling during the novel coronavirus outbreak, Djokovic was expected to win his 18th Grand Slam singles title. His departure moved Carreno Busta into the quarterfinals of a field already jumbled by absences and upsets in a tournament being played without fans in the stands.
Jennifer Brady continued her surprising surge at the U.S. Open on Sunday, defeating Angelique Kerber to reach the U.S. Open quarterfinals.
Carreno Busta said he was "a little bit in shock" after the incident. "This was not intentional. I don't think that any one of us, of the players, do this kind of thing intentional, you know. It's just the moment," Carreno Busta said during a video conference. "It's just I broke him the serve, and, you know, he throw the ball. I think that it was bad luck, no? You cannot do this, but of course I think that Novak never, never wants to hit the line umpire."
Carreno Busta also said the rules were properly applied. "The referee and the supervisor do the right thing, but is not easy to do it, no?" he said.
No. 5 seed Sascha Zverev, whose fortunes took a decided upturn, noted the misfortune of Djokovic's situation. "If he would have hit it anywhere else, if it would have landed anywhere else, we are talking about a few inches, he would have been fine," Zverev said. "So yeah, very unlucky."
Djokovic's exit means the men will have a first-time Grand Slam champion. "Now it gets interesting," Zverev said.
Elliott reported from Los Angeles.
Get our high school sports newsletter
Prep Rally is devoted to the SoCal high school sports experience, bringing you scores, stories and a behind-the-scenes look at what makes prep sports so popular.
You may occasionally receive promotional content from the Los Angeles Times.