Column: Teenager Carlos Alcaraz fulfilling his 'Next One' destiny with U.S. Open triumph
NEW YORK —
The end of the Grand Slam stranglehold enjoyed by the Big Three of men's tennis has been anticipated for a decade. Especially the last few years, while Roger Federer battled knee problems, Rafael Nadal became hobbled by a chronic foot ailment as well as rib and abdominal injuries, and Novak Djokovic was barred from entering Australia and the U.S. because he has refused to be vaccinated against COVID-19.
Federer is still in recovery mode, but Nadal won the Australian and French Open titles this year, and Djokovic won at Wimbledon while the hyped next generation fizzled out. The real "Next One" arrived Sunday in the form of Carlos Alcaraz, a 19-year-old Spaniard with close-cropped hair, the resilience of youth, and the instincts of a proven pressure player. Now he has a U.S. Open championship too.
Playing his first Grand Slam singles final, Alcaraz earned his first Slam title and the No. 1 world ranking with a skillful and determined 6-4, 2-6, 7-6 (1), 6-3 victory over 23-year-old Casper Ruud of Norway. Rising to the distinctive occasion that meant the winner Sunday would be the world No. 1, Alcaraz fired 55 winners, won 34 points at the net, and had emphatic responses to Ruud's tricky topspin shots.
Iga Swiatek affirmed her ranking as the No. 1 women's tennis player in the world, fighting off Ons Jabeur to win her third Grand Slam title.
"I overcome myself a little bit," he said. "I played great matches, high intensity, during the two weeks that I've never done before. I'm really happy to move on to be No. 1 of the world, still growing."
He showed no signs of physical or mental fatigue after playing three straight five-set matches to reach the final. He was relentless Sunday, saving two set points in the third set before cruising through the tiebreak. He clinched the championship on his second try, with a 125 mph serve that Ruud could barely touch.
That's what champions do: They win the big moments by being decisive. That's how Alcaraz became the youngest U.S. Open champion since Pete Sampras, who was just past his 19th birthday when he won in 1990, and the first teenager to be No. 1 in the world since the Assn. of Tennis Professionals began its rankings in 1973.
This was his first Grand Slam singles title. It won't be his last.
"I'm going to work hard again after this week," said Alcaraz, who won $2.6 million to Ruud's $1.3 million. "I'm going to fight for a lot more of this."
His coach, Juan Carlos Ferrero, remembered meeting Alcaraz as a 15-year-old who was "like a spaghetti," slender and speedy but lacking muscle. It took a lot of work, but Alcaraz is more like steel than spaghetti.
"I think he [was] born to play this kind of tournament, born to play these kind of matches," Ferrero said.
Ferrero also said Alcaraz has reached only 60% of his potential. That's scary.
"He's one of these few rare talents that comes up every now and then in sports. That's what it seems like. Let's see how his career develops, but it's going all in the right direction," Ruud said.
"He's riding that wave. At the moment he's the best player in the world in my eyes. He deserves that spot."
Ruud and Alcaraz showed admirable compassion during their postmatch remarks by recognizing Sunday was the 21st anniversary of the 9/11 terrorist attacks. Ruud, unprompted, sent his prayers to the victims and those close to everyone impacted by the attacks. Alcaraz echoed him. "It's never easy to live this day as a normal day," he said.
For him, it will now carry the happier connotation of being the day he won his first Grand Slam title.
Alcaraz got off to a good start in the first set by breaking Ruud's serve for a 2-1 lead. Alcaraz then dodged a break point for Ruud to consolidate the break and go up 3-1. He won the set on his first opportunity, when Ruud sent a return into the net. The second set stayed on serve, with Ruud saving a break point in the fifth game to take a 3-2 lead. Ruud, using his excellent topspin forehand, then broke Alcaraz's serve for a 4-2 lead. Ruud clinched the set on his second chance.
Both men elevated their play in the third set, earning standing ovations several times. Alcaraz went up a break in the first game, but Ruud broke back for 2-2 when Alcaraz netted a backhand. They stayed even, at 5-5, until Ruud won the next game at love for a 6-5 lead. The crowd heavily favored Alcaraz, chanting "Olé" and "Vamos, Carlitos," but fans also applauded Ruud's perseverance and line-brushing shots.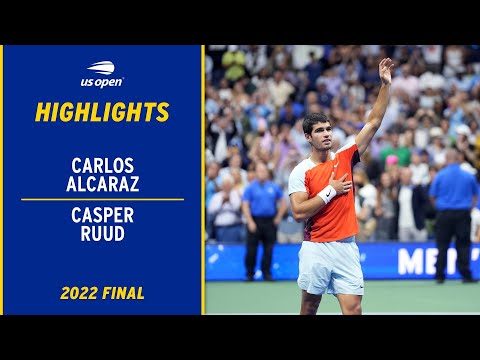 With Alcaraz serving, Ruud carved out two set points but couldn't take advantage of them. Alcaraz won a game that went to deuce five times, sending them to the tiebreak. "I played a horrible tiebreak, unfortunately too many mistakes. Sort of couldn't get those I guess set points out of my head," Ruud said.
Alcaraz broke for a 4-2 lead in the fourth set and won four straight points in the next game to move ever closer to his first title. When it was over, on that service winner, he dropped to his back on the court before racing into the stands to embrace his supporters.
He grew up idolizing Nadal, who lost in the round of 16 here but remains the current men's Slams singles leader. Will Alcaraz be the next great Spanish Slam champion? "Well, I have one. He has 22," Alcaraz said. "I'm in the row."
He meant that he's in line. Far back, but still in line and with time on his side. What a journey he has begun.
Get our high school sports newsletter
Prep Rally is devoted to the SoCal high school sports experience, bringing you scores, stories and a behind-the-scenes look at what makes prep sports so popular.
You may occasionally receive promotional content from the Los Angeles Times.