Astros throw combined no-hitter against Phillies in Game 4 of World Series
PHILADELPHIA —
Back in the day …
No, not that argument, not this time.
Back in the day before pitch counts and 13-man pitching staffs and third-time-through-the-order concerns — and, frankly, before Tommy John surgery — pitching was simple: You stayed in the game as long as you were pitching well. No self-respecting manager would have dreamed of removing a pitcher who was throwing a no-hitter, let alone in the middle of a World Series game.
Only one man has pitched a no-hitter in the World Series: Don Larsen, in 1956.
Yet there we were, nine outs from history Wednesday, when the bullpen gate opened. Cristian Javier had a no-hitter through six innings for the Houston Astros. His day was done.
Larsen must have thrown a ton of pitches, right? That was what they did back in the day.
Well, no. Larsen threw a perfect game, on 97 pitches. The number of pitches Javier threw Wednesday? That would be 97.
For the Astros, all's well that ends well. Bryan Abreu, Rafael Montero and Ryan Pressly backed Javier on the first combined no-hitter in World Series history.
"It's crazy," third baseman Alex Bregman said. "We grew up watching the World Series. We know the baseball's been going on for a long, long time.
When sports teams in Philadelphia have postseason success, the fans find a unique way to celebrate by climbing light posts and poles in the city.
"So to be a part of, just be a teammate on a team that did that and what Javy and all the guys did is really special. It's a moment that we'll all cherish forever."
The Astros beat the Philadelphia Phillies, 5-0, tying the series at two games apiece. One night after the Phillies hit five home runs, and more than half their outs were strikeouts.
The series is now a best-of-three, with Game 5 here Thursday. The series returns to Houston on Saturday. The story Wednesday was Javier, whose parents flew here from the Dominican Republic for the game. They told him Tuesday night he would throw a no-hitter and, well, how about that?
"It was the best gift that I could have ever given them," Javier said.
And how about this? He said his father never had seen him pitch in the United States.
After the game, Houston manager Dusty Baker pondered the state of modern baseball. He might have been savaged for taking out a pitcher throwing a no-hitter in another decade, but not this one.
"No, no, it's baseball in 2022," Baker said. "If I was the first guy to do that this year [maybe]. As I recall, I think Dave Roberts had to do that in L.A. with [Clayton] Kershaw."
Baseball in 2022: This was not even the first time this season Baker had removed Javier with a no-hitter in progress. Baker took out Javier after seven no-hit innings in Yankee Stadium in June 25; the Astros completed a combined no-hitter that day as well.
Javier threw 115 pitches against the Yankees. Baker said the Astros had planned for Javier to throw about 100 pitches Wednesday. This was his first appearance in 11 days, and he had thrown 6 2/3 innings in all of October.
"It's always tough to take a guy out," Baker said, "but you have to weigh the no-hitter and history versus trying to win this game and get back to 2-2 in the World Series."
The Astros could have let Javier continue if this outing would have been his last of the season — and, again, he was pitching a no-hitter. He has faced 44 batters this postseason and given up two hits.
"I think he's the most underrated pitcher in the league," Pressly said.
Baker denied the Astros removed Javier to preserve the option of starting him in a possible Game 7.
Later, however, Baker confessed he had a Game 7 on his mind and hoped Javier could pitch in it.
"I thought about that today," he said, laughing. "I was shaking it out, to tell you the truth. So, I don't know, two or three innings, maybe."
Columnist Bill Shaikin looks back at what might have been and what happened since the Angels did not hire the Phillies' Dave Dombroski for their front office.
Javier's exit left some Astros unawaretheir team still had a no-hitter going. Abreu, who followed Javier into the game, said he did not know there was a no-hitter intact until he came out of the game.
Bregman said he had not thought about a no-hitter until it was over.
"For me, when Yuli [Gurriel] caught the ball at first base to end it, to be honest," Bregman said.
It is modern baseball and modern history, all at once: Ladies and gentlemen, fans of all ages, for the first time in the 119-year history of the World Series, a combined no-hitter!
"It's always fun to be a part of history, on the good side," Pressly said.
On the other side, Phillies manager Rob Thomson delivered a stoic response to the question of whether he could appreciate the historical magnitude of the evening.
"For me?" he said. "A loss is a loss."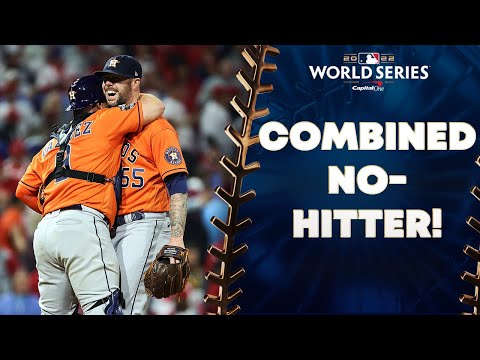 Get our high school sports newsletter
Prep Rally is devoted to the SoCal high school sports experience, bringing you scores, stories and a behind-the-scenes look at what makes prep sports so popular.
You may occasionally receive promotional content from the Los Angeles Times.