Rams' Super Bowl game plan vs. Patriots: Prepare for anything and everything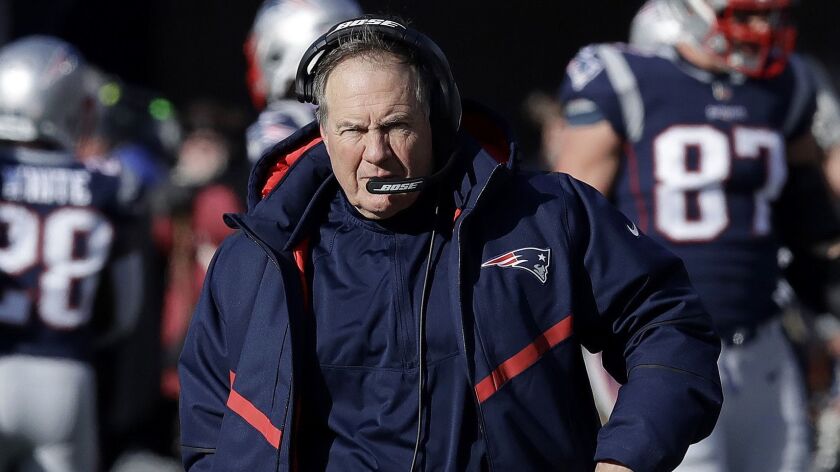 Reporting from atlanta —
Fifth of a five-part series looking at team strategy for Super Bowl LIII: How will the Rams combat New England's longstanding tradition of being less predictable than the pregame coin flip?
There might not be a coach in the NFL whose expression changes less than Bill Belichick's.
For sake of comparison, it's similar to how much Abraham Lincoln's appearance varies from penny to penny.
Belichick's team, however, is famous for looking one way one week and a completely different way the next.
"They have position-specific roles that allow them to morph themselves from game to game, and that's unique," said Brian Billick, who coached Baltimore to victory over the New York Giants in Super Bowl XXXV. "It's what makes them special."
And that's one of the biggest challenges the Rams will face Sunday. How do they adjust when New England, as totally expected, does the totally unexpected?
During the AFC divisional round against the Chargers, the Patriots threw on 29 of their 47 first-half snaps.
A week later, in the AFC championship at Kansas City, they ran 48 times, more than they had in any game all season.
Both methods proved successful, as New England buried the Chargers before halftime and outlasted the Chiefs in overtime.
"You had to be prepared and make sure your players are prepared to make adjustments," Billick said. "The players can never get a sense of being surprised because then they'll panic.
"[Rams defensive coordinator] Wade Phillips has to go in saying, 'Guys, if they want to run the ball at us 40 times, this is our plan. If they want to throw the ball 50 times, this is our plan. So don't panic as we're dipping in and out of these plans. Don't think we're not prepared.'
"It takes a lot of coaching and a lot of faith by the players. They have to believe in what you're doing and you have to show them you have an answer to what the Patriots are doing."
Defensively, New England has been known to dramatically vary its alignments. The Patriots might flood the field with linebackers and stack seven men across the line of scrimmage. Or they might play with just a single down lineman.
It is a characteristic opponents refer to as "unscouted looks," every team aware something is coming, even if they have no clue what it will be.
Among the Patriots themselves, the practice is explained as approaching each game as a "one-week season."
"You know they're going to do something you haven't prepared for, especially now with two weeks to get ready," Rams right tackle Rob Havenstein said. "Coach Belichick has done it throughout his whole career. The key is trying to adjust to it and make it sure it doesn't work for them."
Ahead of Sunday's Super Bowl, NFL and law enforcement officials offer advice on how to spot counterfeit NFL merchandise.
Chargers coach Anthony Lynn spent eight seasons in the AFC East — first as an assistant with the New York Jets and then the Buffalo Bills — scheming against Belichick twice a year.
He said he never saw the same game plan from New England, and then he saw something different again when his Chargers were hammered in Foxborough in mid-January.
In his first season with the Patriots, veteran defensive back Jason McCourty said he arrived thinking he had done — or at least seen — just about everything during a career in its 10th year.
Now, he said he shows up every Monday unsure how exactly New England's coaches plan to use him that week. He called the uncertain "a challenge" but also "exciting."
"Bill Belichick doesn't have some special wand that he touches the players with and makes them great," former Patriots linebacker Willie McGinest said. "The key is the players buy into what he's preaching.
"Look at [running back] James White. He doesn't care if he catches 10 passes or two as long as the team has success. He's brought into it, and that's one of the main reasons the Patriots are who they are."
Sign up for our daily sports newsletter »
Twitter: @JeffMillerLAT
---
Get the latest on L.A.'s teams in the daily Sports Report newsletter.
You may occasionally receive promotional content from the Los Angeles Times.