Damien Thigpen offers UCLA another option at running back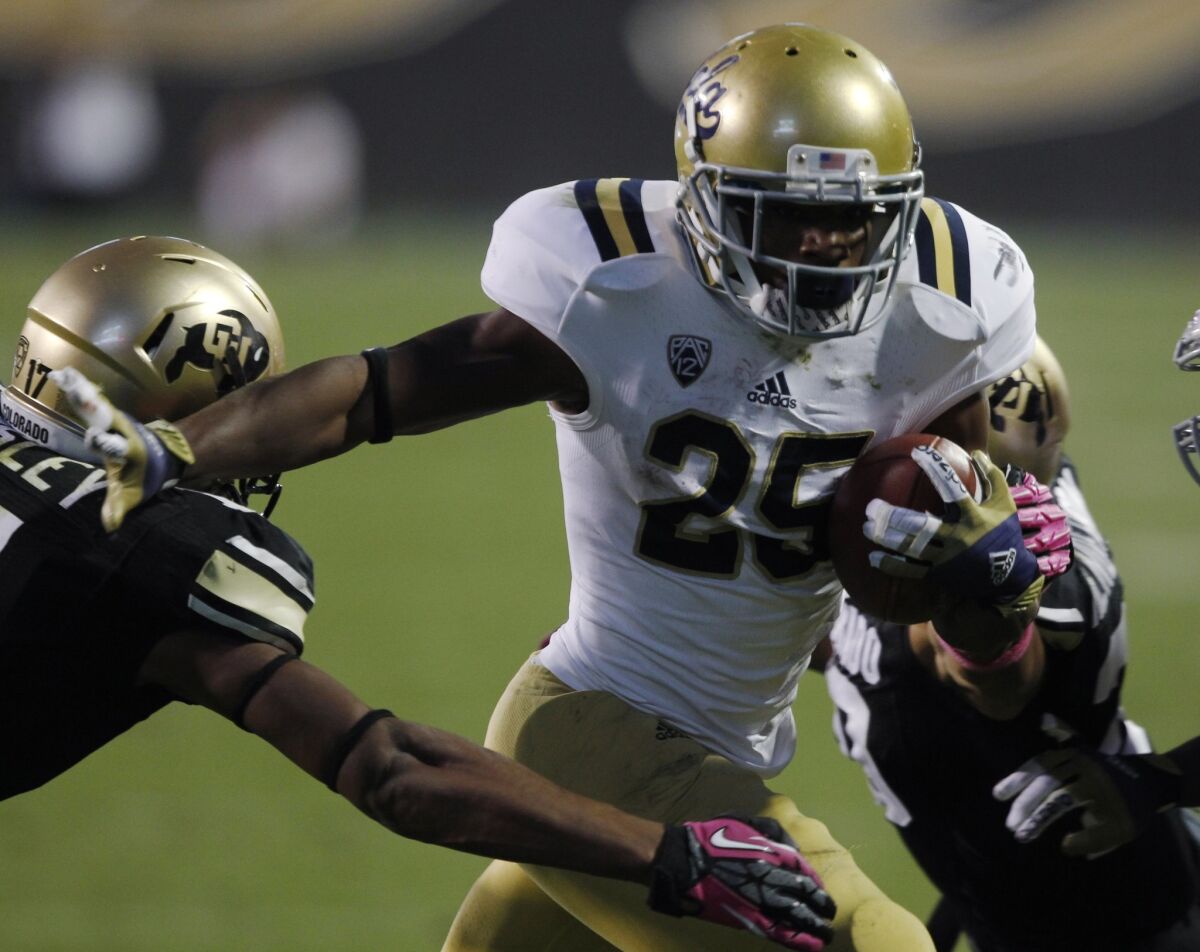 UCLA running backs coach Steve Broussard has more to consider this week.
The Bruins head to Utah with an additional running back: Damien Thigpen is expected to play for the first time since suffering a knee injury against USC in November.
Broussard is already rotating three running backs — Jordon James, Paul Perkins and Steven Manfro.
"It's all about feel during the game," Broussard said.
James has done the bulk of the work. He is fifth nationally, averaging 141.3 yards per game. But Broussard has kept him fresh with Perkins and Manfro, each averaging more than six yards per carry.
Perkins has 110 yards in 15 carries; Manfro has 56 in nine. Both, like James, are skilled receivers.
Now add Thigpen, who was the Bruins' third-leading rusher last season with 262 yards and caught 18 passes for 211 yards.
"J.J. is the starter. He has had three good games," Broussard said. But "as the game goes on, I start to get a feel for how guys are playing. You're looking for consistency."
Waiting in the wings is easy, Manfro said.
"You stand there and be ready," Manfro said. "You can't stand there and pout, have a long face and be sad. You have to be prepared for when they call your name."
Staying fresh is easier for Manfro as he is the team's kickoff returner.
"I can be out there on the first play of the game," he said. "I can get my mind right, prepare for the long battle ahead."
Bruins safari
Coach Jim Mora charged up the significance meter Tuesday, as the Bruins head into their Pac-12 opener.
"We're entering the jungle," Mora said. "You can't have a slip-up."
The No. 12 Bruins (3-0) have won only one of their last five conference openers, and that was on the road at Oregon State in 2011. UCLA lost to Oregon State in the Rose Bowl to open conference play in 2012.
Every team in the Pac-12 South Division already has at least one conference loss except UCLA.
"It would be a huge deal for us to come out and show everyone that we're ready to compete," cornerback Ishmael Adams said. "We can be known as one of the big teams in the Pac-12."
The Pac-12 has five teams ranked in the top 25: No. 2 Oregon, No. 5 Stanford, No. 15 Washington and No. 22 Arizona State, as well as UCLA.
Only the Southeastern Conference, with seven, has more.
"It speaks of the quality of football in the Pac-12," Mora said. "For this conference to be mentioned in the same breath with what everybody thinks is the pinnacle of college football, the SEC, says a lot about what we're doing out here in the Pac-12. We want people around the country to see what we're doing around here."
That may be out of his hands, at least as far as UCLA is concerned.
After the Bruins face California on Oct. 12, they will have played four of five games that started after 10 p.m. on the East Coast.
Goines endures
Simon Goines has moved from left tackle to right tackle because of a sore right knee, pain that has lingered since an injury in training camp.
Goines said that during games he has to keep his weight on the inside. "Playing on the left keeps it off my bad knee. It's just something I have to deal with."
It's an easy move. Goines played left tackle in 2012. Torian White moved from left tackle to right tackle, where he played last season.
Goines hyperextended the knee during training camp.
twitter: @cfosterlatimes
---
Get the latest on L.A.'s teams in the daily Sports Report newsletter.
You may occasionally receive promotional content from the Los Angeles Times.