UCLA gears up for Arizona's potent running attack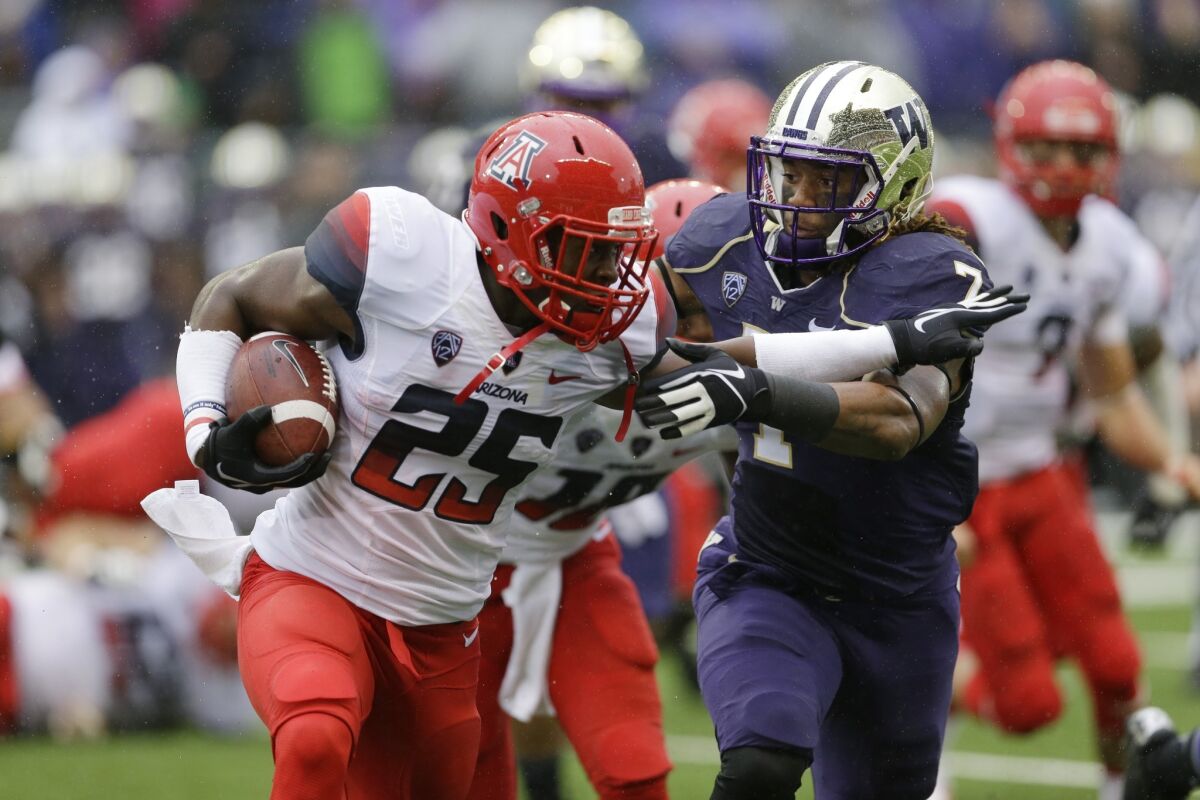 There is danger in letting Arizona running back Ka'Deem Carey roam free. There is also danger in doing too much to stop him.
UCLA faces Carey, the nation's leading rusher, Saturday in Tucson. Carey averages 153.1 yards rushing per game. He averaged 148.2 to lead the nation last season and came within 71 yards of being the 15th 2,000-yard rusher in college football history.
"You don't bottle up Ka'Deem Carey," UCLA Coach Jim Mora said. "You try to limit his explosive plays. The leading rusher in the nation, you don't stop those guys."
You also shouldn't drop everything else to try.
The offense Arizona Coach Rich Rodriguez employs is a quarterback-running back partnership. Quarterback Pat White and running back Steve Slaton each rolled up more than 1,000 yards for a Rodriguez-coached West Virginia team in 2007.
Arizona quarterback B.J. Denker doesn't have White's abilities, but he has been hurting Pac-12 Conference teams that focus too much on Carey. Denker had 192 yards rushing against Colorado two weeks ago. He ran for three touchdowns against California last week.
"It's a dual threat," UCLA defensive coordinator Lou Spanos said. "They have that mobile quarterback. He fakes it and can go anywhere. He has been breaking long runs."
That's the Rodriguez way.
"You see the four wideouts and think they are going to sling the ball all over the yard," Mora said. "They spread you out to run the ball."
That leads to tough choices.
"You have the leading rusher in the nation and he's coming at you, but he may or may not have the ball," Mora said. "You probably should tackle him. All of a sudden the quarterback pulls the ball out and goes."
Denker has 563 yards and 11 touchdowns rushing this season.
"He's a heck of a back," Mora said. "You just have to be extremely disciplined. You take care of your responsibility on every play."
Safety Anthony Jefferson has run responsibilities but also has to be wary of play- action passes.
"Carey is such a great back," Jefferson said. "You have to know where he is and how he likes to hit the hole. But you can't get sucked in."
Denker has passed for 1,502 yards and nine touchdowns.
Streaking
Carey has 12 consecutive 100-yard rushing games. The last team to hold him under 100 yards was UCLA in 2012. Carey had 54 yards in 16 carries in a 66-10 Bruins victory.
Mora didn't put too much stock in that.
"We got the lead early," Mora said. "They had to throw more than they wanted."
UCLA led, 21-0, after the first quarter and 42-3 at halftime.
Injury report
Mora said that linebacker Eric Kendricks (shoulder), running back Jordon James (ankle), cornerback Fabian Moreau (leg) and tackle Simon Goines (knee) would play. Running back Steven Manfro (ankle) and tackle Conor McDermott (shoulder) are not likely to play.
On call
Freshman Scott Quessenberry, who moved into the starting lineup at guard when Goines was injured, is enjoying his job. A little too much, maybe.
Quessenberry, formerly a center, has been enthusiastically helping with line calls.
When Mora told Brett Hundley to pick up the pace on offense against Colorado Saturday, he said the quarterback joked, "If I can get my left guard, Peyton Manning, to quit making all these calls, we'd go a little faster."
Twitter: @cfosterlatimes
Get the latest on L.A.'s teams in the daily Sports Report newsletter.
You may occasionally receive promotional content from the Los Angeles Times.