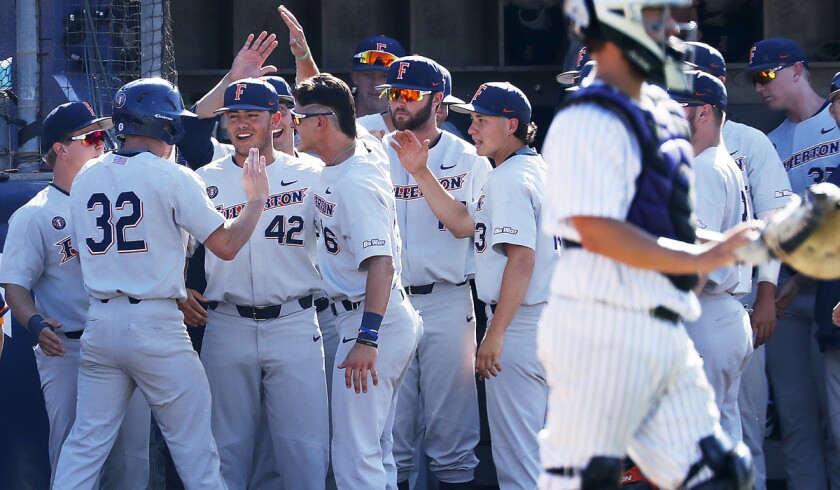 California produced 23 national championship finalists in college baseball from 1968 to 2013, with UCLA last hoisting the trophy in 2013. But the current five-year drought is the longest California has gone without a championship representative since 1957.
The state didn't produce a College World Series participant last year, marking the first time since 2005 that California baseball wasn't on display in Omaha, Neb., where the sport's championship tournament is held.
Here's a look at all 11 Division I teams in the Southland, including Cal Baptist, which makes the jump from Division II.
Cal Baptist: Cal Baptist won't be eligible for the postseason for the next four years, but that won't put a damper on its inaugural season of Division I play. The Lancers enter the Western Athletic Conference where the rest of the league will not be looking forward to facing two-way player Andrew Bash (8-2, 2.71 ERA; .399, 14 HR, 61 RBI).
Cal State Fullerton: The Titans return an experienced lineup that turned a 1-7 start last year into another Big West title. They were three outs from another trip to the College World Series when their defense faltered and Washington rallied to win in extra innings. The defense is shored up, but the Titans will have to rely on a number of young pitchers.
Cal State Northridge: Pitching depth will be a strength for the Matadors, returning seven pitchers who threw more than 30 innings. Freshman center fielder Denzel Clarke is a star in the making.
Long Beach State: The Dirtbags were inundated by injuries last year, derailing the season before it got going. Long Beach State will rely on some key pieces to rebound from missing significant portions of 2018, including shortstop Laine Huffman and middle-of-the-order bat Luke Rasmussen.
Loyola Marymount: Up the middle, the Lions should be stellar with West Coast Conference defensive player of the year Cooper Uhl behind the plate and Nick Sogard at shortstop. The Lions have an intriguing pitcher in Nick Frasso, who started to come into his own late last season.
Pepperdine: The Waves have what could be the WCC's top weekend rotation with Jonathan Pendergast, Easton Lucas and Cooper Chandler each experienced and talented. How good they ultimately are could depend on Lucas living up to his potential and how well three first-year starters do in the infield.
UC Irvine: Ben Orloff takes over following the retirement of legendary coach Mike Gillespie. He inherits a strong pitching staff led by junior right handers Andre Pallante and Tanner Brubaker. Pallante pitched for Team USA after going 10-1 with 1.60 ERA and 115 strikeouts in 101 innings. Brubaker was the California junior college pitcher of the year at Saddleback College last year.
UCLA: The Bruins have made three trips to the College World Series under John Savage by relying on dominant pitching. They'll try to bash their way to Omaha this year with one of the deepest lineups in the country led by juniors Michael Toglia, Chase Strumpf and Jeremy Ydens and sophomore Garrett Mitchell. They also add the top freshman in the country in Matt McClain, who was drafted No. 25 overall by the Diamondbacks but turned down a signing bonus of more than $2.6 million to attend UCLA.
UC Riverside: Fifth-year coach Troy Percival is looking for his first winning season. He'll lean on son Cole to lead the Highlanders after a successful freshman year that saw the younger Percival go 5-4 with a 3.19 ERA.
UC Santa Barbara: The Gauchos made the College World Series in 2016, capping a four-year run in which they won 152 games, but Santa Barbara has since had back-to-back losing seasons. Jack Dashwood, Ben Brecht and Chris Lincoln need to become the frontline starting pitchers they were expected to be.
USC: The most storied program in college baseball with 12 national championships, the Trojans have fallen on hard times since forcing out Gillespie in 2006. Once a postseason mainstay, USC has made the NCAA tournament only once in 13 years. To get back this year, they will need a ballyhooed freshman class to contribute, led by expected weekend starter Chandler Champlain.
---