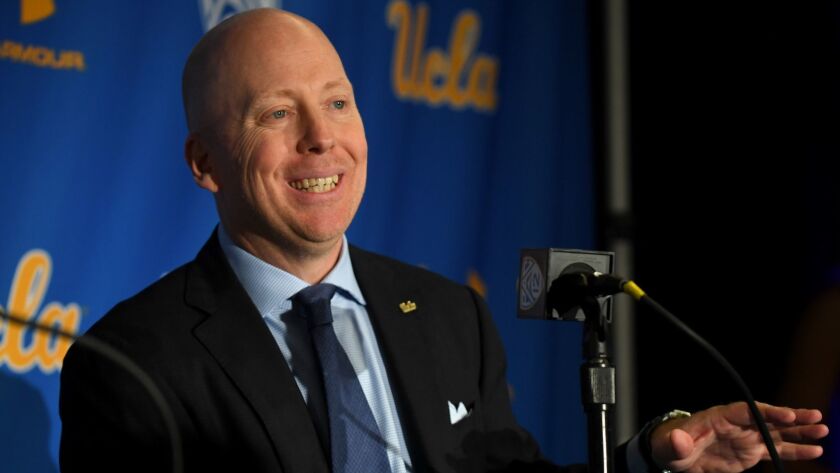 The word most often used to describe Mick Cronin's teams is not one his players will hear him use.
"I've never discussed being tougher," Cronin said Friday in his first meeting with reporters since being hired as UCLA's basketball coach last month, precisely because he could inject some toughness into a program lacking in that department.
To Cronin, being tougher means shirking the easy way out in favor of the harder play. It's getting to the basket and drawing a foul as opposed to taking a bad shot. It's beating a block-out instead of lazily giving up on a rebound. It's getting down in a stance and defending rather than getting blown by on defense.
When UCLA defeated Cronin's Cincinnati Bearcats in the second round of the 2017 NCAA tournament, he said, it wasn't because the Bruins had a cadre of future NBA players; it was because they were tougher than the Bearcats. Cronin said he showed one of his players a clip of UCLA forward TJ Leaf moving him out of the way for a rebound.
"They were tougher than us," Cronin said.
In each of the next two meetings, Cronin's Bearcats were easily the tougher team, beating the Bruins by a combined 42 points.
Cronin has spent part of his first 5½ weeks on the job preaching habits that could lead to the "T" label being pinned on his first UCLA team. He called it "eating your vegetables" by doing things such as rising early to work out, meeting with tutors to maintain good grades and being courteous toward others.
Cronin has also reconnected with former UCLA players by holding an alumni reunion earlier this month that was attended by Marques Johnson, Luc Richard Mbah a Moute and Mike Warren, among others.
One subject Cronin wouldn't touch was his expectation for how many games the Bruins would win during the 2019-2020 season.
"That, I got no answer," Cronin said, though he did indicate his team's success would hinge on whether UCLA shared the ball, played defense and took good shots. "Obviously, you never know what's going to happen with transfers, academics or lunacy. Because you never know, guys could walk in and start transferring."
No one has left since Kris Wilkes, Jaylen Hands and Moses Brown departed for the NBA draft. Those departures have raised additional concerns about UCLA's sagging academic progress rate scores, but Cronin could not say whether those players departed in good academic standing because of privacy rules.
The Bruins should be bolstered by the return of three players who missed all or part of last season. Cronin said guard David Singleton had shed the walking boot he's worn since breaking a bone in his foot during the Pac-12 Conference tournament. Power forward Shareef O'Neal has resumed workouts since undergoing surgery in December to correct a heart defect, though he's still rounding into form after having dropped 25 pounds. Point guard Tyger Campbell is expected to be 100% by the season opener after tearing a knee ligament last fall but is not being rushed back into action.
"You can't win games in May," Cronin said, "but you can lose them by getting guys hurt."
Cronin has one open scholarship but does not intend to fill it just to fill it; he's seeking a quality fit and said he intended to recruit a mix of multiyear players and one-and-done stars now that he has access to one of the nation's biggest recruiting hotbeds in Southern California. He also said he's "extremely close" to filling an assistant coach opening to round out a staff that includes Darren Savino and Rod Palmer.
UCLA's new coach is also seeking to maximize the talents of his roster, noting that seldom-used forward Kenneth Nwuba possessed a great attitude to go with tremendous size and strength as a sophomore who stands 6 feet 9 and weighs 245 pounds.
Sign up for our daily sports newsletter »
"What does he need to do to get more minutes?" Cronin asked. "So what maybe stopped him from getting more minutes? His lateral quickness? [It's] things we've got to work on with him to be able to get him to translate into a real game setting."
Cronin flashed his self-deprecating humor during and after the on-the-record portion of his informal meeting with reporters at the team's practice facility, saying he had not seen the UCLA billboards welcoming him to Westwood but that friends had poked fun at the light-skinned coach having been photoshopped as tan. He also acknowledged not knowing that UCLA was on the quarter system until taking the job.
But Cronin knows his UCLA history. He said Bruins legend Reggie Miller's shooting prowess was not a function of putting on music and getting up a bunch of shots but putting in the time and effort to perfect his footwork and form.
"You gotta be tough enough to get the job done," Cronin said. "Whatever the job may be — setting the screen, tough enough to get your feet set to get open shots — so it's just ingraining that. It's not like I come in and talk to our guys about being tough, it's about doing things right and being willing to put in the work to do things the right way."
Follow Ben Bolch on Twitter @latbbolch
---