Mick Cronin's determination fueled his coaching journey from Cincinnati to UCLA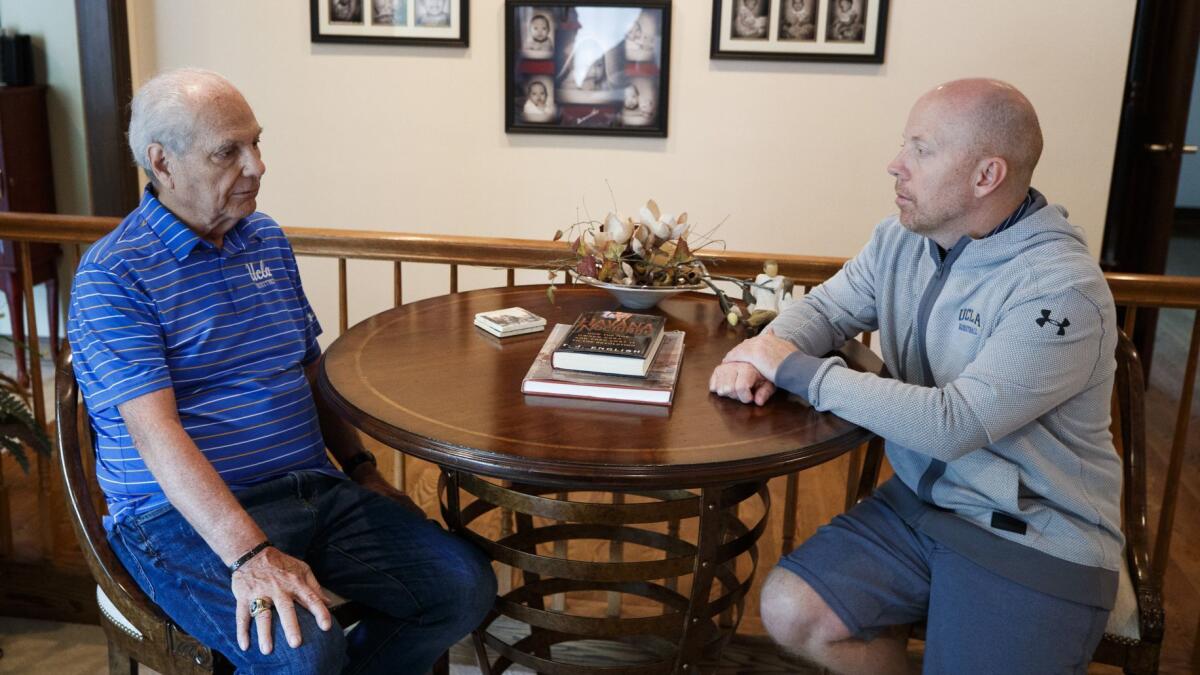 Reporting from Cincinnati —
Mick Cronin always pondered getting out. He loved his hometown dearly but sensed his storybook rise from junior varsity high school basketball coach to the head job at the University of Cincinnati might have another chapter left in some destination more exotic than the Bearcats' newly renovated arena.
Leaving wasn't going to be easy. Cronin's family had lived in Cincinnati going back to at least the 1800s. His brother and sister left the city for college before returning to plant deep roots, lured by the familiarity of what they had always known.
The siblings grew up on the west side of town, a gritty enclave of blue-collar workers. Their father was always on the move, schlepping from his job as a high school teacher to basketball practices as a coach to baseball games as a major league scout to the racetrack in the summers as a ticket-puncher.
Mick's success with the Bearcats, who went to nine consecutive NCAA tournaments under his guidance, afforded him a chance to move to the tonier east side of town. He took up residence in a sprawling mansion alongside doctors and entrepreneurs. He planned his first trip to Ireland, a deserved respite after another long season.
Then he took the UCLA job this spring.
So long, Dublin. Hello, Los Angeles.
"Someday," Cronin said of his postponed trip while standing in the remodeled kitchen of his Cincinnati home that was back on the market. "Hang a banner and then I can go to Ireland."
When he returned to Cincinnati late last month for the first time since switching from Bearcat to Bruin, Cronin arrived bearing gifts — a pile of UCLA shirts individually wrapped in plastic to give to family and friends. He met a pack of buddies one night for a farewell celebration at the Montgomery Inn, the slow-roasted rib joint overlooking the Ohio River.
Earlier that day, his father, Harold "Hep" Cronin, took a visitor on a tour of some of his son's favorite haunts. Stepping into the gymnasium at La Salle High, where Hep had coached his sons, he gazed at a picture of Mick above the bleachers. Written below the image were the words "Head coach, University of Cincinnati."
"UCLA's got to go up there now," Hep said with a smile, his son having gone from one west side to another.
::
Mick was so sure of his destiny that he wrote it inside his notebook: head college basketball coach.
He was a history major at Cincinnati, and others weren't convinced he was headed for the big time. One girlfriend dumped him for a dental student.
"I said, 'You're making a mistake, I'm going to be a head college basketball coach,'" Cronin, 47, said with a hearty laugh, one leg draped over the side of a leather chair inside his UCLA office. "'They make more money than dentists.'"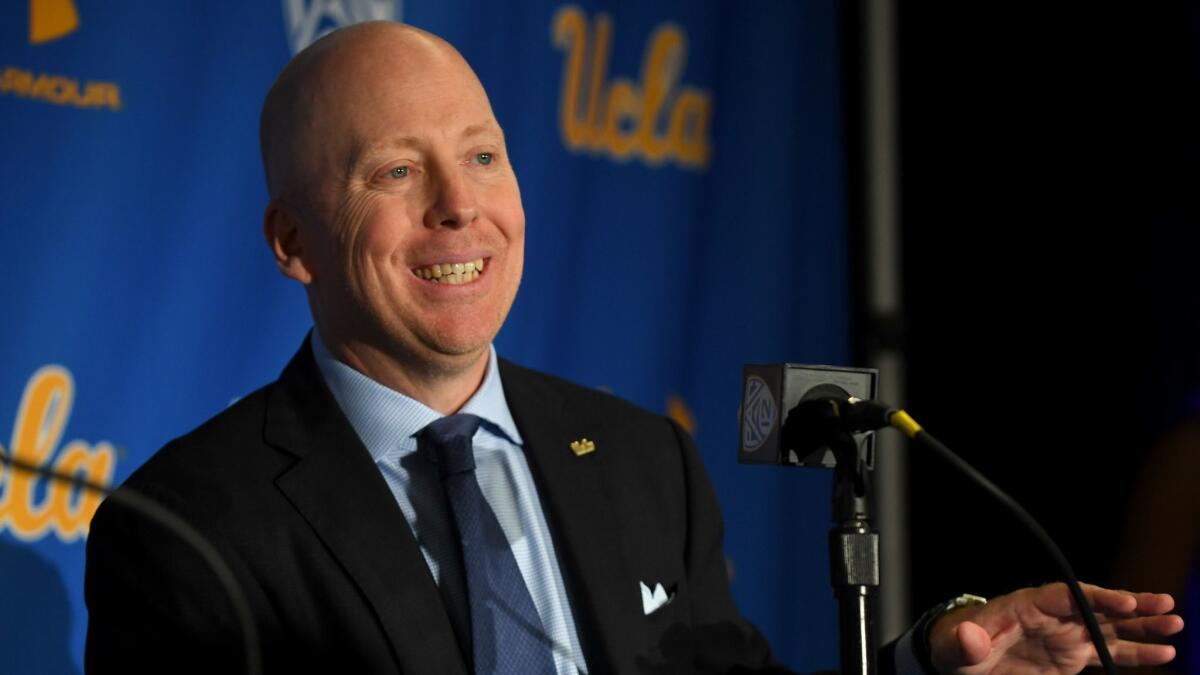 Cronin's six-year, $24.5-million contract with the Bruins makes the $500 he made per season in his first coaching job, leading the junior varsity at Woodward High in Cincinnati, seem like something out of another lifetime. He had long known by then what being a high school coach entailed thanks to his father, a local legend who piled up more than 400 victories.
The hours spent teaching classes. The thanklessness. The low pay.
None of it appealed to Cronin, who also wanted to experience living in another city.
His first break came when Jim Leon, the Woodward coach, spotted him sitting in the stands at a game and invited him to join his staff, suggesting that he could get a college job after completing his degree. Only 19 at the time, Cronin readily agreed.
It wasn't long before the fledgling coach realized how far ahead of his counterparts he already was thanks to his father's influence.
"My first year at Woodward, I was shocked you could outcoach guys," Cronin said. "Like, guys didn't know what to do if you changed defenses or if you pressed them. I just thought everybody knew that stuff. I was like, 'I can't believe this guy doesn't know what to do. We just stole the ball and they can't get it over halfcourt; we're going to win the game.'"
Success was a constant. Cronin's teams captured league titles during his first two years, leading to his promotion to a varsity assistant. Leon liked that Cronin upgraded his defense and challenged his strategy.
"He would always play devil's advocate and stuff," Leon said, "and I just thought, wow, this guy's on his way."
Cronin also connected with his players, piling them into a hand-me-down Cadillac with a missing front grille for rides home to some of the roughest neighborhoods in town. A pull-out radio had been installed, but the wires were crossed so that flipping it on only turned on the heater.
Leon introduced Cronin to scores of basketball power brokers such as Sonny Vaccaro, the sports marketing maven who invited him to work at his Roundball Classic and ABCD Camp. It was the start of a rapid ascent that would include stops at Cincinnati and Louisville as an assistant and Murray State and Cincinnati as the head coach.
Vaccaro never imagined that the young high school assistant whose boundless energy made him seem like "a little puppy dog" might one day take over at UCLA.
"If you look at the beginning to where he is today," Vaccaro said, "he's the Cinderella story of my life on the events I did watching kids growing up in the coaching element."
::
Without the foul ball, there would be no Mick.
Hep Cronin was a sure-handed shortstop for Cincinnati's baseball team in 1961 when he fouled a ball straight back toward fans on a hillside. He noticed the ball struck an elderly man, who appeared to be hurt. Several bystanders escorted the man from the game.
The image stuck in Hep's mind. After the game, he showered and parked his car where he saw the man headed. He asked around and was informed that the man lived nearby. He knocked on the door of the residence and was greeted by a young woman.
It was Peggy, his future wife.
The couple's two sons were showstoppers before making their first basket. Mick and his older brother Dan once rolled Hot Wheels across the court at Hep's game, forcing their dad to ask a referee to stop play as the Cronin boys' heads popped up from beneath the bleachers.
A few years later, the Cronins went to a youth team coach's house to pick up a jersey for Dan when the coach also handed one to his brother.
Hep reminded the coach that Mick was only 4; Dan was 6 and some of the kids on the team were even older.
"Nah, he's on the team," the coach said with a nod toward Mick, causing the boy's eyes to widen with excitement.
Mick played only at the end of blowouts and couldn't even hit the rim with the ball. Once, when a referee tried to line up another tyke at the free-throw line, it scared him so much that he sprinted off the court. Mick, taking the cue, ran off with him.
It might have been the last time anything frightened Mick.
He often intentionally left basketball battles in the backyard against his brother bruised and bloodied. Since he couldn't prevail in the games on a sloped court with a wooden backboard, he would make Dan beat him up just to expend the energy.
"It all started with him," Mick said of his sturdiness. "I knew I wasn't going to win but I was tough enough" to take him on.
A speck of a point guard at 5 feet 7, Mick intimidated with his skill. His passing wizardry fooled defenders and his on-court savvy helped him get steals and take charges. He had only to glance at the front of his practice jersey, bearing the words "Defense Wins," to remember his mandate.
Cronin's hopes of playing in college ended with a gruesome knee injury he suffered as a junior. He returned as a senior but was never close to the same player. His knee swelled up to twice its normal size every time he played. He needed crutches to get around between games. Nevertheless, he refused to quit until his final high school game.
By then, Cronin had long mastered the relentless, pressing defense and highly structured offense favored by his father. He also listened as Hep discussed prospects in his job as a scout for the Atlanta Braves, helping the organization draft stars David Justice and Chipper Jones, leading to a glorious run that included the 1995 World Series title.
Cronin mimicked his father's scouting style while sitting in the bleachers studying La Salle's next opponent.
"He would be over there taking notes and I'm sitting there eating M&Ms, laughing and cutting up and seeing what girl I could go talk to," said Dan, the starting point guard whom Mick backed up through his sophomore season.
"All he'd care about was what note he was going to take. And I'd say something like, 'Mick, you're not even playing Friday; I'm not hurt. You're not even going to get in the game, what do you care? Quit taking them notes.' And he would just start laughing and he would say, 'I'll be ready.'"
::
Sixteen years after hearing his new coach speak for the first time, Chris Shumate remembers the directive.
You're going to play hard and you're going to play defense, or you won't play.
Cronin inherited eight seniors in his first season as head coach at Murray State in 2003, along with their bad habits. Shumate was among those who weren't always exerting maximum effort on defense. He started the first three games and came off the bench for the next eight while sorting out his shortcomings.
"Being a multi-year starter and 1,000-point scorer to coming off the bench," Shumate said, "that … hits you pretty hard."
Shumate didn't let the demotion ruin his final college season. He returned to the starting lineup for the start of Ohio Valley Conference play and helped the Racers win the conference tournament to reach the NCAA tournament.
By season's end, his defense was no longer lacking; he won the team award for most deflections, receiving a plaque his mother still has somewhere in her home.
The bond between coach and player had grown so tight that Cronin brought Shumate onto his Cincinnati staff as a volunteer three years later, commencing his own climb up the coaching ranks. Shumate became immersed in core philosophies that go much deeper than a commitment to rebounding and a defense that some have described as a matchup man-to-man.
"He would say our success big-picture and then game to game is going to be determined by what happens when the ball is in the air and on the ground," Shumate said. "When the ball's on the ground and they're dribbling the ball, how are you defending? When the ball's in the air, are you blocking out? When the ball's being passed, are you jumping into position?"
Cronin stayed at Murray State for three years, though the school's athletic officials already were bracing for his departure after he won 28 games in his debut season and landed recruits who easily could have headed to more high-profile programs.
"We could see that after his first year, what he did with that team and how he recruited," said Kenny Roth, the Murray State associate athletic director who was part of the committee that hired Cronin, "it was just a matter of time."
::
Cronin joked that he inherited a golf team when he essentially succeeded Bob Huggins at Cincinnati in 2006 after the Bearcats spent one season under interim coach Andy Kennedy.
The foursome included a walk-on, a tight end on the football team and a former NAIA player who arrived after Hurricane Katrina ravaged his school in New Orleans. The team badly needed players to avoid embarrassment, let alone win, entering its second season in the Big East Conference.
Hep remembers his son sitting on the living room sofa, a phone pressed to each ear, trying to recruit. The Bearcats stumbled to an 11-19 record in Cronin's first season, but their fortunes began to turn once he landed prep stars Yancy Gates and Cashmere Wright prior to his third season and Lance Stephenson prior to his fourth.
Most of the players Cronin brought in were far less heralded. He had been known for unearthing finds as an assistant coach, even if it meant telling bosses initially skeptical about their prospects that he would put his job on the line for them. Now the call was entirely Cronin's.
A tip led him to forward Jacob Evans, who wasn't being widely recruited because he played for a small private school and a largely anonymous club team. It also helped that the rankings gurus missed on him. Cronin differed in his assessment after only a few minutes of watching him play.
"I told him, 'Get ready, I'm going to stalk you,'" Cronin recalled. "'You're my top recruit and I believe you're an NBA player.'"
Cronin and an assistant contacted Evans every time they were allowed to under NCAA rules, sustaining their pursuit until he signed a letter of intent. Evans eventually fulfilled his coach's prediction. The Golden State Warriors drafted him in the first round last year after he helped Cincinnati go 83-22 during his three college seasons.
The Bearcats had become a constant in the NCAA tournament by then, though their stays usually were short. They advanced to a regional semifinal only once under Cronin, in 2012, and were bounced by Nevada in the second round last year after losing a 22-point lead in the final 11 minutes. Hep said his son went into seclusion for a week.
"It always amazed me that fans thought they were more upset about that than he was. Come on," said Dan Hoard, the Bearcats' longtime radio play-by-play announcer. "It had to drive him crazy. I can only imagine how difficult the Nevada loss was to him."
Cronin snapped out of his funk after receiving a check-in text from Octavius Ellis, one of his former Cincinnati players. Ellis had struggled with anger management after watching his mother be fatally stabbed. He was dismissed from the Bearcats after a nightclub brawl but returned after two seasons at a junior college, helping Cincinnati reach two NCAA tournaments. He graduated and went on to play professionally overseas.
"He flourished, he grew up," Cronin said. "That's success."
::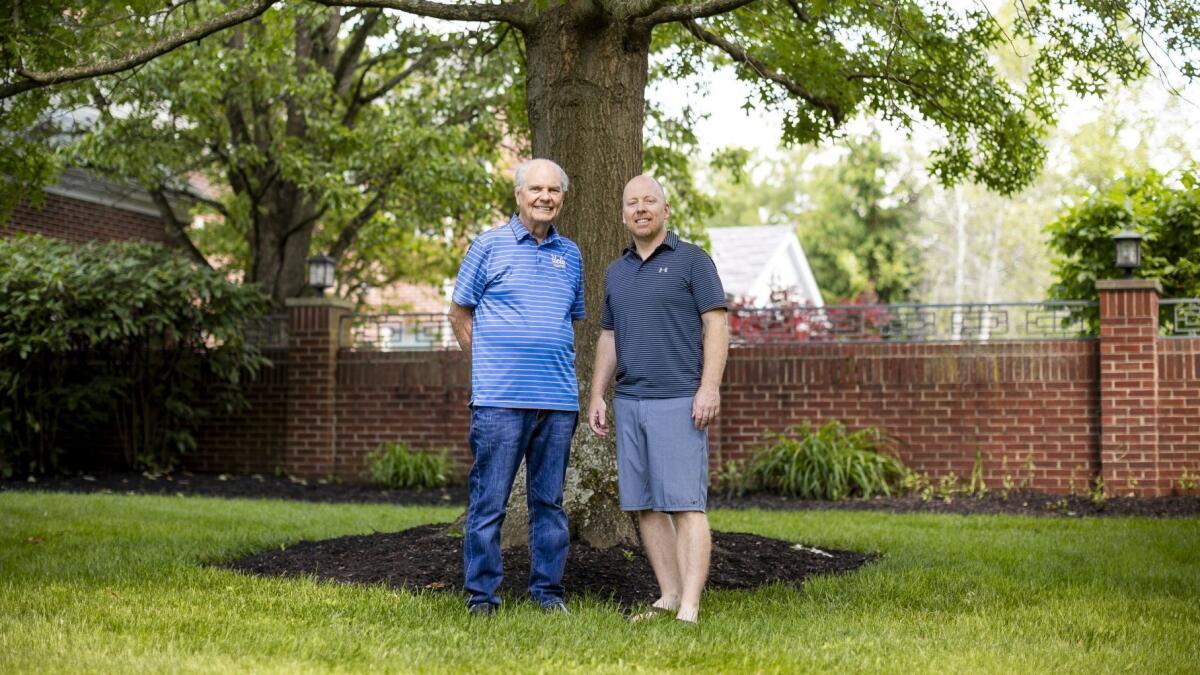 Dan Cronin enthusiastically engages on a variety of topics involving his brother. Then he's asked what it will be like to see Mick leave Cincinnati.
"That's a tough one, man," Dan said after a lengthy pause, his voice cracking. "It is."
Dan knew that UCLA was his brother's top choice should he ever leave home. Mick loved the California lifestyle, the UCLA tradition and the local horseracing scene. He also felt it was a place where his teenage daughter, Sammi, could thrive.
When Cincinnati played the Bruins in December 2017 at Pauley Pavilion, Mick and Dan exchanged knowing smiles.
"I walked out of the arena with my girlfriend," Dan remembered, "and said, 'I could see him coaching here.'"
Mick's early mandates with his new team have centered on fundamentals. Missed layups lead to five push-ups. Players are repeatedly told their effort will determine their rate of improvement.
The new coach is undergoing some adjustment of his own, noting that Sammi's $40,000 yearly tuition at Campbell Hall in Studio City nearly doubles the $25,000 his parents paid for his childhood home. Cronin hates to think how much he might have to plunk down for his new residence.
"I'm house hunting out here and it's, oh my gosh," Cronin said. "When you don't grow up around those numbers, it's hard to get your mind around it."
Some things, you just don't want to contemplate.
Get the latest on L.A.'s teams in the daily Sports Report newsletter.
You may occasionally receive promotional content from the Los Angeles Times.