Mick Cronin focused on transforming UCLA men's basketball team into a winner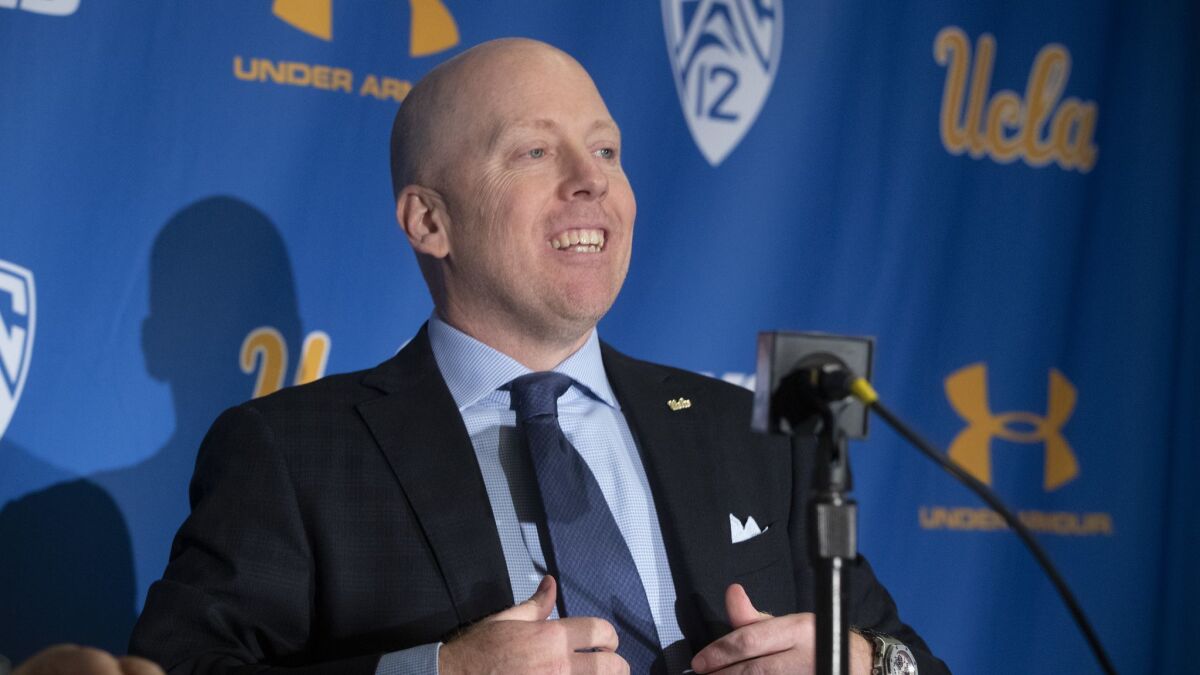 The photo op was meant to showcase the six letters on the back of the jersey.
Mick Cronin stood and obliged briefly, clutching both corners of the blue-and-white fabric bearing his last name, before turning the jersey around so the clicking cameras could capture what was on the front: UCLA.
"This is the most important," Cronin said. "The four letters are more important than my name."
The Bruins have hired a basketball coach who reveres the school so much that he used to lie awake at night watching its teams play, pondering what it would be like to be Jim Harrick, to be Steve Lavin, to be Ben Howland, to be Steve Alford.
Cronin joined that pantheon of coaches Wednesday when he was formally introduced inside Pauley Pavilion as Alford's replacement after signing a six-year, $24.5-million contract.
"This is not a hard decision," Cronin, 47, said of leaving his hometown Cincinnati Bearcats after 13 years as the head coach and five previous years as an assistant. "Not when you're Irish and you're a little bold and you're not afraid. You gotta embrace it, you only live once."
While Cronin's hiring generated a lukewarm reception among fans, UCLA athletic director Dan Guerrero described himself as "absolutely thrilled" with the outcome of a 100-day search that involved several other serious candidates, including Texas Christian's Jamie Dixon and Tennessee's Rick Barnes. The Bruins passed on Dixon because of an $8-million contract buyout and their pursuit of Barnes ended after a series of intense negotiations fell apart.
Bob Myers, the Golden State Warriors general manager and UCLA alumnus who was part of his alma mater's search committee, said the Bruins sometimes engaged multiple candidates simultaneously out of necessity.
"It wasn't so much like you say, 'Let's go to this guy, then this guy, then this guy,' " Myers said. "It was more of, 'Let's plant seeds in various places and see what flourishes,' and it happened to be Mick."
Myers said Cronin conveyed a strong interest in the job from the school's initial contact and never wavered, endearing himself to the committee. Cronin's candidacy was undoubtedly bolstered by his team having whipped the Bruins in each of the last two seasons, including a 29-point victory in December.
Those Cincinnati teams were largely a reflection of a coach who blends humor with blue-collar sensibilities. Speaking in front of a crowd that included both Bruins and Bearcats alumni, including former NBA stars Jamaal Wilkes and Kenyon Martin, Cronin dispelled the notion that he was a defense-obsessed coach and said winning would be a function of building his kind of culture.
"Here's how I spell fun: W-I-N," Cronin said. "And offense, defense: W-I-N. Figure out how we have to win and it starts with that first meeting and starts with our first session of workouts and you build from there."
Cronin has routinely piled up victories throughout his 16 seasons as a head coach, winning at least 22 games in each of the last nine seasons and taking the Bearcats to the NCAA tournament each time. His 365 victories in 16 seasons at Cincinnati and Murray State are the most among active Division I coaches under 50.
The one knock on his resume is his teams never having advanced past their one appearance in a regional semifinal.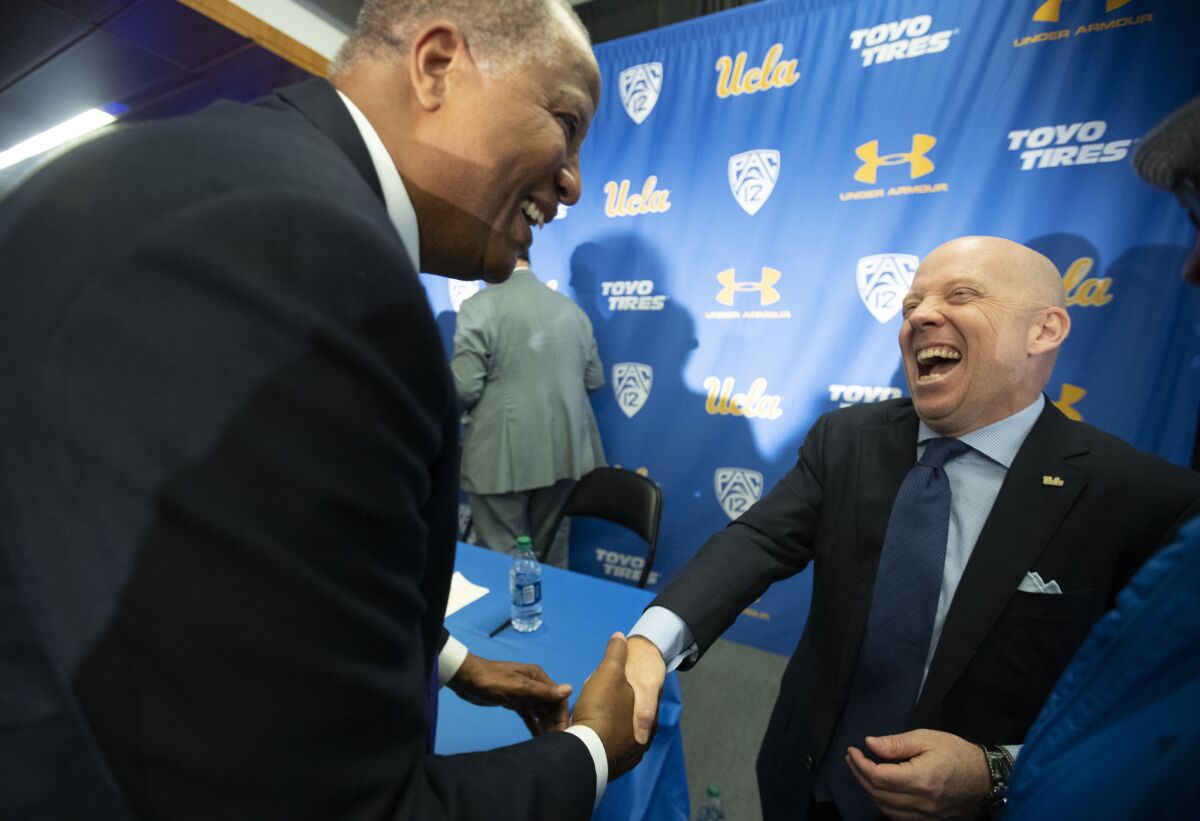 Cronin declined to give a timetable for reviving a program that has gone nearly a quarter of a century since its last national championship, saying he wanted first to see the makeup of his roster as a few players vacillate about their futures.
He met with his new players for about 30 minutes Wednesday, telling them he needed to lean on them after enduring the emotional fallout of saying goodbye to his old players the previous day.
"It's the most difficult thing I've ever done in my life," Cronin said, "other than burying my mother."
Guerrero said Cronin was responsible for paying the $2.2-million buyout on his Cincinnati contract out of the $2-million signing bonus that UCLA gave him as part of a new contract that includes up to $300,000 in team and academic bonuses per season. Cronin's reciprocal buyout with the Bruins calls for either party to pay $19 million should it separate before March 31, 2020. That figure goes down to $15.4 million in the second year, $8.775 million in the third year, $5.925 million in the fourth year and $3 million in the fifth year.
Cronin's new job comes with another important perk. The Bruins will fly charter flights exclusively starting next season, Guerrero said, after having done so only sporadically in recent seasons.
Sign up for our daily sports newsletter »
The makeup of Cronin's coaching staff is still taking shape. Cronin said that Darren Savino, one of his Cincinnati assistants, was a candidate to be his successor with the Bearcats. He added that he wanted a staff with a "West Coast flavor" and was considering keeping Tyus Edney, the legendary Bruins point guard who was an assistant under Alford and interim coach Murry Bartow.
Cronin said he hoped everyone left on the roster after the departures of Kris Wilkes and Jaylen Hands to the NBA draft stayed. He acknowledged the need to call incoming freshmen Jamie Jaquez and Jake Kyman and said he wanted players to come to UCLA for the right reasons.
"If we're going to give you that jersey you've got to give us your heart, you've got to give us everything to help better our school and our team," Cronin said. "You can't just come here because the weather's great."
Cronin said he wasn't worried about his ability to recruit on the West Coast despite harboring no formal ties to the area, noting that a power broker on the high school club circuit was among the crowd.
Besides, Cronin said, he wields a new built-in advantage in his efforts to sway local prep stars.
"I've got the most important thing to recruit on the West Coast," Cronin said, clutching the UCLA lapel pin on his suit jacket, "and that's right here — the four letters."
Follow Ben Bolch on Twitter @latbbolch
---
Get the latest on L.A.'s teams in the daily Sports Report newsletter.
You may occasionally receive promotional content from the Los Angeles Times.