Sports Media: Pioneering broadcaster Ann Meyers Drysdale continues to hone, and be recognized for, her craft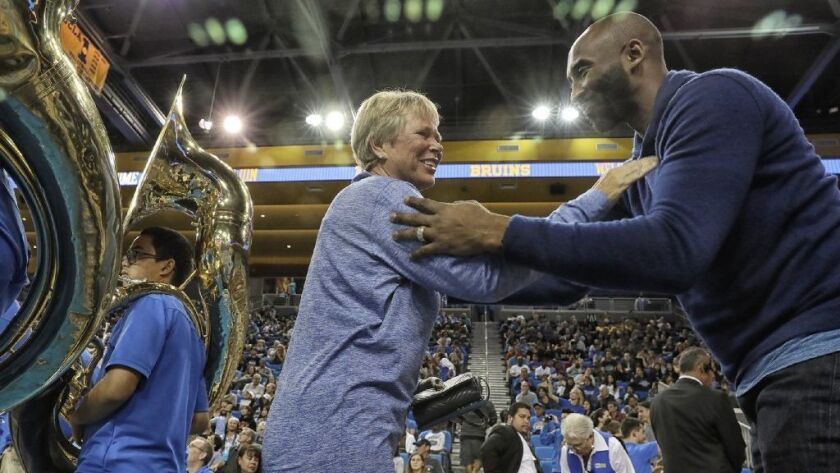 Ann Meyers Drysdale wasn't an accidental broadcaster when she pivoted from a ground-breaking Basketball Hall of Fame playing career in the 1970s and '80s, looking for a meaningful way to stay involved in the sport.
Her dedication to basketball for decades has brought more Hall of Fame recognition. The Southern California Sports Broadcasters organization, which has included three dozen men in its Hall of Fame since founder Tom Harmon was first recognized in 1992, will give Meyers Drysdale another historic embrace with her inclusion in its Jan. 28 ceremony at Lakeside Country Club in Toluca Lake.
"Honestly, I never imagined something like this, and it's important to me to be grateful for so many who have opened doors for me, many without me even knowing about it," Meyers Drysdale said during a break in a four-game trip she took with NBA's Phoenix Suns as a Fox Sports Arizona analyst.
"It's totally humbling, especially when I see those who are in this group," she added.
The list includes her late husband, Don Drysdale. She accepted the SCSB Hall award for the former Dodgers, Angels and Rams broadcaster in 1998, five years after his death.
"There is a real sense of pride for me because, even as a young player with the Dodgers, Don knew he wanted to be a broadcaster and he worked at his craft," Meyers Drysdale said.
With his encouragement and business know-how, Ann gained confidence in her broadcast abilities. She debuted on a national network stage with the Summer Olympics, continued at ESPN with men's and women's games, and had a nine-year run with what was then Prime Ticket doing the Sparks, most with Larry Burnett but also a season with Chick Hearn as a broadcast partner.
Her broadcast career started in a classroom at UCLA, where she became the first four-time All-American women's player.
Meyers Drysdale was used to being interviewed for stories by local L.A. sportscasters such as Harmon, Dick Enberg, Ross Porter and Ed Arnold. As a fifth-year senior, and while playing for the U.S. national team, she was intrigued to take a well-known class in the UCLA School of Theater, Film and Television taught by Art Friedman.
Former UCLA basketball standouts Keith Erickson and Lynn Shackelford, who would go on to become Lakers broadcasters, had taken the class and came back as guest speakers.
"We really hit it off," Meyers Drysdale said of Friedman. "This was a time when I only recall seeing someone like Phyllis George and Jayne Kennedy as women working in the business."
Eventually she hustled to get into the famed Don Martin School of Radio & Television Arts & Sciences in Hollywood, an organization in its early years that was advertised as "for men only."
Sign up for our daily sports newsletter »
A 13-game schedule of Suns games on top of 17 for the WNBA's Mercury — teams she has worked for in the front office for many years — keeps her engaged in the industry while living part-time in Phoenix. The 63-year-old says she is keeping her options open on future broadcasting assignments and would love to come back to Southern California, where she has a home in Huntington Beach.
For this year's Hall of Fame ceremony, the SCSB also will honor the late public address announcer John Ramsey, bringing the total club membership to 39. The Dodgers' Jaime Jarrin will receive the Vin Scully Lifetime Achievement Award.
For all that, the SCSB award feels like "a sense of family and togetherness in the history of L.A. broadcasting, and it's important for more women to continue down this road," Meyers Drysdale said. "I like to think my ability to work hard and call games has mattered. Even if I was overlooked, it just made me want to work harder."
TUNED IN
► Continued good thoughts to John Jackson, the USC football radio analyst recovering from a stroke suffered in December. Notes to the 52-year-old former Trojans receiver and baseball standout also known for his high school football work for Fox Sports West and Prime Ticket can be sent to 2110 Artesia Blvd., PO Box 574, Redondo Beach CA 90278
TUNE IT OUT
► Another quirk in how Nielsen TV metering numbers might look like antiquated measurement of today's multi-media consumption: Fox reported a 27.1 fast-national overnight rating from the Rams' NFC championship overtime win in New Orleans on Sunday. Yet the L.A. market came in below that, at 26.4, and less than half the 59.5 in New Orleans. Later Monday, Fox announced a 24.5 national rating representing 44 million viewers. CBS' New England-Kansas City AFC title game in the afternoon had a 31.2 overnight rating, adjusted to 27.5 when all the data came in. The L.A. market matched that number.
---
Get the latest on L.A.'s teams in the daily Sports Report newsletter.
You may occasionally receive promotional content from the Los Angeles Times.