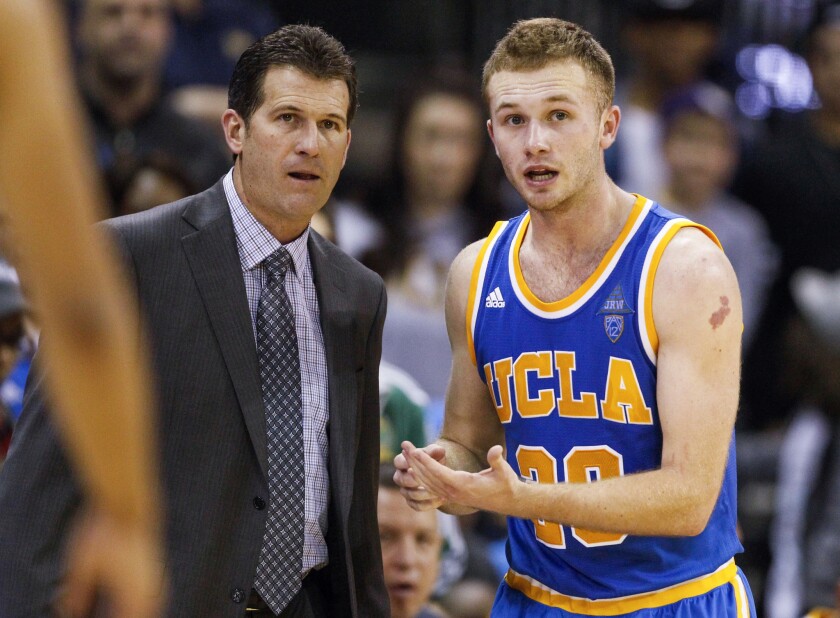 Fortunes can change swiftly in the Pac-12 Conference. Follow the trajectory of UCLA's basketball team: one day, a top contender in the conference, with victories over a couple of the nation's best. A weekend later? The basement.
That reality hit UCLA on Sunday evening. After a loss to Washington State followed a loss to Washington, defeats at the hands of two of the conference's weakest teams in a span of three days, the Bruins lingered in the locker room longer than they have after any game this season, marinating in the missed opportunity.
When they emerged, they limped and shuffled to their bus.
The winless trip prompted soul searching. It also changed the complexion of Thursday's home game against No. 7 Arizona.
What could have been an early struggle for dominance in the West has turned into a battle for survival. Arizona lost only two Pac-12 games on its way to a conference title last season. It lost only three the season before. A third loss, then, could leave UCLA teetering out of contention.
"They're going to know the importance of this," UCLA Coach Steve Alford said of the Bruins.
The loss to Washington State, in particular, left UCLA grappling with difficult questions.
What kind of team is it? Early results offered hope that this season might be more than just a bridge to a promising incoming recruiting class. UCLA played the most difficult nonconference schedule in the Pac-12, according to basketball statistician Ken Pomeroy.
The Bruins defeated then-top-ranked Kentucky at home and then-No. 20 Gonzaga on the road. And they were tied at halftime against No. 11 North Carolina in New York.
In other instances, UCLA (9-6, 0-2 in Pac-12 play) has done little more than show up.
How could the same team that defeated Kentucky and Gonzaga get manhandled by Washington State?
"That one's a hard one for us to figure out," Alford said. "I felt like we're, and feel like we're, a pretty good team that struggled out of the gate."
UCLA has identified its problem areas. Center Thomas Welsh said UCLA lacked defensive intensity. Guard Bryce Alford said the team is eager to show the trip was an aberration.
"I think our guys are just itching to play again," Bryce Alford said.
In a way, Arizona is an ideal opponent for UCLA to launch a turnaround.
It is difficult to determine whether Arizona is as good as it was last season, when it reached a regional final in the NCAA tournament. But the Wildcats rarely have issues with intensity. Arizona (13-1, 1-0) has lost only to Providence, now ranked eighth.
In the last five seasons, Arizona has won three Pac-12 regular-season titles to UCLA's one. Arizona's control of the conference has mostly kept any rivalry with UCLA on a simmer until earlier this season, when the Bruins seemed to restart it.
Arizona has often poached recruits from the fertile Southern California area. The commitment of forward T.J. Leaf, one of the highest ranked players in next season's freshman class, reasserted Arizona's formidable presence.
Then, in November, Steve Alford stopped the momentum. He flipped Leaf to UCLA, and hauled in one of the nation's best early classes — exclusively local players.
A few days after losing out on Leaf, Arizona Coach Sean Miller, without naming UCLA specifically, offered this veiled criticism: "I watched a couple of games last night like, 'Wow, that is amazing, who's not at the game?' " Miller said.
Arizona the previous night had sold out its home arena for a game against Bradley; UCLA had played Cal Poly in a half-empty Pauley Pavilion.
"I know there's a lot of traffic," Miller said, "but you wonder if the season ticket was not printed the right way. As a young kid, why would you ever want to come to a program or a place where nobody comes to the game?"
But since, there have been no more volleys. At several points during his most recent weekly news conference, Miller praised UCLA at length.
"I think over 18 games they'll be right there in the thick of things to compete for our conference's championship," Miller said.
Without a victory Thursday, though, that possibility would be remote.
"There's a lot of pressure on us after two losses early in conference play," Bryce Alford said.
NEXT UP
UCLA VS. No. 7 ARIZONA
When: Thursday, 6 p.m. PST.
Where: Pauley Pavilion.
On the air: TV: ESPN2; Radio: 570.
Update: UCLA is hoping for another rowdy crowd like the one that witnessed an upset of Kentucky this season. UCLA will honor Oklahoma City Thunder star Russell Westbrook, a former Bruin, for his donation to the school's planned basketball facility. Arizona (13-1 overall, 1-0 in Pac-12 Conference) defeated UCLA twice last season, but UCLA (9-6, 0-2) won the teams' last meeting at Pauley Pavilion, in 2014. In losses to Washington and Washington State last week, forward Tony Parker and guard Bryce Alford, UCLA's most experienced players, hit a cold streak. Only guard Isaac Hamilton, who has scored in double figures 11 straight games, remained consistent. In its most recent game, Arizona was buoyed by the return of center Kaleb Tarczewski, who missed eight games with a left foot injury. Senior forward Ryan Anderson leads the Wildcats (15.1 points and 10.2 rebounds).
---