UCLA vs. Arizona: How the teams match up for their Pac-12 game Saturday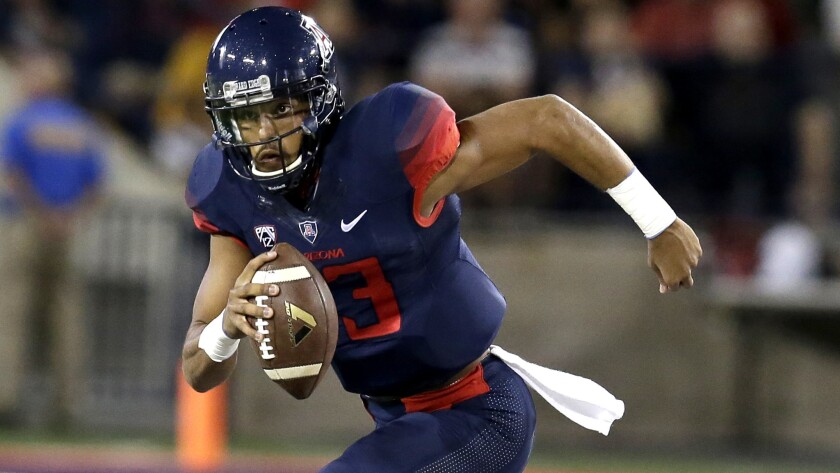 Arizona (2-2) vs. UCLA (2-2) at the Rose Bowl. TV: ESPN, 7:30 p.m., Saturday.
Times staff writer Ben Bolch analyzes Saturday's game:
Most intriguing story line: It's the team without a tailback versus the team with too many nondescript ones. OK, so maybe that's an oversimplification, but not by much. Arizona is missing its top three tailbacks because of injuries and the Arizona penal code. UCLA is searching for a viable tailback after five candidates looked only so-so (and Soso) during the season's opening month. A worst-case scenario for the Bruins would be Wildcats quarterback Brandon Dawkins emerging as the best ballcarrier in the game.
UCLA pass offense vs. Arizona pass defense: If this is as good as it gets, then the Josh Rosen era will be much ado about very little. Four games into his sophomore season, Rosen has nearly as many interceptions (four) as touchdown passes (five). That's the biggest reason UCLA ranks eighth in the Pac-12 Conference in pass efficiency. Rosen could benefit from Bruins Coach Jim Mora's vow to shorten his receiver rotation, presumably giving Rosen access to the handful of teammates who can get separation from defensive backs and hang onto the ball. Arizona's secondary is easily beatable, the Wildcats having surrendered 256.3 yards passing per game to rank 90th out of 128 major college teams. EDGE: UCLA.
UCLA run offense vs. Arizona run defense: The tailback-by-committee approach hasn't worked for the Bruins, prompting Mora to say he would feature one ballcarrier against the Wildcats. Bolu Olorunfunmi was the tailback UCLA relied on when it needed tough yardage late against Stanford, but he offered mixed results. Olorunfunmi gained a first down with a 23-yard run but was otherwise stuffed. Soso Jamabo remains the team's leading rusher in terms of total yards (198) and yards per carry (4.8). Nate Starks, who has averaged only 2.5 yards per carry, appears to be a longshot to be the featured tailback. Arizona's run defense is just as shoddy as its pass defense, allowing 198.3 yards per game. EDGE: UCLA.
Arizona pass offense vs. UCLA pass defense: The Wildcats appear to have identified their quarterback of the future in Dawkins, who was equally effective passing and rushing last week during an overtime loss to Washington. Dawkins did have some trouble finding receivers late in the game and continues to learn on the job after replacing the injured Anu Solomon. The Bruins have ratcheted up the pressure on the quarterback the last two games, testing their secondary's ability to handle man-to-man coverage. It's a challenge the defensive backs have largely passed. UCLA ranks second in the Pac-12 and ninth nationally in pass efficiency defense. EDGE: UCLA.
Arizona run offense vs. UCLA run defense: Wildcats freshman tailback J.J. Taylor was on the verge of a 100-yard game against Washington when he suffered a broken left ankle in the third quarter, likely sidelining him for the season. Arizona had already lost tailback Orlando Bradford earlier in September when he was dismissed from the team in the wake of domestic violence charges. That leaves Nick Wilson … or does it? Wilson did not suit up against the Huskies and remains questionable against the Bruins because of an ankle injury. Backups Zach Green and Tyrell Johnson will try to carry the load if Wilson is forced to miss another game. Of course, Dawkins may provide the only rushing yardage the Wildcats need. He ran for 176 yards against the Huskies. EDGE: UCLA.
Special teams: Arizona has placed its kicking game solely in the feet of Josh Pollack, which has worked out nicely. Pollack has averaged 48.1 yards per punt and made four of five field-goal attempts. Freshman kicker J.J. Molson has been everything UCLA envisioned, making six of eight field-goal tries and all nine extra points. But the Bruins are still waiting for a breakthrough from Ishmael Adams, who has averaged 3.1 yards per punt return and 20.3 yards per kickoff return. EDGE: Arizona.
Ben Bolch's pick: Some things just perpetuate themselves in the Pac-12. UCLA losing to Stanford is one and the Bruins beating Arizona is another. UCLA 31, Arizona 17
---
Get the latest on L.A.'s teams in the daily Sports Report newsletter.
You may occasionally receive promotional content from the Los Angeles Times.