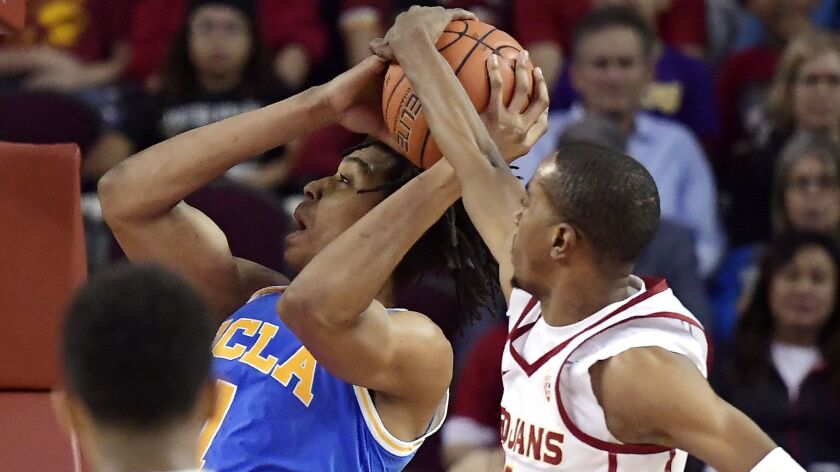 UCLA has faced a certain style of defense so much recently that it's started to infiltrate players' idle thoughts. Point guard Jaylen Hands woke up one day this week pondering the zone.
His team faced a zone against USC last weekend after having faced one against Oregon State and after having faced one against Oregon. The five Pac-12 Conference teams the Bruins have played feature some variety of zone defense, though a few like to mix in man-to-man coverages.
"I guess it's just a new thing," Hands said of the heavy zone usage, "but that is wild."
The Bruins have countered with an offense largely stuck in a twilight zone of turnovers, missed shots and empty possessions. UCLA's adjusted offensive efficiency is ranked No. 146 nationally, according to the metrics of Ken Pomeroy, putting the Bruins behind Samford, Grand Canyon and UMass Lowell, among others.
A typical possession might start with a few passes around the perimeter and some dribbling — lots of dribbling. Then comes a contested three-pointer, often with more than a handful of seconds left on the shot clock, or a drive into the gut of the defense. And those are the instances in which the Bruins don't turn the ball over before getting off a shot.
It's a formula that hasn't worked as the Bruins (10-8 overall, 3-2 Pac-12) prepare to face Arizona State (13-5, 4-2) on Thursday night at Pauley Pavilion, leaving interim coach Murry Bartow a bit flummoxed in his search for a solution to the inefficiency.
"Whew," Bartow said with a sigh when asked about his team's offensive shortcomings. "How long do I have to answer that?"
Bartow proceeded to tick off a litany of fixes, including decreasing turnovers, making more free throws, taking fewer three-pointers with a hand in the shooter's face and playing more inside-out. It's a solid start but hardly inclusive for a team that has also been beset by selfish play, a lack of skilled shooters, over-dribbling, little effective cutting or screening and poor decision-making both in transition and in the halfcourt.
"We need to get the ball into the paint more," Bartow said, "not necessarily to pound it into the paint to score, but to get your offense triggered by going into the paint and kind of going from there."
Center Moses Brown has been a non-factor during the Bruins' two-game losing streak, getting held to single digits in both games largely as the result of a decrease in touches.
Bartow said he tended to call fewer plays when his team is facing a zone as opposed to a man-to-man defense, but the Bruins' struggles have persisted regardless of how they have attacked various coverages.
Freshman point guard Tyger Campbell was expected to help Hands keep the offense humming before suffering a torn knee ligament in October that sidelined him for the season.
Campbell's absence has left Hands almost exclusively to run an offense that isn't drawing many comparisons to "Showtime." Hands leads the Pac-12 with 6.4 assists per game but has had little support with ball movement; no other Bruin is averaging more than forward Kris Wilkes' 1.8 assists per game.
Sign up for our daily sports newsletter »
One solution to the offensive woes could be a return to the defensive pressure that helped UCLA increase its tempo early in Pac-12 play, leading to turnovers and easy baskets for the Bruins.
Another reprieve could come in the defense the Bruins anticipate seeing against Arizona State; the Sun Devils have used some zone but prefer man-to-man coverage, which has become something of a rarity among conference teams.
"It opens up lanes for a lot of players on the team who like to drive and use the dribble to get to the basket and create," UCLA guard Jules Bernard said, "so I think that will open up our offense a little bit."
UP NEXT
VS. ARIZONA STATE
When: 8 p.m.
Where: Pauley Pavilion.
On the air: TV: FS1; Radio: 570.
Update: Arizona State leads the Pac-12 in scoring, averaging 79.1 points per game, but the Sun Devils haven't been particularly efficient. They rank 10th in the conference in field-goal percentage (44.6), seventh in three-point percentage (34.6) and 11th in free-throw percentage (66.1). They have succeeded in part by averaging 13.2 offensive rebounds per game, best in the Pac-12, and repeatedly getting to the free-throw line thanks to slashers Zylan Cheatham and Luguentz Dort.
Follow Ben Bolch on Twitter @latbbolch
---