Balanced Oregon State hands UCLA its first defeat under interim coach Bartow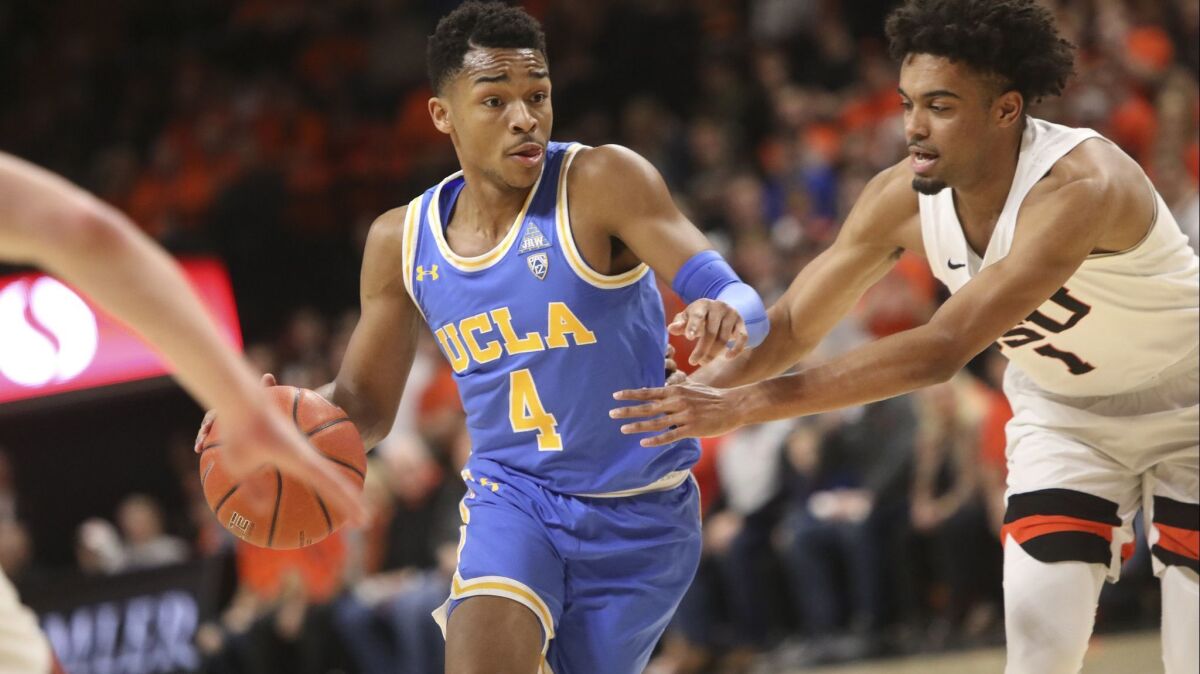 Reporting from Corvallis, Ore. —
Prince Ali deflected the ball only to see his counterpart eventually score.
Kris Wilkes rose for a three-pointer that could have made the deficit manageable only to watch it bounce off the rim.
Jaylen Hands sprinted from trap to trap only to watch the ball move past him with relative ease.
The magic that UCLA had conjured for a historic comeback earlier on this trip did not materialize again Sunday night.
When the Bruins fell behind big late in the second half against Oregon State at Gill Coliseum, they stayed down on the way to a 79-66 defeat that ended their stirring run to open Pac-12 Conference play.
The primary culprit was a familiar one. UCLA couldn't move the ball for easy baskets against the Beavers' alternating matchup zone and man-to-man defenses, resulting in only 12 assists and some hideous shooting percentages — 38.1% from the field and 32% from three-point range.
It led to an equally unsightly end to the Bruins' three-game winning streak as they fell behind by as many as 18 points in the final minutes after wiping out a nine-point deficit earlier in the second half.
"We were really stagnant offensively and didn't zip it around like we'd been doing," said UCLA interim coach Murry Bartow, who suffered his first setback since taking over for Steve Alford, "and I think Oregon State had a lot to do with that."
The Bruins (10-7 overall, 3-1 Pac-12) were even horrid from the free-throw line, shooting only 47.6%, though there was no crediting the Beavers for that.
Wilkes' shooting struggles deepened before he made three three-pointers over the final 1 minute 41 seconds to make his stat line slightly more palatable. He finished with a team-high 21 points on eight-for-22 shooting, making four of 11 shots from beyond the arc. Over his last five games, Wilkes has made 39.5% of his shots and 26.5% of his three-pointers.
"At the end of the game he hit three threes, so hopefully he sees that and gets his stroke back, but I don't think there's anything anyone should tell him," said Hands, who had 12 points but only two assists. "He's going to get back to the player he is."
It momentarily appeared as if Wilkes might be heating up when he made a layup in transition to give UCLA a 47-46 lead midway through the second half. But the Beavers (11-4, 3-0) responded with an 11-1 run that included three-pointers by Tres Tinkle and Ethan Thompson before nudging their lead into double digits for good on two Thompson free throws with 6½ minutes left.
Thompson and his brother, Stephen Thompson Jr., each finished with 17 points to lead five players in double figures scoring for Oregon State, which has won its first three conference games for the first time since the 1992-93 season.
"They could easily be 14-0," said Bartow, noting that each of the Beavers' defeats has come by single digits. "They're not easy to beat here."
Tinkle, returning from a one-game absence caused by a sprained ankle, scored 10 of his 14 points in the second half. The Beavers manhandled UCLA inside, outscoring the Bruins 42-26 in the paint. Bartow lamented not getting freshman center Moses Brown (nine points on four-for-six shooting) enough post touches, just one of several regrets.
"Too many perimeter shots, not enough inside-outside action and we were just a little stagnant and our transition game never really got going," Bartow said. "I think we can solve it, but we've still got a lot of work to do."
The Bruins headed home with one crazy comeback but not two, having wiped out a 17-point deficit against Oregon before falling way short against the Beavers. UCLA has not completed a road sweep since February 2017.
"Any time you can get a split in the Oregon schools it's good," Hands said, "but we're greedy, we wanted to get both of them."
UCLA next
Saturday at USC, 1 p.m., Galen Center, Channel 2 — The Bruins won both meetings in the crosstown rivalry last season, including an 83-72 triumph at Galen Center that helped keep the Trojans out of the NCAA tournament.
Follow Ben Bolch on Twitter @latbbolch
---
Get the latest on L.A.'s teams in the daily Sports Report newsletter.
You may occasionally receive promotional content from the Los Angeles Times.