Bruins take time to get refocused after back-to-back losses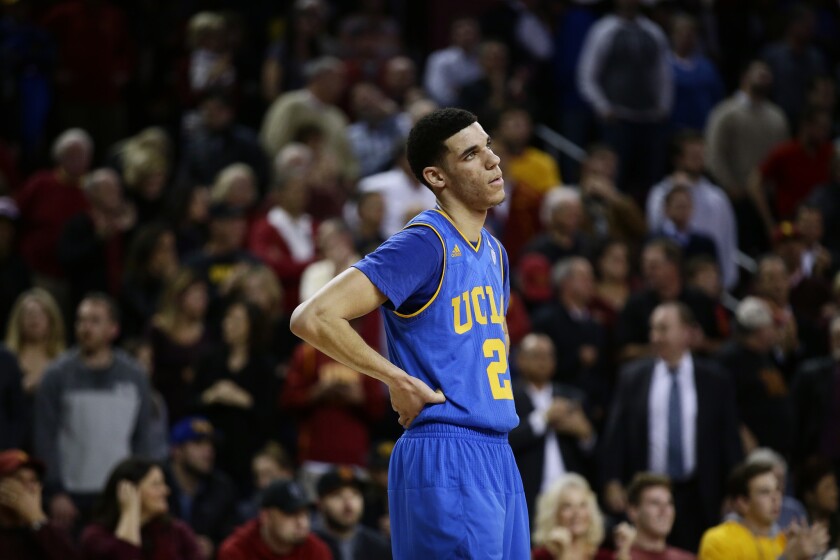 Long after the final turnover and forced three-pointer that led to UCLA's second consecutive defeat, there was the word play. It might have been even more telling about what plagued the Bruins.
Phrases such as "unselfish" and "sharing the ball" that had become staples among players and coaches over the season's first two months were replaced by "split ways" and "stood around" in the wake of a players-only meeting that followed UCLA's 84-76 loss to USC last week.
The Bruins presented a more united front Monday, saying two days off from practice and film after their first two-game losing streak of the season had helped refresh and refocus them.
"I think we needed mentally, more than anything, to get away from basketball a little bit and kind of reboot everything that we want to do," UCLA Coach Steve Alford said after his team dropped three spots to No. 11 in the Associated Press poll.
Players-only meetings aren't always a sign of impending doom. Senior guard Isaac Hamilton said Tyus Edney, the point guard on UCLA's 1995 national championship team who now serves as the Bruins' director of basketball operations, recently recounted a players-only meeting that season. The message then was about defense and not allowing baskets in an area of the court the Bruins dubbed the red zone.
The message now was about getting back to the kind of run-and-fun play that had helped UCLA (19-3 overall, 6-3 in Pac-12 Conference play) start the season 18-1.
"It was just kind of a reminder of, hey, we've hit a little slump here, we've hit a bump in the road, but stay confident in how we've gotten to this point because it's not like we've changed personnel," said Bruins senior guard Bryce Alford, who did much of the talking.
"We know the talent that we have, so I think just the reminder, reminding the young guys, reminding the vets of how talented we are, how confident we should be and just trying to get back to what that was of just having fun and playing."
Bryce Alford said players were encouraged to discuss any problems that might lead to fractures on what has been widely regarded as a united team.
"It was kind of an informal conversation with the guys," Alford said, "letting everybody know they could bring whatever they need to bring to the table; if we've got issues, we've got issues and there weren't any."
That's not to say there weren't regrets. Steve Alford said he wished he had played two big men for longer stretches against USC instead of matching the Trojans' four-guard lineup, explaining that he did so in an effort to rally his team from a double-digit deficit. Reserve forwards Ike Anigbogu and Gyorgy Goloman played only four minutes each.
"I think it was the first time all year that we went to what another team was doing," Steve Alford said, "instead of doing what we do and make them match us."
Steve Alford also said he wished his team had more effectively attacked USC's 2-3 zone, which hounded Bruins freshman point guard Lonzo Ball with two guards at the top of the defense and shadowed Bryce Alford and Hamilton on the wings, leaving lots of interior holes that UCLA failed to exploit until the second half. Alford finished with a season-low three points on one-for-seven shooting and Ball logged more turnovers than assists for the first time in his college career.
The Bruins have rededicated themselves to offense through cutting and screening drills in practice, Steve Alford said, after focusing almost exclusively on their defense in recent weeks. There apparently isn't any work that needs to be done on the togetherness front as the Bruins approach their next game at Washington State on Wednesday.
"As far as guys being in different directions, I have not sensed any of that all year long," Steve Alford said. "I think this is a team that's been very much together, it's just this is the first time adversity has hit us where we've lost back-to-back games. I will say the meetings and what's taken place on the practice court [since then] has been great."
Twitter: @latbbolch
---
Get the latest on L.A.'s teams in the daily Sports Report newsletter.
You may occasionally receive promotional content from the Los Angeles Times.