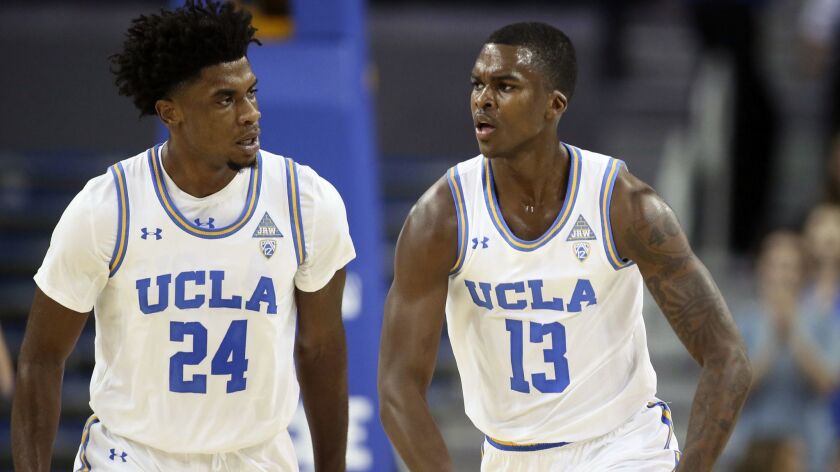 Jalen Hill noticed the double-takes as he strolled UCLA's campus over the last year, though not for the reason some might suspect.
"For being 6 [feet] 10," Hill said Wednesday. "I get a lot of looks."
The eyes of the world seemed to be on the Bruins power forward last November when he and teammates Cody Riley and LiAngelo Ball were caught shoplifting from a handful of stores in China before their team's season opener.
The international incident caught the attention of President Trump, who claimed to have expedited the players' return after they remained in their hotel for several days after their teammates flew home to Los Angeles.
Ball eventually left the team and Hill and Riley were suspended for the season. Hill said in his first public comments since apologizing for the incident that he had grown as a result of the ordeal.
"I had to go through a lot of things and I'm actually glad I went through it," Hill said while standing in front of a small group of reporters and holding the neckline of his jersey with both hands. "I learned a lot of different things during that time period and yeah, it was a big change in my life."
The redshirt freshman made his college debut earlier this month and has averaged five points and 6.5 rebounds through the team's first two games, starting both.
Hill's only playing time last season came in practices once he rejoined the team after Christmas. He watched the rest of the Bruins' home games from the bench and stayed in Westwood when the team traveled.
Hill credited teammates Thomas Welsh, G.G. Goloman and Alex Olesinski with helping him improve and his parents for keeping him calm amid his worries. He said he never considered transferring despite the uncertainty.
"I couldn't play and there was a bunch of times where I didn't know what was going to happen," Hill said, "but just being patient and knowing that eventually it would all work out was really key."
Hill's perseverance was rewarded when he found himself back inside Pauley Pavilion earlier this month, raising his arm to acknowledge students who chanted his name during the pregame roll call.
"It's been great," Hill said. "I really can't put words to it."
Welcome aboard
UCLA coach Steve Alford called the three signings the team announced Wednesday "a good start" to its recruiting class, indicating that the Bruins intended to bring in additional players.
Alford, however, said he did not anticipate other players signing until the spring.
The team has received binding letters of intent from Camarillo High forward Jaime Jaquez, Wichita (Kan.) Sunrise Christian High combo guard Grant Sherfeld and Santa Margarita High small forward Jake Kyman.
Alford said Jaques and Kyman complemented each other in the way that Jaques attacks the basket and Kyman shoots and moves on the perimeter. The coach described Sherfeld as a point guard with a good scoring mind-set who can also facilitate.
Etc.
Alford said associate head coach Duane Broussard had assumed the recruiting coordinator role held by departed assistant David Grace but described the team's recruiting as a collective effort among the entire coaching staff. … Alford said he was able to return to his Calabasas home Tuesday night after the threat from nearby wildfires abated. … The Bruins rose one spot to No. 20 in the latest Associated Press poll.
Follow Ben Bolch on Twitter @latbbolch
---