UCLA's basketball team has had trouble reaching for the stars this season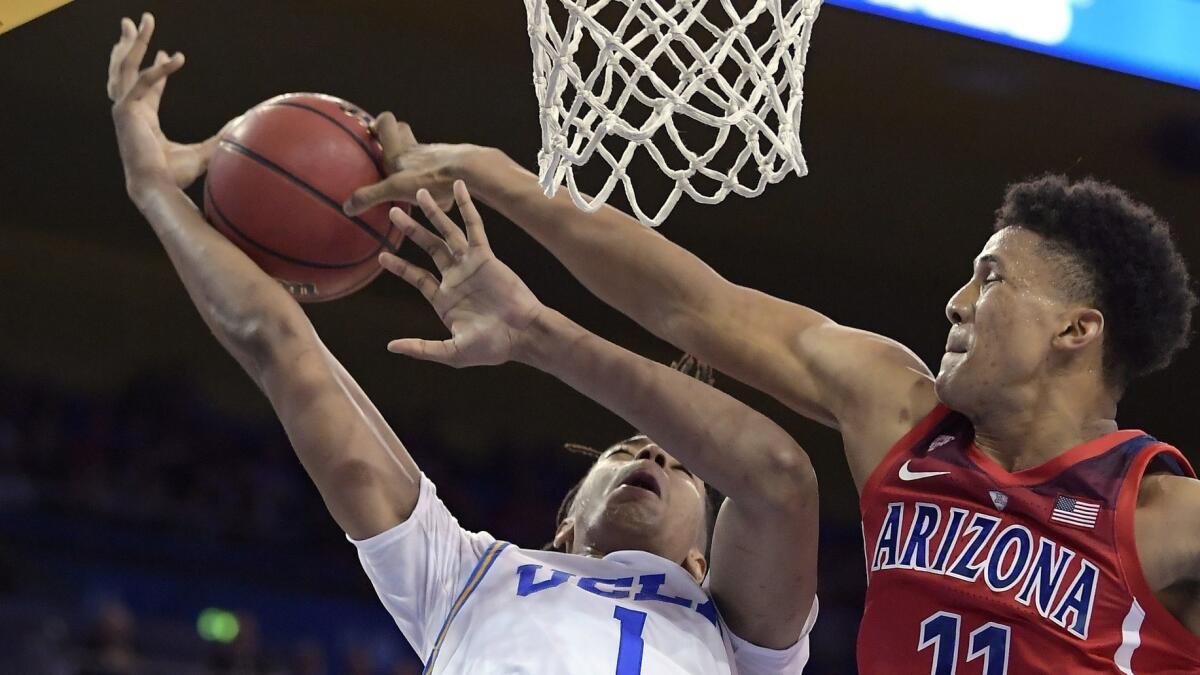 Reporting from Pullman, Wash. —
The stars were aligned for the brightest of UCLA basketball seasons.
Manning the post would be Moses Brown, a five-star center with Bunyanesque size. Running the offense would be Jaylen Hands, a five-star point guard capable of the spectacular play. Curling into the paint would be Kris Wilkes, a five-star forward with a sharpshooter's touch.
Surrounding them would be a constellation of four-star players from some of the best recruiting classes in the nation. UCLA's 2018 class was ranked No. 6 nationally by 247Sports, after a 2017 class that was ranked No. 5 and a 2016 class that was ranked No. 11. Collectively, the Bruins' roster would feature three players rated five stars on the five-star scale and seven others rated four stars.
So many stars, so few wins.
That could be the epitaph for a team that's hardly living up to the hype of its purported gifts.
"I look at UCLA's roster and I see a lot of talent," said Josh Gershon, a national recruiting analyst for 247Sports. "But I also see a lot of talent that doesn't necessarily mesh well together, and sometimes it appears that players are maybe more playing for themselves than for the team, and I think if you have that situation for too long, it can be hard to win games."
Selfish play has been only part of the problem. Offensive possessions have involved lots of dribbling, few passes and even fewer high-percentage shots. Free throws have been an adventure. Turnovers have been a constant.
The inadequacies cost coach Steve Alford his job last month and have the Bruins (11-9 overall, 4-3 Pac-12 Conference) fighting just to stay above .500 heading into a game against Washington State (8-12, 1-6) on Wednesday night at Beasley Coliseum.
The results have also prompted questions about a disconnect between talent and performance. How could such sustained recruiting success lead to such a massive letdown? How could so many high school stars underachieve once joining forces as the college level?
"You have these rankings and that automatically means that, boy, they're going to be great and they're going to win," said Mike Montgomery, the former Stanford and California coach who is now an analyst for the Pac-12 Networks. "I think that's a little misleading."
Montgomery pointed to a hodgepodge of factors that have left UCLA probably needing to win the Pac-12 tournament just to secure an invitation to the NCAA tournament. Among other things, this is a team lacking in discipline, fundamentals and toughness.
"They've been very talented," Montgomery said, "but they just haven't had a whole group of kids who have approached the game like, hey, you know, let's go get a win and whatever you have to do" to get it.
Talent and basketball IQ, Montgomery noted, can be mutually exclusive. It's a lesson that's reinforced every time a long and athletic Bruin pulls up for a contested three-pointer early in the shot clock or puts his head down and drives with abandon into a pack of defenders.
The head-scratching moves can be partially attributed to a slew of players learning on the job. UCLA's roster ranks No. 350 out of 353 Division I teams in terms of experience, according to the metrics of Ken Pomeroy. The most recent starting lineup featured two freshmen and two sophomores. Junior guard Prince Ali is the only upperclassman logging heavy minutes.
Practices have been the basketball equivalent of basic training, with interim coach Murry Bartow estimating that he spends roughly a third of the sessions on rudimentary skills.
"It would be like maybe you were at a middle school practice or a high school practice," Bartow said, "in terms of the fundamentals of passing, catching, dribbling it better, taking good shots."
Development has been painfully incremental among the freshmen. Guard David Singleton has become a steadying force in his limited minutes, rarely turning the ball over or taking shots out of the flow of the offense. Forwards Cody Riley and Jalen Hill have displayed boundless energy and stretches of solid play as well as some out-of-control moments.
When it comes to their success at the college level, UCLA's trio of McDonald's All-Americans isn't loving it. Wilkes is capable of scoring outbursts, like his 34-point barrage against Arizona on Saturday, but has not shown much growth in other areas of his game. The 7-foot-2 Brown dominated overmatched foes early in his first college season before routinely struggling once he faced more seasoned opponents.
Hands has displayed perhaps the most improvement, evolving from a scoring point guard to more of a willing distributor. He's led the Pac-12 in assists while playing without expected backup Tyger Campbell, a freshman who has been sidelined this season because of a torn knee ligament. (The Bruins have also been without freshman power forward Shareef O'Neal, who has missed the entire season because of a heart defect that required surgery.)
But Hands can also frustrate coaches and fans alike with his habit of bypassing the easy play in search of the remarkable one.
Sign up for our daily sports newsletter »
"Sometimes you watch him," Montgomery said, "and he'll come down the floor and a guy will be open and what's the first thing that happens? Boom! He's up and he's shooting the ball. You go, 'What?' I mean, is that the best shot you can get? I'm not saying that's not a good shot for that person, because he's a good player, but is that the best shot? It's the pass that leads to the pass that leads to a better shot that I don't see much happening" with this team.
The star system is used as a predictor of success but has some limitations. Upside can trump readiness. Physical traits can be valued over a mastery of fundamentals. Ability to fit in with others cannot be measured.
Gershon readily acknowledged that mistakes are made but said the rankings largely hold up, given the strong correlation between the number of stars given to most players who appear on Final Four teams or go on to the NBA draft.
"Are the rankings perfect? No, absolutely not," Gershon said. "The NBA draft is not perfect when you're projecting so far into the future. But in general, the higher you go in the NBA draft, the more likely you are to have success, and in general, the higher you're ranked, the more likely you are to have success, and the more stars that are on your roster, the more likely you are to have success as a team, so I think as a whole the star system has been backed up over time."
Over time, sure. Just not so much for a current batch of Bruins whose collective success has not been in the stars.
UP NEXT
AT WASHINGTON STATE
When: Wednesday, 7 p.m.
Where: Beasley Coliseum.
On the air: TV: Pac-12 Networks; Radio: 570.
Update: Washington State's only Pac-12 victory came on its home court this month — an 82-59 rout of California. The Cougars led Oregon in the second half on the road Sunday before succumbing to a flurry of turnovers in an eventual 20-point loss.
Follow Ben Bolch on Twitter @latbbolch
Get the latest on L.A.'s teams in the daily Sports Report newsletter.
You may occasionally receive promotional content from the Los Angeles Times.