Bruins try to make most of their extended stay in Washington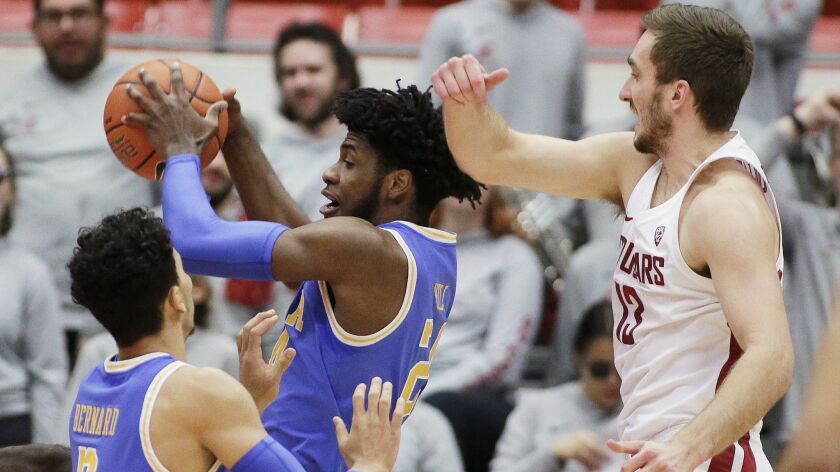 Reporting from Pullman, Wash. —
If UCLA loses to Washington on Saturday, the Bruins won't be able to cite a quick turnaround as a contributing factor.
The teams will have had two days between games, a rarity for UCLA on the road in Pac-12 Conference play. The Bruins typically have only one day between road games but will have an extra day off on three of their four two-game trips this season, matching their combined total from the previous three seasons.
"I'll be honest, I'd rather play on Thursday and Saturday to get back home," UCLA point guard Jaylen Hands said late Wednesday after the Bruins completed the first part of their trip with an 87-67 victory over Washington State, "but it's whatever; I'm just trying to get two wins."
UCLA interim coach Murry Bartow said he would adjust his team's schedule as a result of the scheduling quirk. The Bruins (12-9 overall, 5-3 Pac-12) will spend Thursday reviewing game footage in an attempt to clean up the mistakes they made against the Cougars before holding a practice on Friday in preparation for the showdown against the first-place Huskies (17-4, 8-0).
An extra day off didn't help UCLA on its first trip of the season. Three days after an emotional overtime victory over Oregon, the Bruins faded down the stretch of a 79-66 loss to Oregon State.
UCLA will also have two days between road games at California and Stanford later this season before resuming the usual one-day break between road games at Colorado and Utah.
Count Bruins shooting guard Prince Ali among those who don't consider having double the usual time between games as being twice as nice.
"Me personally, I'm not a big fan of it," Ali said. "I like the [faster] turnaround. But the game is on Saturday, so we're just going to prepare for it."
Being away from home is only part of the drawback of the extra day on the road; the Bruins are also missing classes as midterms approach next week.
"We have a few study halls, they do a great job with that," Ali said, "but it's hard being on the road that long when you're missing that much school."
Promise kept
Ali had a request for Bartow when he checked out of the game against Washington State: He told his coach to check the stat sheet.
Bartow laughed, knowing what Ali meant.
"He's been clowning me a lot lately about my rebounding," Ali explained, "so I told him [Wednesday] morning I'd get him six defensive rebounds."
Ali almost didn't get there. He grabbed his fifth defensive rebound with more than nine minutes to play, leading to encouragement from assistant coaches.
"They were like, 'Get another one, get another one,' " said Ali, who averages only 2.7 rebounds per game. "So I got one."
It came with 1:34 left in the game, giving him a season high in rebounds. It also fulfilled the pledge to his coach.
"Sure enough," Bartow said, "he got us six."
---
Get the latest on L.A.'s teams in the daily Sports Report newsletter.
You may occasionally receive promotional content from the Los Angeles Times.