UCLA's new basketball center is as comfortable as it is state of the art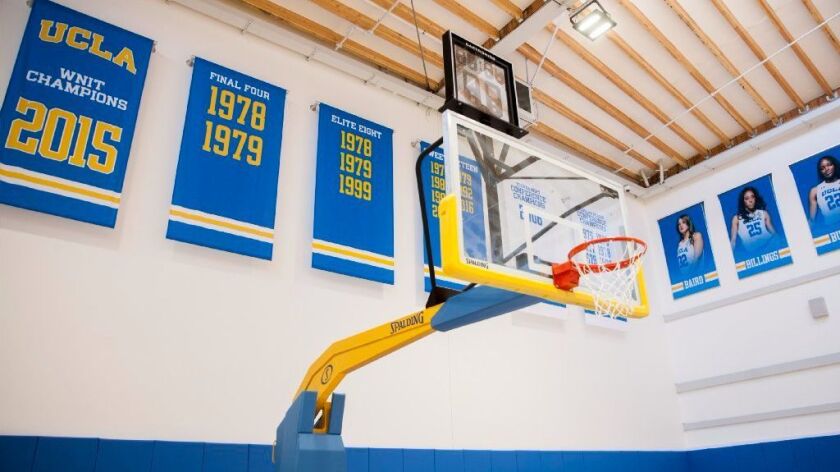 Should Russell Westbrook show up unannounced at UCLA's basketball practice facility to work out on the court named in his honor, he need not worry about finding a place to shower.
The $35-million Mo Ostin Basketball Center includes an alumni locker room, complete with removable name plates above the wooden locker doors.
If success is in the details, as legendary Bruins coach John Wooden liked to say, then the team's new digs represent quite the triumph.
"It's incredible," center Thomas Welsh said recently. "Everything about that place is insane."
Planning for the 35,000-square-foot facility involved three weeks of discussions just about acoustics. They were considered essential for teaching purposes and the state-of-the-art sound system that was important to Ostin, 90, the UCLA alumnus and music mogul who was the facility's primary donor.
An image of Ostin adorns one wall near a front entrance accessible by an infrared fingerprint reader. Other donors are recognized nearby with metal balls arranged in a display resembling musical chords.
The design of the two-story facility is intended to be airy and efficient, with the practice courts illuminated by ambient lighting and overhead lights activated by motion sensors.
Player comfort is another recurring theme. Twenty-four plush seats inside the film room shared by the men's and women's teams are extra wide to accommodate large bodies. Locker rooms are outfitted with leather sofas and backlit name plates as well as metal handles featuring a "B" design in a layout similar to that inside Pauley Pavilion. There's even a sit-down arcade machine inside the men's locker room.
"A lot of people would be shocked that this could exceed what a lot of the pro teams have," said Chris Carlson, UCLA's associate athletic director who led a media tour of the facility earlier this week before its grand opening Thursday.
Carlson said he visited nearly every practice facility in the Pac-12 Conference in addition to the one used by the NBA's Phoenix Suns, seeking design elements that the Bruins might want to incorporate.
UCLA's facility alleviates scheduling headaches long endured inside Pauley Pavilion, where five teams vied for practice time. The men's and women's basketball teams now each have their own practice court, locker room and conference room while sharing a spacious weight room and trainer's room featuring hot and cold pools. The conference rooms have retractable windows overlooking the practice courts.
Players can see giant posters of themselves on the walls above the practice courts alongside banners denoting the teams' national championships and other significant achievements. The men's court bears Westbrook's name after the reigning NBA most valuable player made a significant financial contribution, and the women's court is named after former star Ann Meyers Drysdale thanks to the support of an anonymous donor.
The weight room is named after Cleveland Cavaliers forward and former Bruins standout Kevin Love, who matched Westbrook's donation. But even non-millionaires are acknowledged. An outdoor patio where team functions will be held includes a wall listing every letterwinner in the history of both programs.
There is also the expected homage to Wooden atop a stairway leading to the second floor, including his picture and a large Pyramid of Success.
"I don't think we would go anywhere," Carlson said, "without honoring coach."
Follow Ben Bolch on Twitter @latbbolch
---
Get the latest on L.A.'s teams in the daily Sports Report newsletter.
You may occasionally receive promotional content from the Los Angeles Times.