7-footer Thomas Welsh's emergence gave UCLA the edge in revenge victory over Kentucky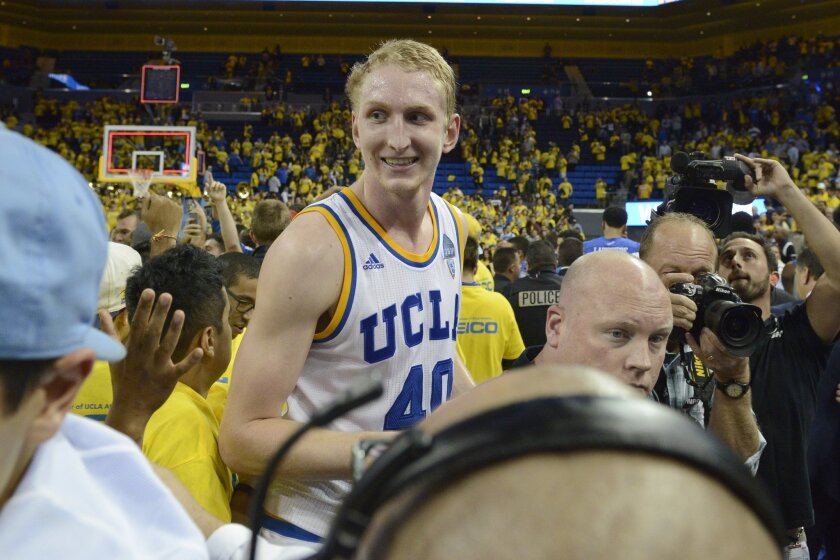 On the other side of Pauley Pavilion, away from a joyous UCLA locker room, Kentucky tried to dissect the upset that had just occurred.
One player haunted the Wildcats' John Calipari the most, although the coach concluded his top-ranked team had been outshone in all facets.
"The big kid played great," Calipari said. "That may have been his best game of his life."
Kentucky guard Tyler Ulis mused, "I don't remember the last time they missed a shot. The big kid was making all his pops."
The "big kid" again. Forgive the Wildcats if they needed a roster to look up the name Thomas Welsh.
Last season, when Kentucky blew out UCLA, 83-44, Welsh had two points and one rebound in 16 minutes.
Thursday, as UCLA exacted revenge, 87-77, the sophomore had game highs of 21 points and 11 rebounds in 36 minutes and was the best player on the floor.
UCLA Coach Steve Alford has described the 7-foot Welsh as a sponge. During a sporadic start, he has shown steady improvement. Enough for guard Bryce Alford to declare that Welsh and forward Tony Parker were "the two best post players in the country."
The statement was uttered in the endorphin-fueled moments after an unlikely win. But Bryce Alford's next comment explained UCLA's game plan, and Welsh was at the center of it.
"As guards, we know that we have an advantage inside pretty much every single night," he said, "even against a frontcourt like they had."
Welsh is not much of a talker. He outplayed Skal Labissiere, one of the nation's best freshmen. He dominated physically. But afterward, he stuck to dry, clinical assessments.
"The post game is a game of angles and just trying to control the position down there," Welsh said. "So that's really what I was trying to focus on doing, just holding down the paint."
For some time, Welsh had size but little else going for him. He did not start on the junior varsity team as a freshman at Los Angeles Loyola High. The next season, he didn't start for the varsity.
Loyola's coach, Jamal Adams, said Welsh's trajectory in high school was similar to what it's been at UCLA. He needed time.
"He's a very cerebral kid," Adams said. "He's the kind of guy that he's got to touch it, feel it, see it. I think Coach Alford would agree, he'd probably say the same thing I do: I've never had a kid that asked me for more help or guidance."
By his senior season, Welsh was a four-star (out of a possible five) recruit.
Still, as a freshman at UCLA he failed to make a big immediate impact.
Throughout, Steve Alford praised his work ethic. His teammates remarked that he was unusually polite.
During the summer, he impressed Arizona Coach Sean Miller enough to earn a spot on the United States' under-19 team, which Miller coached.
"He said, 'Thank you,' I think 26 days in a row, after every practice or game," Miller joked during the Pac-12 Conference's basketball media day.
With the extra high-level work, Welsh grew more confident. Entering this season, his footwork was polished and his fundamentals sound.
He even has a trademark shot — the baseline jumper, from either side of the basket.
Welsh has improved just about every facet of his game, but Parker says that shot arrived with him.
"Oh, it's not an improvement, trust me," Parker said earlier this season. "He's had that since he stepped in the door. That's just his thing. Everybody on the team knows it. That's his shot. He's going to shoot it. We know it. He stands there. He just waits, he's patient with it.
"That's his thing. I've really never seen anything like it, somebody who just loves that shot."
Adams, the Loyola coach, said Welsh had his jumper even before high school and that during practices it was common for Welsh to make 80% to 90% of his uncontested shots.
Welsh is shooting 63.5% this season. His shot chart shows two well-worn areas about 15 feet on either side of the hoop.
Against Kentucky, he made his final six shots, eight of 11 overall. Two dunks, one layup and five mid-range jumpers.
Last season against Kentucky, UCLA didn't score a point until the Wildcats had scored 24. Bryce Alford said the team was shocked and intimidated by Kentucky's size.
This season, the Bruins have their own one-two inside punch. Smaller lineups have given them trouble, but they are built to better handle bigger teams.
In Thursday's rematch, Steve Alford was worried that UCLA would be tentative. A good start was crucial. So the Bruins fed the big men.
Welsh dunked on the first possession, on a feed from Parker. Welsh then missed a jumper, but Parker collected the rebound and laid it in. Next time down, Welsh hit an 18-footer.
Three times down the floor, six points.
The difference?
"They were more physical inside than us," Calipari said.
Follow Zach Helfand on Twitter @zhelfand
---
Get the latest on L.A.'s teams in the daily Sports Report newsletter.
You may occasionally receive promotional content from the Los Angeles Times.