UCLA suffers a regrettable loss to Belmont at Pauley Pavilion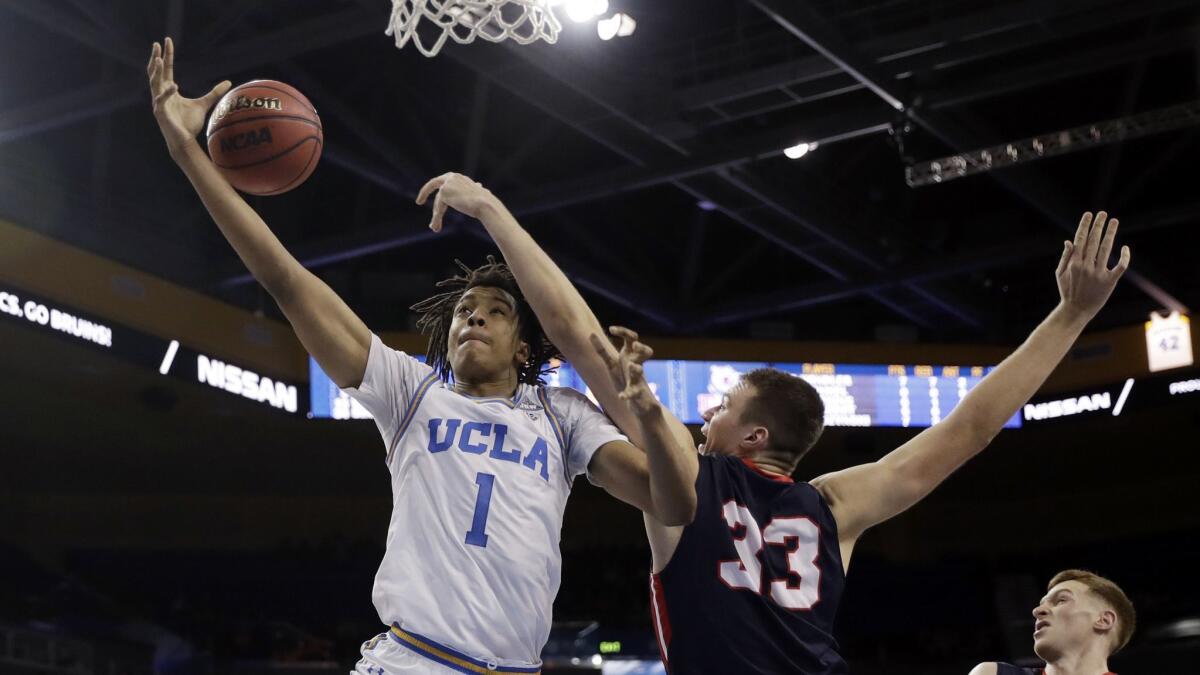 The only time UCLA showed sustained fight Saturday was in accepting the blame for what went wrong in a 74-72 loss to Belmont at Pauley Pavilion.
Coach Steve Alford heaped criticism upon himself, saying his team's low energy and inability to make free throws or execute in the final minutes was all on him.
Shooting guard Prince Ali condemned himself and his teammates for allowing so many backdoor layups.
Small forward Kris Wilkes offered a blunt assessment of his play after scoring only one point in the second half.
"I just sucked," Wilkes said.
There was no shortage of regrets after the Bruins wilted in the final minutes, suffering their first setback at home against a mid-major opponent since they dropped their season opener against Monmouth in November 2015.
Poor defense and even worse free-throw shooting were the primary culprits.
UCLA (7-3) missed 16 of 28 free throws, including seven of eight attempts during one stretch in the second half.
"That's hard to overcome," Alford said.
The misses opened the back door for Belmont (8-1) to rally from what had been a 12-point deficit thanks to a heavy dose of the Princeton offense.
Belmont made three backdoor baskets in the final two minutes, including a layup from Kevin McClain that gave the identically nicknamed Bruins a 73-72 lead with 2.3 seconds left. UCLA point guard Jaylen Hands, who was defending McClain on the play, slipped, allowing his man to get past him for the go-ahead points.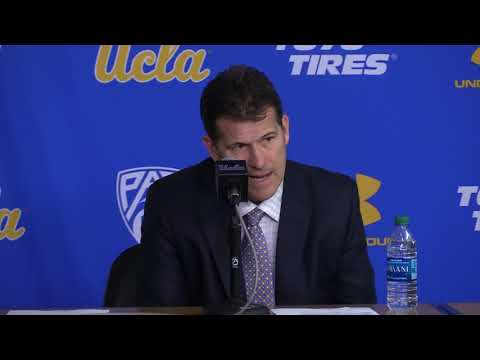 "We pressed up, you know," Ali said in explaining UCLA's problems with the backdoor cuts. "It was a great draw by them — they cleared the entire lane out — and we should have noticed that. So that's on us."
Alford called timeout to set up a play that was supposed to involve Cody Riley taking the inbounds pass and throwing it to a sprinting Hands for the final shot. But Riley misjudged where Hands was headed and threw the ball out of bounds, giving Belmont possession with one second left.
Belmont's Caleb Hollander was fouled and made one of two free throws with seven-tenths of a second left before batting the ball into the air to end what coach Rick Byrd called his team's biggest win since defeating North Carolina in 2013.
To give his team a sense of UCLA's rich athletic history, Byrd had taken his players on a tour of the school's Athletic Hall of Fame.
"The kids loved it," Byrd said. "They did not know who John Wooden was, so it was like Elvis to them."
UCLA looked like a bad impersonator of itself, rolling out a disjointed offense that generated only 12 assists. Its free-throw shooting induced groans from the crowd of 8,037 as well as sarcastic applause in the second half when forward Jalen Hill made one of two attempts, ending a streak of five consecutive misses by his team.
UCLA made only nine of 24 free throws in the second half and is shooting 61.1% from the foul line on the season, worst of any Pac-12 Conference team.
"It's a 15-footer with nobody guarding you," Alford said, "so we gotta do a better job in practice of just working on it."
Alford said he probably worked his players too hard in their game preparations during finals week, leading to the flat performance that ended his team's three-game winning streak.
"I didn't like our energy, I didn't like our attention to detail, our enthusiasm at all," Alford said. "That falls squarely on my shoulders. I just did a really poor job of getting them ready because I thought of all our games … that was the most lethargic, less-energy effort."
Wilkes could not sustain a strong start in which he scored 19 points in the first half, missing all five of his shots after halftime and finishing with 20 points. Hands had 12 points and seven assists, but none of his teammates finished with more than two assists.
Wilkes said he was to blame for not setting a better example.
"Really, I think with me not playing at a high intensity, that kind of filters out to other players on the team," Wilkes said. "I have to come to play every half and the whole game."
UCLA has only a few days to tinker with fixes before making what might be its toughest trip of the season. The Bruins will travel to face Cincinnati on Wednesday before taking on No. 15 Ohio State in Chicago on Saturday as part of the CBS Sports Classic.
"It's just something we're going to have to figure out internally, everybody," Ali said. "But we're going to be all right. We're going to be all right. We'll just learn from this."
UP NEXT
Wednesday, 6 p.m. PST, Fifth Third Arena, ESPN2 – The teams have split their last two meetings, with the Bruins prevailing in the second round of the 2017 NCAA tournament and the Bearcats winning last season at Pauley Pavilion.
Follow Ben Bolch on Twitter @latbbolch
Get the latest on L.A.'s teams in the daily Sports Report newsletter.
You may occasionally receive promotional content from the Los Angeles Times.