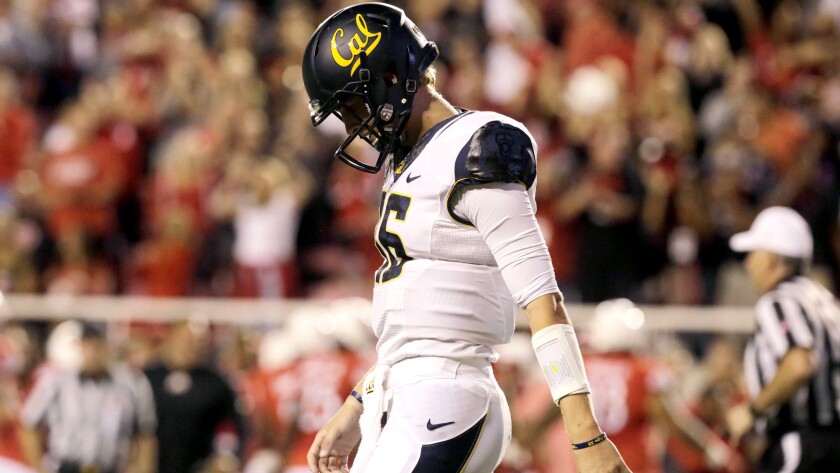 There are different ways individuals and groups handle adversity.
Two were on display this week, with UCLA and California preparing to play at the Rose Bowl on Thursday night in a key Pac-12 Conference football game.
California quarterback Jared Goff, a top NFL prospect, was coming off his worst game of the season. He had five passes intercepted in a 30-24 loss to No. 3 Utah on Oct.10.
Yet, he was upbeat. "I don't feel like I have to prove anybody right or wrong," he said during a conference call early in the week. "I'm just going to play my best game and whatever happens, happens."
His was one approach. UCLA, coming off a 56-35 throttling by Stanford last Thursday, had another.
The Stanford loss was the third consecutive game in which the Bruins' defense struggled, and finding players to discuss potential remedies for the situation was more difficult than locating a UCLA band member willing to play "Fight On."
As UCLA defensive backs prepared to face their greatest challenge of the season in Goff, none were talking.
It could be seen as an indication of where the two programs stand.
The No. 20 Bears, with a 5-1 record overall, 2-1 in Pac-12 play, moved up from No. 23 despite their loss to Utah. The Bruins, 4-2, 1-2, fell from the top 25 this week.
The frustration in Westwood is palpable. During the weekly Pac-12 coaches conference call Tuesday, UCLA's Jim Mora lashed out at a reporter who asked how he was managing to keep a struggling team with high expectations focused on day-to-day work.
"What team are you speaking of?" Mora said.
Told the question was referencing UCLA, Mora barked, "How would you know what our expectations are?"
Considering UCLA opened the season ranked 13th and several players have spoken about the potential of winning a division title and playing for a Pac-12 title, the fact expectations were high seems clear. But right now, winning a game in October probably would suffice. So far this month, the Bruins have lost to Arizona State and Stanford.
"Our expectations are to get better every day," Mora said. "As long as we're doing that, then we're fulfilling expectations."
UCLA's defense, which has been missing three prominent starters and continues to get more banged up, recently has been boosting the profiles of opposing players. Arizona State quarterback Mike Bercovici and Stanford running back Christian McCaffrey were each chosen as the Pac-12's offensive player of the week after going up against the Bruins.
UCLA has given up averages of 38.0 points and 285.7 yards rushing in three Pac-12 games.
Goff presents another significant challenge. Even after the Utah game, his 157.1 passing efficiency ranks 15th nationally. He has passed for 1,970 yards and 17 touchdowns, with nine interceptions — more than half of which came against the Utes.
"There were a couple inches where I was off and a couple inches they were on," Goff said. "There were some really bad mistakes on my part. They made a couple good plays. It all led to five interceptions."
Goff has shown maturity throughout the season.
"It's a process to get a quarterback to anticipate throws and stay calm," California Coach Sonny Dykes said. "There are going to be highs and lows during games and bad things are going to happen."
Where Goff is involved, typically good things happen for Cal.
"He can get rid of the ball really quick when he needs to, but he can hold onto it too, and let the routes develop," Washington Coach Chris Petersen said. "People around him in the pocket don't bother him. That's pretty rare."
Linebacker Jayon Brown, the only UCLA defensive player to speak to the media this week, said the Bruins will strive to make Goff uncomfortable. "We have to hit him on every play, knock him down," Brown said.
The Bruins have only nine sacks this season, five coming against Brigham Young.
Plus, Goff has already shown he can get back up.
Can UCLA?
Twitter: @cfosterlatimes
---