UCLA's senior send-off will be missing a key figure before Bruins play Cal on Friday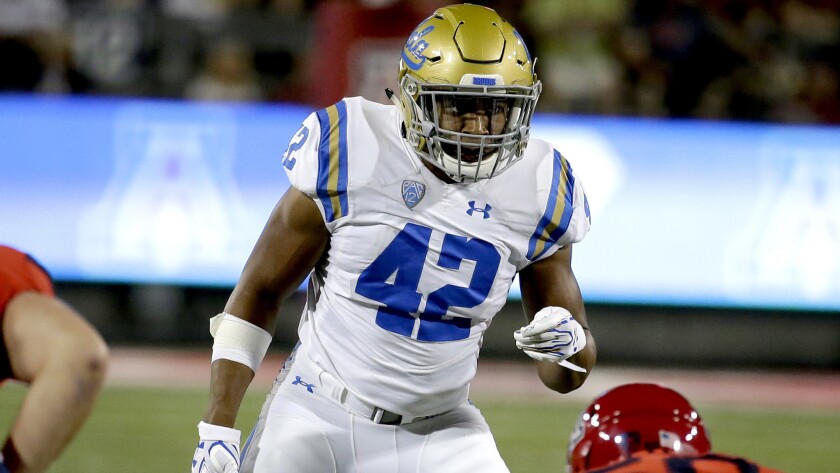 A year ago, Jim Mora stood inside the Rose Bowl and shared a tender moment with each of his seniors before they bounded onto their home field one last time.
The UCLA coach held quarterback Mike Fafaul's head in his hands while conveying his appreciation. He embraced linebacker Cameron Judge in a tight hug. He placed his hand atop defensive end Takkarist McKinley's head and playfully nudged him toward the field.
On Friday night, the Bruins seniors will receive acknowledgment from everyone except the man who brought them to UCLA.
They will share hugs, handshakes and smiles with parents, teammates and interim coach Jedd Fisch. Then they will try to beat California as a tribute to the coach who was fired only five days before their final home game.
"He's one of the reasons why I came 1,800 miles away, from Louisiana, to be a part of this organization," Bruins senior linebacker Kenny Young said of Mora. "He is a real mentor. He's a great guy, a great guy at the end of the day. And I wish I could've shook his hand and hugged him for my last game, but, you know, things happen."
Several players said they had not seen Mora since he bid farewell during an emotional meeting on campus Sunday. Defeating Cal, they said, would help send off their former coach on a far more upbeat note.
The Bruins, 5-6 overall and 3-5 in the Pac-12 Conference, could also parlay a victory over the Golden Bears (5-6, 2-6) into what would be their fifth bowl game appearance in Mora's six seasons. Cal also has a possible bowl berth at stake.
Even amid a season that cost Mora his job, UCLA has not lost on its home field, going 5-0. The Bruins are trying to go undefeated at the Rose Bowl for the first time since 2005.
UCLA's senior appreciation nights have come with unhappy endings in recent years. The Bruins have lost their final home game in each of the last five seasons, their last victory coming over Colorado in November 2011 under Rick Neuheisel.
As they prepared for their last trip to the Rose Bowl earlier this week, players shared some of their favorite Mora memories. Safety Adarius Pickett recalled the coach being there to shake his hand during his graduation ceremony after he fulfilled his degree requirements in only three years. Center Scott Quessenberry described how Mora helped transform him from an 18-year-old kid into a 23-year-old man.
Quarterback Josh Rosen, a junior who also might be playing in his last home game before entering the NFL draft, spoke of former walk-ons embracing the same mottos in their professional careers that they had learned under Mora while playing for the Bruins.
"Be the same guy every day, set the standard and reset it every day, play against your own championship standard," Rosen said, ticking off the mantras. "I mean, it goes on and on. … You go on Instagram and scroll through my feed and there's 'We love you coach, we'll miss you' every third photo."
Mora's absence could be most acutely felt among UCLA's defensive players. Young said Mora had become more heavily involved in all aspects of the team's struggling defense in recent weeks, leading to some significant improvement. The Bruins held USC to only 3.7 yards a carry last week, and the 153 yards rushing UCLA gave up was a season low.
Defensive coordinator Tom Bradley said Mora was constantly offering assistance, even calling late at night.
" 'Hey, coach, can I do this [for] you, can I help you with this?' " Bradley said, recalling Mora's message. "Things that you'll never forget and I will always have great admiration and respect for the way he treated each and every one of us as people."
Despite his team going 10-17 since late in the 2015 season, Mora remained buoyant through his final hours with the Bruins. In what would be his last remarks as the team's coach after UCLA's 28-23 loss to USC on Saturday, he spoke of ending a disappointing season on a positive note.
"Right now, if we can pull this thing together and come back with great energy next week, which I expect us to do, and we can go out and we can defend our home field again and we can get to a bowl," Mora said, "I think it will mean a lot for these young men given the circumstance of this situation and that's what we're going to try to do."
It could mean more than he imagined.
Follow Ben Bolch on Twitter @latbbolch
---
Get the latest on L.A.'s teams in the daily Sports Report newsletter.
You may occasionally receive promotional content from the Los Angeles Times.