UCLA reaches season high in points in 107-84 victory over California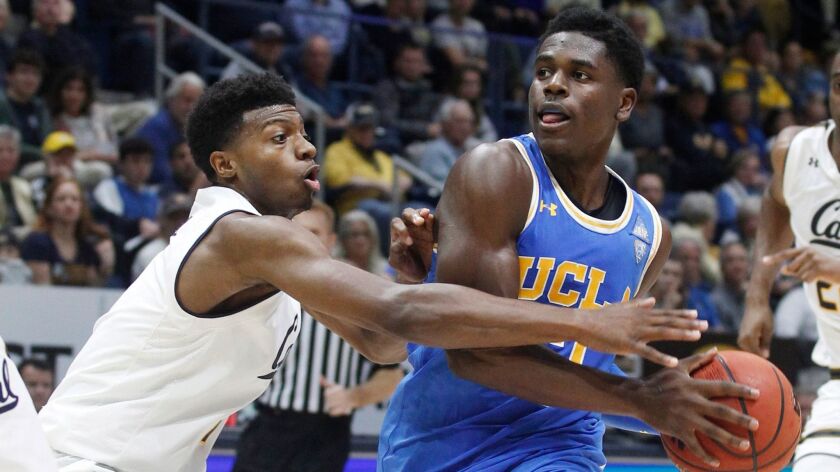 Reporting from Berkeley —
Steve Alford was hoarse when he met with reporters Saturday, the remnants of his displeasure from the previous few days.
"I think my voice is gone from Stanford," the UCLA coach said.
California might have given it back.
UCLA overwhelmed the Golden Bears with a barrage of three-pointers and an oppressive zone defense during a 107-84 victory at Haas Pavilion that soothed some of the hurt from a collapse across the San Francisco Bay two days earlier.
"It makes us feel better going back home for sure," Bruins guard Aaron Holiday said after scoring a team-high 21 points.
UCLA (12-4, 3-1 Pac-12 Conference) withstood a spirited rally after Cal used a full-court press to force turnovers and slice what had been a 22-point deficit to 11 points midway through the second half. A four-point play by reserve forward Alex Olesinski, of all people, prevented the Bears from getting any closer the rest of the way.
A large contingent of Bruins fans celebrated the runaway in the final minutes with a loud chant of "U-C-L-A!" that reverberated throughout the arena.
Olesinski made a career-high three three-pointers on the way to a career-high 14 points and teammate Thomas Welsh made a career-high four three-pointers and finished with 19 points and 14 rebounds. UCLA forward Kris Wilkes also tied his career high with four three-pointers against a sagging defense that tempted the Bruins to beat it from long range.
UCLA did just that, making 17 of 30 (56.7%) three-point shots, including nine of 11 in the second half.
"We came in knowing that they were going to zone us," Olesinski said, "but we didn't know we were going to have that many opportunities to make threes so we took advantage of them."
The Bruins' 3-2 defense flummoxed Cal into making 41.1% of its shots even after a torrid second half in which the Bears shot 63.3%.
"We just basically tried to bunker in, limit their inside game, hold them to threes and it worked for us," Olesinski said.
Forward Marcus Lee collected 19 points and a career-high 15 rebounds. It wasn't nearly enough for the Golden Bears (7-9, 1-2), who lost their fourth home game by at least 18 points this season.
Alford remained a bit dismayed that his team had managed only a split of its two-game trip after averaging 103 points.
"The thing we've got to look at tape-wise and keep improving," Alford said, "is being able to for 40 minutes defend like we did in the first half" against Cal.
Welsh wore a protective mask again after absorbing a blow to his nose against Stanford that required three stitches. He said he had the mask made after getting hit in the face against Washington State on Dec. 29 and had worn it in practice before needing it once more against the Cardinal.
Welsh struggled with his shot in that game after donning the mask, airballing a three-pointer and missing back-to-back free throws. His regained his touch against Cal, making six of nine shots, including four of six three-pointers, and three of four free throws.
Olesinski said the Bruins endured a long film session after their 13-point, second-half collapse against Stanford. They seemed to have fixed the form on their free throws, making 26 of 33 attempts (78.8%) against Cal.
About the only time Cal stymied the Bruins was when guard Darius McNeill intentionally fouled counterpart Jaylen Hands after Hands ended a second consecutive Bears possession with a steal.
Hands had gone in for a one-handed breakaway dunk after the first steal but found McNeill's arms wrapped around him when he tried to drive in for a second easy basket. Forward Ikenna Okwarabizie received a technical foul for saying something after the play in defense of Hands, who finished with 11 points and eight assists with only one turnover.
"He just went to protect his teammate and I was upset early," Alford said of Okwarabizie, "but I do like that."
Follow Ben Bolch on Twitter @latbbolch
---
Get the latest on L.A.'s teams in the daily Sports Report newsletter.
You may occasionally receive promotional content from the Los Angeles Times.