UCLA's weary defense puts finish on Bruins' win over Colorado, 35-31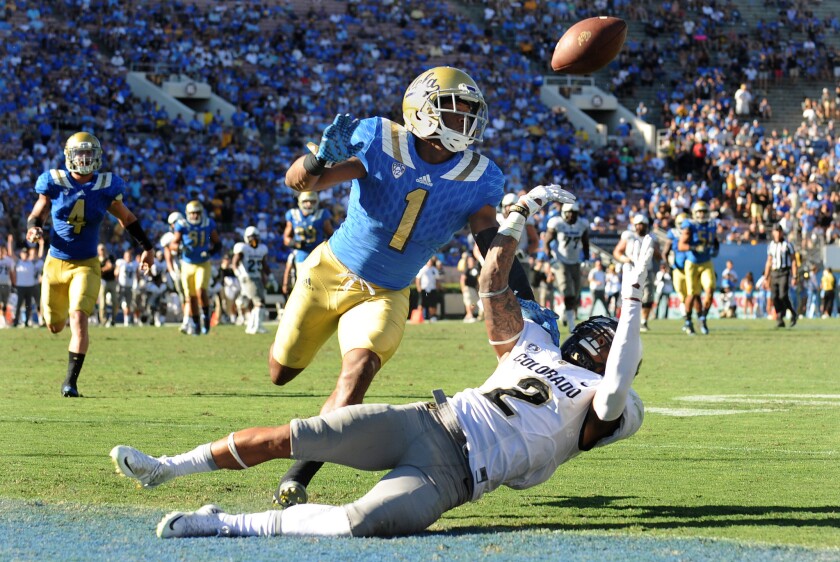 UCLA linebacker Jayon Brown could only walk over to teammate Nate Meadors, who had finally put an end to a long and weary day for the defense.
Meadors' interception with 51 seconds left sealed a 35-31 victory over Colorado at the Rose Bowl on Saturday that kept the Bruins in the chase for the Pac-12 Conference South title. Brown was the only defensive player who was able to muster the energy to celebrate.
"I ran over there and gave him all the juice I had," Brown said.
And that was?
"A little," Brown said. "A little."
Little was all any defensive player had left after the Buffaloes spent the day playing keep-away from the UCLA offense.
The Bruins (6-2, 3-2 Pac-12) were beat up, spent and facing a third loss in four games. The defense, though, trudged onto the field three times in the last 10 minutes. And three times it got the ball back, twice after quarterback Josh Rosen put together a quickie drive to get the lead back. Rosen completed two passes for 64 yards and then handed off to Soso Jamabo for a two-yard touchdown run.
The defense finished things off.
Defensive end Takkarist McKinley forced Colorado quarterback Sefo Liufau into a wild fourth-down pass to end one drive at the UCLA 23-yard line. Meadors then ended the other.
"I was too tired to celebrate," nose tackle Kenny Clark said.
The only one left with any oomph seemed to be Coach Jim Mora, who alternated between giddy and agitated in his postgame press conference.
"It was hard, it was a puzzle, we showed true grit, it was one of the most rewarding wins since I have been here," Mora said.
It also one that kept the Bruins tied with USC, one game behind first-place Utah in the division. That the victory came against Colorado (4-5, 1-4), a team that has won only five of 41 Pac-12 games since 2011, hardly seemed to matter.
"We were happy to get the win, it is as simple as that," McKinley said.
Only it wasn't simple.
Colorado ran 114 plays, rolled up 554 yards and held onto the ball for 41 minutes 5 seconds.
Part of that was because of UCLA's quick scores — a 96-yard interception return by Ishmael Adams and an 82-yard run by Paul Perkins. Part of it was because of a UCLA defense thinned by injury and fatigued from too much time on the field.
UCLA was already short-handed, having lost key defensive players this season. The casualty list grew significantly, to the point that Meadors, a safety by trade, was in at cornerback and Josh Woods, a freshman, was thrown onto the field for the first time.
Almost fittingly, Woods injured his hamstring.
"I couldn't even tell you who was out there on given plays," Mora said.
During a stretch in the second and third quarters, Colorado ran 57 offensive plays and UCLA 17. Yet it was the Bruins who had a 28-13 lead.
Perkins scored twice, first on a 31-yard reception for a 7-0 lead and then on his long second-quarter run that made it 21-3.
"We were either going to go three-and-out or score in one play," offensive coordinator Noel Mazzone said.
Said receiver Thomas Duarte: "We felt bad for the defense the whole second quarter."
The wear and tear caught up with the Bruins.
"We had guys in the game who had never practiced at the positions they were playing," defensive coordinator Tom Bradley said. "Our game plan got diluted. We figured out what we could do and did the best we could."
Liufau threw for 312 yards. The Buffaloes ran for 242, with Patrick Carr getting 100 and Donovan Lee 62. Chip in a 33-yard fumble return for a touchdown by Samson Kafovalu and the Bruins trailed, 31-28, with 12 minutes left.
At that point the defense, put together with spit and baling wire, dug in.
"It's always next man up with us," McKinley said. Asked what happens when there are no more men left, he said, "We have walk-ons."
That word was passed on the sidelines in the fourth quarter, McKinley said.
"We kept saying, 'It's on us,'" McKinley said.
In the end, it was on Meadors, who said he recognized the last pass route from the tests during game preparation.
"I just jumped the route," Meadors said.
And none of his teammates had anything left to jump on him.
"We were celebrating on the inside," Brown said. "We were too tired to celebrate on the outside."
Follow Chris Foster on Twitter @cfosterlatimes
---
Get the latest on L.A.'s teams in the daily Sports Report newsletter.
You may occasionally receive promotional content from the Los Angeles Times.