UCLA faithful asked to wear white; will Bruins wave white?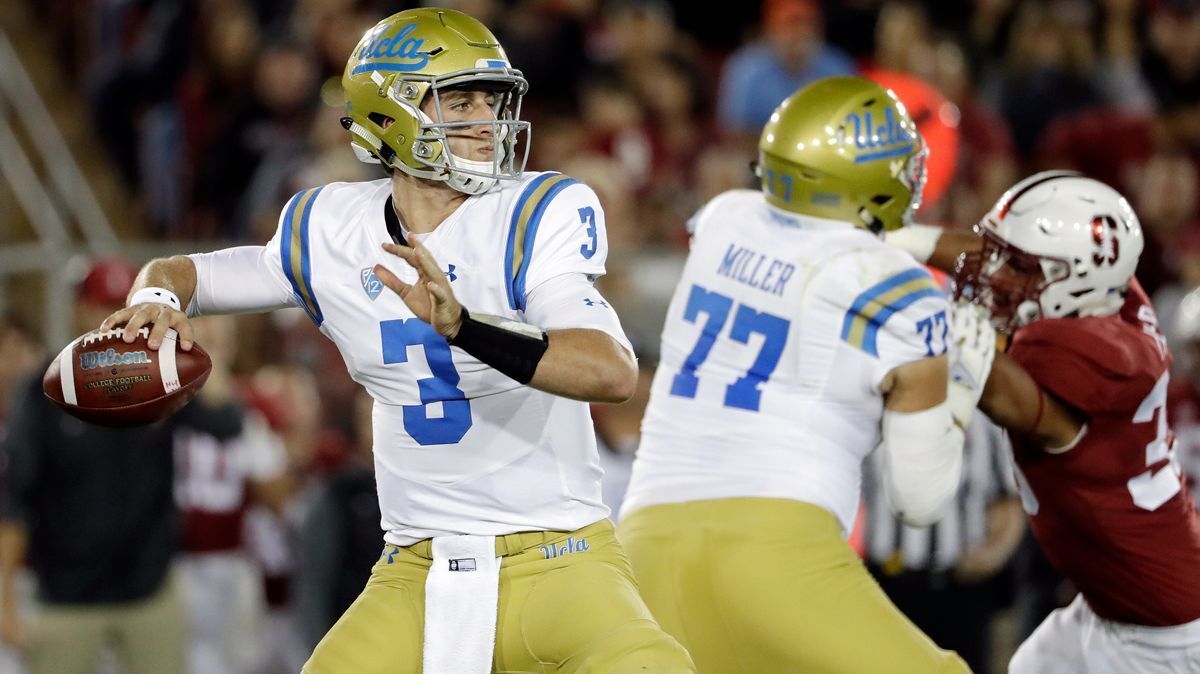 It's being billed as a "White Out" at the Rose Bowl. UCLA fans are encouraged to wear clothing to match the white road uniforms the Bruins will display on their home field, the concept intended to produce a visually appealing effect.
Another UCLA loss could make it feel more like a surrender.
The Bruins are trying to extricate themselves from dark times, having lost back-to-back games in September for the first time since 2010. They have lost 13 of their last 20 games going back to late in the 2015 season.
UCLA coach Jim Mora said he doesn't accept the notion that the situation is starting to take on a here-we-go-again vibe for the Bruins heading into their conference home opener Saturday night against Colorado, which is 3-1 overall, 0-1 in Pac-12 Conference play.
For starters, UCLA (2-2, 0-1) still has quarterback Josh Rosen, whose midseason injury torpedoed the Bruins' fortunes in 2016. Rosen has shepherded the nation's top passing attack, throwing for 440.8 yards per game.
"Two and two isn't really acceptable as a starting quarterback," Rosen said, "and I'm doing everything I can — the whole team is doing everything it can — to win some more."
Success would likely start with fixing one of the nation's worst defenses, though the Bruins also rank near the bottom of the 129 Football Bowl Subdivision teams in rushing offense (No. 102), time of possession (No. 119), turnover margin (tied for No. 113), punt returns (No. 113) and penalty yards per game (No. 123).
Mora has remained upbeat, though he launched into a 5 1/2-minute preamble touching on his team's deficiencies on offense, defense and special teams Monday before he took the first question from reporters.
"We all take ownership, I take complete ownership, it's my responsibility, I take it very seriously and I just promise everyone who is a UCLA fan that we will do everything we can to get this thing going right," Mora said. "Great competitors and really good teams, they respond in these situations."
Mora said he spent "a little more time with the defense" in the wake of its epic struggles, reinstalling tackling drills and demanding "maniacal effort" for a second consecutive week. UCLA's defense stiffened in the first half last week against Stanford before Bruins receiver Theo Howard dropped a potential touchdown pass and a subsequent field-goal attempt was blocked.
The Cardinal then scored 52 points over the game's final 33 1/2 minutes.
"In the second half, the energy just kind of went down a little bit," UCLA defensive tackle Boss Tagaloa acknowledged, "but once we put in a full effort game, just energy stays up from the first play all the way to the last, I think we'll be good."
Effort alone won't stop Colorado tailback Phillip Lindsay, who is averaging 111.5 yards rushing per game. The Bruins will also need to be more disciplined because players taking a freewheeling approach have left the entire defense vulnerable.
"Don't ad-lib because you think he's not going to be there," UCLA defensive coordinator Tom Bradley said, repeating his admonition to his players. "Everybody has to trust each other in their gaps, their angles, their pursuit, everything that they're doing that they would do the proper thing."
UCLA has not dropped its first two conference games since 2009, when the Pac-12 was still the Pac-10. That was near the midpoint of the disappointing Rick Neuheisel era, which followed the disappointing Karl Dorrell era.
Mora's first 3 1/2 seasons constituted a dramatic reversal of fortunes, but the Bruins have been backsliding since a last-minute loss to Washington State in November 2015. Mora has a 25-21 record in Pac-12 games, a .543 winning percentage that's lower than Dorrell's .585 in conference games.
UCLA athletic director Dan Guerrero has said he expects the Bruins to compete for the Pac-12 title, something that will be hard to do with another conference loss this early in the season. There are no soft pockets left on a schedule in which the remaining opponents had a combined 25-7 record as of Friday afternoon.
Resolve doesn't appear to be an issue for the Bruins. Now they must prove they can attain results.
"A couple of disappointing weeks," Mora said, "but I just see a group of guys that have responded very well and like I said, we're going to do all we can to rise up."
Follow Ben Bolch on Twitter @latbbolch
Get the latest on L.A.'s teams in the daily Sports Report newsletter.
You may occasionally receive promotional content from the Los Angeles Times.