UCLA coach focuses on the most important numbers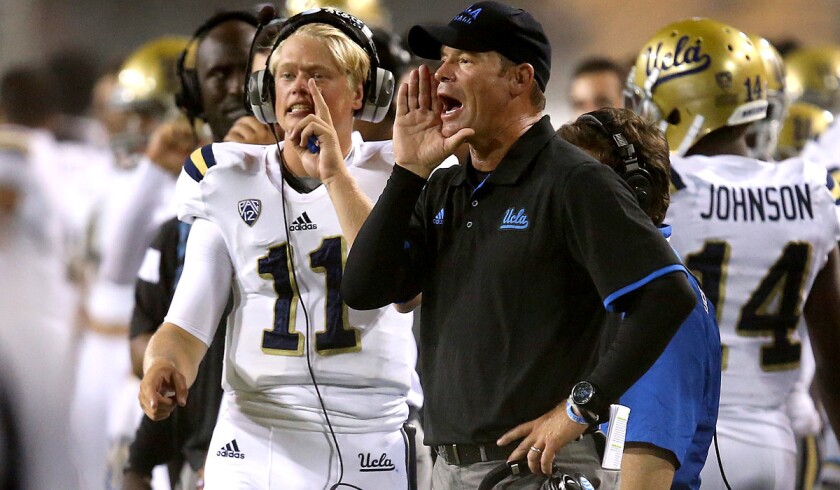 All of the above.
That was pretty much UCLA Coach Jim Mora's answers to questions about his defense after a 62-27 victory over Arizona State on Thursday.
The Sun Devils rolled up 626 yards, 488 through the air with back-up quarterback Mike Bercovici.
"I have been coaching defense since I was 22 years old, and played it for four years before that, and yards have never been an issue," Mora said. "I don't think I'm going to change now. Most coaches I know don't worry about yards."
Mora said that those who understand defense are "not the announcers in the booth, and seldom the fans in the stands. It's the coaches on the field."
Mora went through the process of how UCLA coaches assessed the Arizona State performance.
"How were they getting the yards? That's a different story," Mora said. "Were they getting them because you were out-schemed, or because they were playing better than you or because you were up 62-27 and you were trying not to give up the big one?"
The answer Thursday, he said, was, "All of the above."
In analyzing a game tape, Mora said that coaches "look at the assignments, we look at the alignment, we look at the technique, and we look at effort. As coaches, we look at the scheme to see if we are giving our players a chance to be successful."
The answer after viewing the tape, Mora said, was, "All of the above."
The era of the spread offense that can score quickly has led to redefining defense.
The Bruins are 121st out of 128 Football Bowl Division teams in passing yards allowed (313.8 per game) and 102nd in total yards allowed (450.8 per game). Yet, they are 4-0 and ranked eighth heading into Saturday's game against Utah.
By comparison, second-ranked Oregon is 122nd in passing yards allowed (315.3) and 98th in total yards allowed (443.5 per game).
The rapid pace that UCLA and Oregon try to play in offense can leave their defense on the field more. Of the Bruins' eight touchdowns against Arizona State, five took only 3 minutes 49 seconds off the clock.
Mora pointed to top-ranked Florida State's 56-41 victory over North Carolina State on Saturday, saying, "Florida State has one of the great defenses in college football. College football has changed. You have to look at who you're playing, what style of offense are they playing. It's way too simple to look at yards."
One stat that does jump out at Mora is turnovers. The Bruins forced seven, returning four for touchdowns.
"I'll take four touchdowns," Mora said.
Touchdowns, after all, are what matter most when adding up the statistics.
Hundley decision
Mora said that there was no thought about pulling quarterback Brett Hundley from the game with seven minutes left and the Bruins leading, 55-27.
Hundley played with his left arm in a brace after suffering an elbow injury against Texas.
"We didn't even think about it," Mora said.
The Bruins went 96 yards, 81 on a run by Paul Perkins, for their last touchdown. Hundley scored on a one-yard sneak. After the touchdown, Hundley held up his left arm and tapped the brace to the crowd.
Asked why, Hundley said, "I think a lot of people thought I was going to come out and be one dimensional. You have to show that sometimes you have to be able to play through the pain. The team and offensive line allowed me to come out here and play my game."
Quick hits
Mora offered no updates on guard Alex Redmond and defensive end Owamagbe Odighizuwa, who both left the Arizona State game with injuries. … Ishmael Adams is eighth in the nation, averaging 28.3 yards per kickoff return. He had a 100-yard return for a touchdown and a 44-yard return against Arizona State. … UCLA's game against Utah on Saturday has a 7:30 p.m. kickoff at the Rose Bowl. It will be televised on ESPN.
Twitter: @cfosterlatimes
---
Get the latest on L.A.'s teams in the daily Sports Report newsletter.
You may occasionally receive promotional content from the Los Angeles Times.