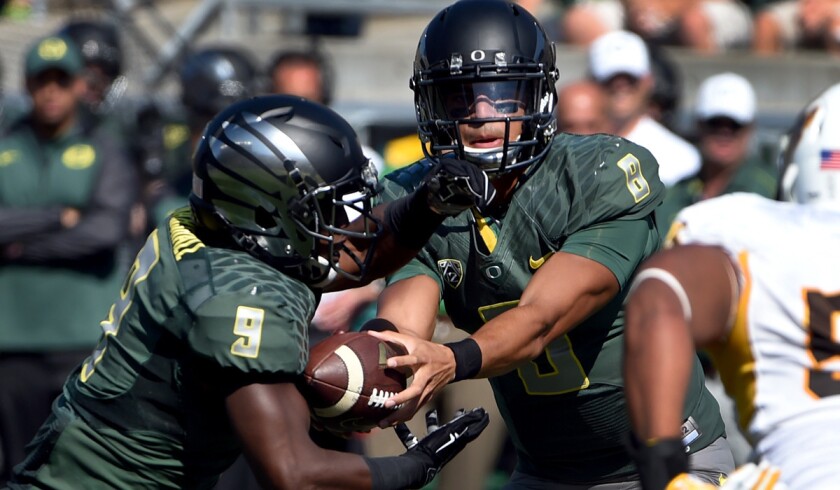 The eclectic offenses in the Pac-12 Conference can cause late nights for defensive coordinators. A game against Oregon on Saturday afternoon at the Rose Bowl is just another balancing act for UCLA's Jeff Ulbrich.
"The way people are playing offense, you can go two ways: either simplify so much that you detail everything, or you get complex," Ulbrich said. "We're trying to find that balance between being very sound and having enough of a package where we're not predictable."
Oregon's scheme is deceptive in some ways, Ulbrich said. The Ducks run a spread offense, but they don't throw nearly as often as, say, Washington State.
"They have always been this team that wants to spread you out and run the ball," Ulbrich said. "If they are running the ball well early in games, they are going to pound the pill."
Oregon rolled up 345 yards rushing against UCLA in a 42-14 victory last season.
"You don't think of that when you think about the spread, but that's what they have based their offense on," Ulbrich said.
UCLA gave up 242 yards rushing in a 30-28 loss to Utah last Saturday.
Oregon averages 5.3 yards a run even after factoring in the sacks it has allowed — 15 for a minus-81 yards.
The Ducks are so solid at running back that they moved Byron Marshall to receiver. Marshall gained 1,038 yards rushing last season. He has 213 yards rushing this season, and has a team-high 24 receptions.
Royce Freeman has 346 yards rushing, Tyner Thomas 221.
"All I want to do is stop the run," said UCLA linebacker Eric Kendricks. "It comes down to discipline, doing the job you've been assigned."
Marking Marcus
Oregon has had trouble protecting quarterback Marcus Mariota; he has been sacked 12 times in the last two games. UCLA has struggled to get to opposing quarterbacks; the Bruins have seven sacks in five games.
UCLA Coach Jim Mora would be happy just making Mariota uncomfortable.
"More important than anything is keeping him in the pocket," Mora said. "He is so creative and so athletic when he gets outside the pocket."
Mora said that bringing additional players on blitzes is "a scary thing because he is so good at extending plays. It leaves defensive backs in a lot of one-on-one coverage."
Making progress
Ulbrich said the Bruins are improving their pass defense, from pressuring the quarterback to coverage.
"I think we're starting to develop a pass rush," he said. "We're starting to develop a little more on the back end. That'll allow us to mix up coverage a little more."
The Bruins put freshman Jaleel Wadood into the starting lineup after Randall Goforth was lost for the season. Sophomore safety Tahaan Goodman has seen his playing time increased. Ishmael Adams moved from cornerback to safety, with safety Anthony Jefferson taking Adams' corner spot.
Anger management
The talking point this week was intestinal fortitude, with Mora repeatedly talking about the Bruins being "impossible to discourage."
Center Jake Brendel thinks he knows why. "There are a lot of guys on this team who hate losing more than they love winning," he said.
Quick Hits
Linebacker Jayon Brown was back in practice Thursday, a day after leaving with an undisclosed injury. … A crowd of more than 80,000 is expected at the Rose Bowl on Saturday. UCLA officials are urging fans to arrive early for the 12:30 p.m. game. … Mora said that guard Alex Redmond (ankle) would be a game-time decision. Redmond has not practiced the last two weeks.
---