UCLA receiver Devin Lucien has his Pac-12 moment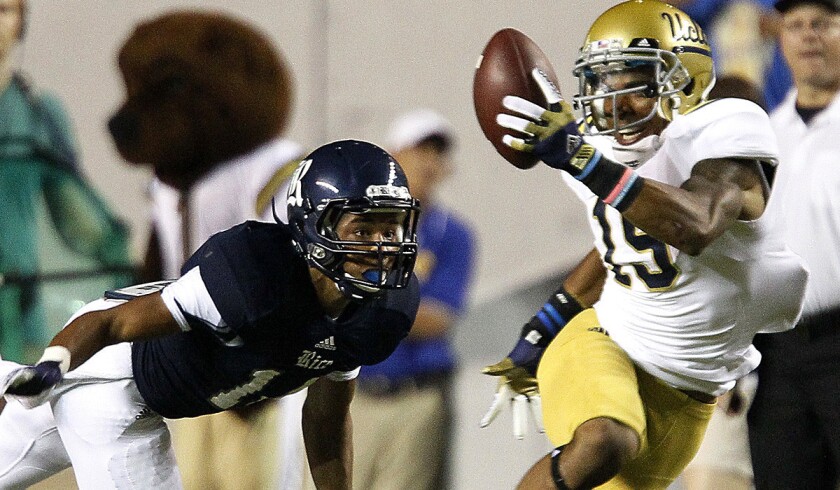 UCLA receiver Devin Lucien made a brilliant catch for what would have been a 17-yard touchdown during the Bruins' 44-30 victory over Washington, only to be called for offensive pass interference.
Multiple replays appeared to show that Lucien did not make contact with the defender on the play.
"That was a brutal one," linebacker Eric Kendricks said. "That's football. It happens. You got to live with it. But the kid made a great catch."
Of the 15 most penalized Football Bowl Subdivision teams, seven are from the Pac-12 Conference. UCLA, which ranks 18th, showed great improvement in that area Saturday.
The Bruins had 37 yards in penalties after being over 100 yards in each of the previous two games.
"We came to the realization that we have to be smarter," Kendricks said.
That started in practice, Kendricks said, and carried over to the game.
"Man, that helped so much," Hundley said. "Coach [Jim] Mora put it on the team. Coaches can only do so much. It comes down to who is not making mental mistakes and getting beat."
Rooting interest
If UCLA wins its remaining two games, the Bruins will win the Pac-12 South Division — as long as Arizona State loses one game. Up this week for the Sun Devils is Oregon State, the Bruins' new favorite team.
"We hope somebody gets it done," Jefferson said.
Rivalry kickoff
The kickoff time for the UCLA-USC game will be announced Sunday. USC announced that the game would start between 12:30 p.m. and 5 p.m., and will be televised on Channel 7, ESPN or FoxSports1.
Twitter: @cfosterlatimes
---
Get the latest on L.A.'s teams in the daily Sports Report newsletter.
You may occasionally receive promotional content from the Los Angeles Times.