Jim Mora's Bruins need two more wins but one will do for now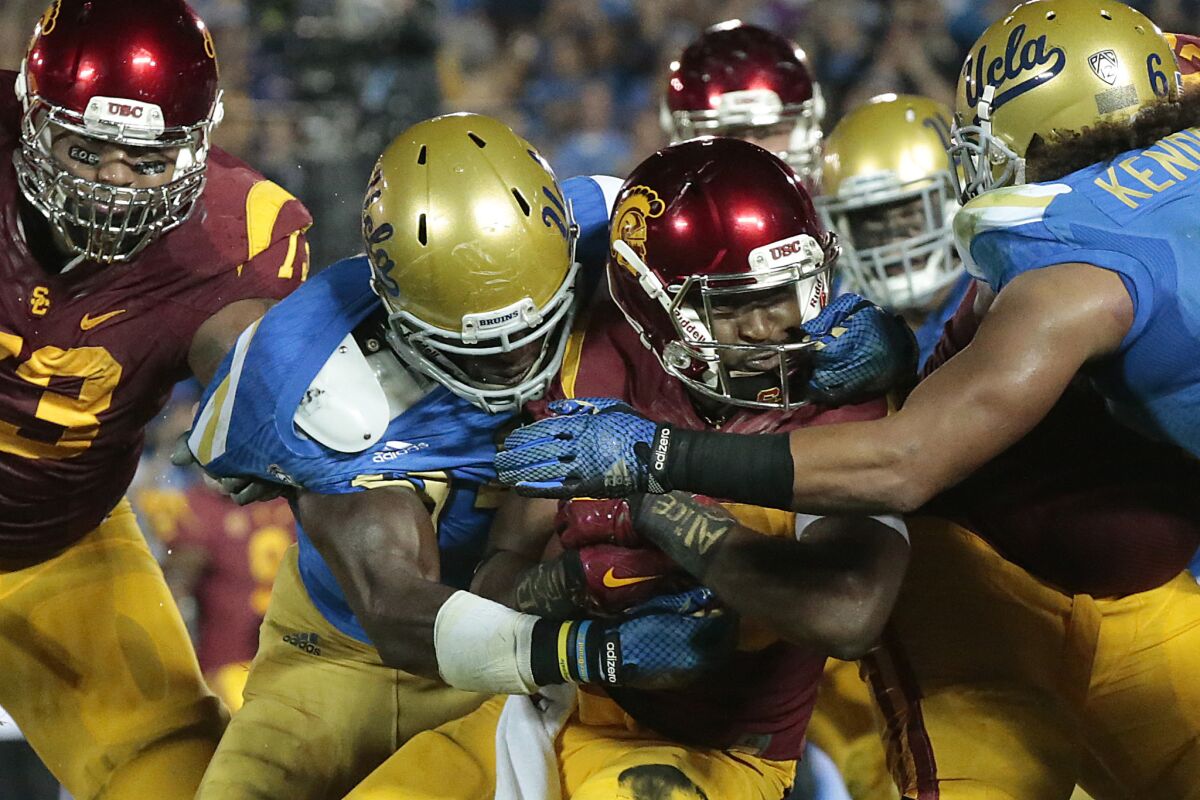 UCLA football has not been in a position this good since the day the Bruins stepped on the airplane for Miami in 1998.
All the Bruins need to do is beat Stanford on Friday and Oregon in the Pac-12 championship game and they will be in strong position to get a spot in the four-team College Football Playoff to determine the national title.
Of course, all the Bruins needed to do was tackle Miami's Edgerrin James once or twice and they would have been in the 1998 national championship game.
Coach Jim Mora had already hunkered down Sunday, abandoning his weekly conference call following the Bruins' 38-20 victory over USC.
On Saturday, when asked about the possibility of reaching the playoff, Mora said, "If we can win Friday, we will have another shot to win the Pac-12 championship. I don't talk about that other stuff. Our world's got to end Friday, and it will."
It's hard for players not to look beyond Friday. UCLA was ninth in the CFP rankings last week and is expected move up at least one spot Tuesday.
Asked if the Bruins can see down the road, receiver Eldridge Massington said, "We saw that last week. We started seeing where we could go. We still have to go game-by-game, but it's there."
There are a couple of hurdles.
For starters, UCLA has lost six consecutive games to both Stanford and Oregon. As an added bonus, the Bruins have struggled in games played immediately after the emotional rivalry showdown with USC.
UCLA has a 1-5 record in games a week or less after the USC game. The Bruins lost those five games by an average of 17.5 points. While some of that is ancient history, the Bruins did lose such a game two years ago . . . to Stanford.
The Cardinal dominated UCLA, 35-17.
Another loss would mean goals not attained and would leave the Bruins short of the expectations being heaped on them by a newly repacked bandwagon.
"We developed a mind-set that we don't care," quarterback Brett Hundley said. "We don't care about what's being said. All we care about is Stanford. They're next."
The Bruins came by that mind-set the hard way. Back-to-back losses to Utah and Oregon in October took them off the playoff radar.
"Everyone wrote us off," Massington said. "That's why we can go out there and play the way we played [Saturday]."
Hundley said that after the two losses, "We dug deep. All we got is each other. We had to stick together."
Karma happens
UCLA receiver Devin Lucien lost a touchdown against Washington on an offensive pass-interference call that replays indicated was unfounded.
His reward was a 10-yard touchdown reception against USC on Saturday.
"It felt great, but I wasn't even thinking about the Washington catch," Lucien said. "I was thinking, 'Devin, you just scored a TD against USC.' I was laughing to myself. It was a dream come true."
More so because of his upbringing.
"When I was growing up, my family was on the SC side," Lucien said. "To be on top is a really good feeling. You always see SC stuff around. Everyone is selling SC stuff. Everyone is talking SC. To get a third win over them and establish ourselves as a team to reckon with is a good thing."
Dee-fense
UCLA saved its best defensive performance for USC.
The Trojans were limited to 276 yards, a season low for the Bruins. UCLA had six sacks, a season high.
"The guys kept coming off the field and asking for calls," defensive coordinator Jeff Ulbrich said. "They would say, 'We can do this, go with that call.'"
Defensive end Owamagbe Odighizuwa said, "As the game progressed, we saw their weaknesses."
Odighizuwa had two sacks. Eddie Vanderdoes, Deon Hollins, Ellis McCarthy and Takkarist McKinley each had one.
USC had allowed only 16 sacks entering the game.
Twitter: @cfosterlatimes
Get the latest on L.A.'s teams in the daily Sports Report newsletter.
You may occasionally receive promotional content from the Los Angeles Times.