UCLA Coach Jim Mora expects the unexpected, prepares Bruins for unknown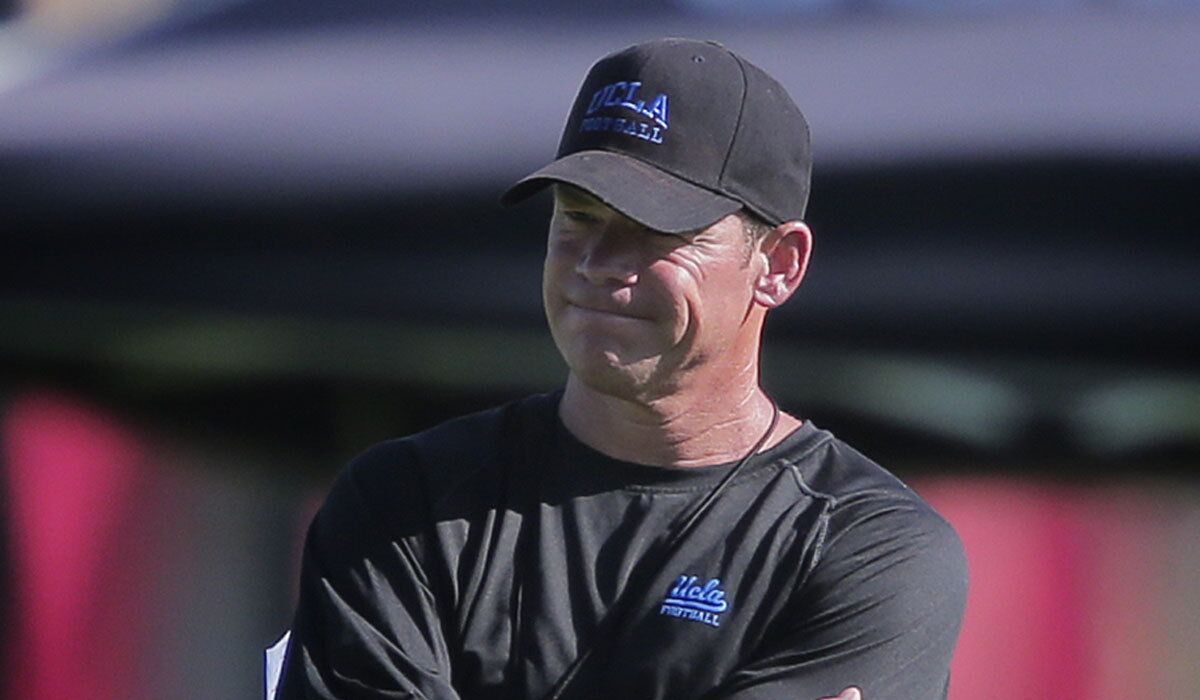 UCLA football players expect to be better at improvising this season.
A year ago, the Bruins defense had moments when something they didn't expect was thrown at them — the "unscouted," linebacker Deon Hollins said — and it was a problem.
Virginia brought quarterback Matt Johns off the bench and he nearly rallied the Cavaliers to an upset victory. Utah subbed in quarterback Kendall Thompson and he ran the Bruins in circles.
This season, the Bruins feel better prepared for things they may not be prepared to face.
"It comes down to being mentally strong," defensive tackle Eddie Vanderdoes said. "We are ready for everything thrown at us."
The ability to adjust has been emphasized at practice. For example, during some sessions, Coach Jim Mora has run UCLA's offense against its defense.
"Those are three competitive periods where it's not Virginia looks, it's our looks," Mora said. "It forces them to adjust their thinking from game plan to something we haven't seen on film."
Last season, Johns came off the bench for Virginia, replacing Greyson Lambert, with UCLA leading, 21-3, in the second quarter. The Bruins had scored on turnovers, returning two interceptions and a fumble for touchdowns.
The game shifted dramatically. Johns completed 13 of 22 passes for 154 yards and two touchdowns. The Bruins couldn't exhale until Myles Jack broke up a fourth-down pass inside the 10-yard line with three minutes left.
"Lambert liked to ding and dunk; Johns came in and started attacking us downfield," Hollins said. "I didn't think we adjusted well enough. We saw the same thing in the Utah game. A different guy came in and there were unscouted looks. That's what Coach Mora talked about, being ready for unscouted looks."
The Bruins survived Virginia, but got burned by another quarterback change weeks later against Utah. Thompson replaced Travis Wilson and hurt UCLA more with his legs than his arm.
Thompson passed for 95 yards and a touchdown and gained 83 yards on the ground in the Utes' 30-28 victory.
"The way you handle the unscouted looks is to revert back to rules and fundamentals," Mora said. "Every play, every defensive concept has a set of rules."
Defensive coordinator Tom Bradley said thinking outside the box helps.
"A lot of times it's what you haven't shown on film. That's the part you try to figure out without wasting too much time on the unseen," Bradley said. "But you do have to throw them a couple curves."
Injury update
Mora said the Bruins were "relatively healthy."
Senior running back Steven Manfro would be available Saturday in the season opener against Virginia in an "emergency situation," Mora said. Manfro had minor surgery on his right knee last month.
"He has done a lot of work on the side and he progressed to individual drills [Tuesday]," Mora said. "[Wednesday], he will do team work. We want to get him suited up and get him feeling at home on the field so he is ready to go as soon as we need him."
Tit for tat
Virginia did not release a depth chart this week because UCLA doesn't release a depth chart.
"As we stand right now there are opportunities for the depth chart to change," Virginia Coach Mike London said.
Twitter: @cfosterlatimes
---
Get the latest on L.A.'s teams in the daily Sports Report newsletter.
You may occasionally receive promotional content from the Los Angeles Times.