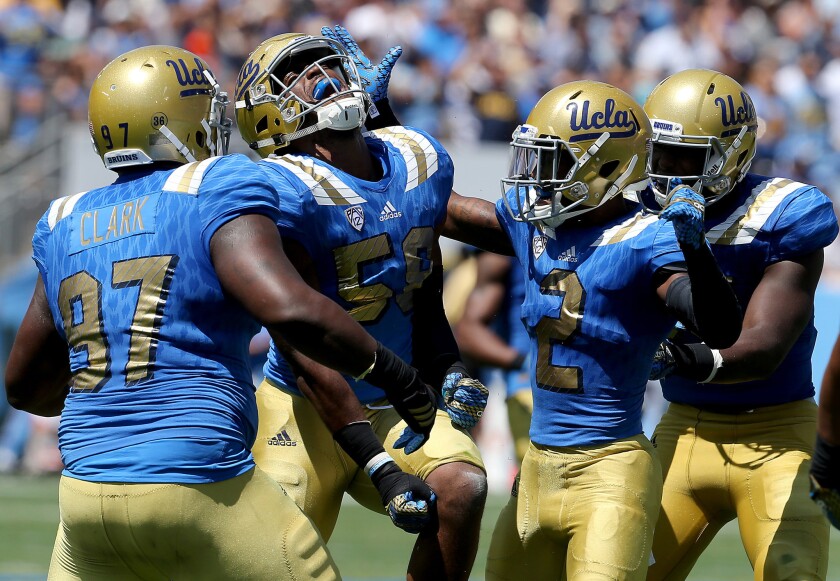 There is this legend from the Northwest that UCLA football players have heard about. It's called Oregon State.
UCLA and Oregon State have not played in football since 2012 because of a quirk in Pac-12 Conference scheduling. That will change Saturday.
Only eight current Bruins appeared in the the last game between the programs.
"That is so weird," said UCLA linebacker Deon Hollins, a junior. "It blows me away that I have never played against them in my career."
Three years ago, Oregon State defeated the Bruins at the Rose Bowl, 27-20, giving Coach Jim Mora his first loss.
A lot has changed since.
Coach Mike Riley moved from Oregon State to Nebraska. His replacement, Gary Andersen, was hired away from Wisconsin.
"The last time we saw them was definitely something the older guys remember," said UCLA receiver Jordan Payton, a senior. "They were tough. Coach Riley, I remember him; and their offense looked so good with those receivers and they had a tough defensive line."
Quarterback Sean Mannion, now with the St. Louis Rams, passed for 379 yards and two touchdowns for Oregon State that day. Markus Wheaton and Brandin Cooks, also now in the NFL, each topped 150 yards receiving.
Those Beavers operated out of a pro-style offense. Anderson has Oregon State playing zone read, and it's a work in progress.
Oregon State has been without its trigger man, quarterback Seth Collins, who because of a knee injury didn't travel to Utah for the Beavers' game Saturday, a 27-12 loss.
"There are going through some stuff," Payton said, "but they are definitely a team you have to be careful about."
In 2012, the Bruins were rebuilding and the Beavers were a strong Pac-12 team. But Oregon State has lost 12 of its last 14 conference games.
What hasn't changed is Corvallis, Ore., and Reser Stadium, where Saturday's game will be played. Oregon State's home is a rural town of 55,000, and its stadium is among the more difficult places to win in the Pac-12.
Limping along
UCLA did not practice Monday, so it was difficult to determine the status of several players. But the team's ever-growing injury list was on the mind of several players who were made available to speak with reporters.
"The injuries have reached comical proportion," Hollins said. "We had guys like [linebacker] Josh Woods who didn't expect to play. He said he had his mouthpiece in his pants" when summoned by coaches.
The inside linebacker spots have been hit particularly hard, with Kenny Young (head), Isaako Savaiinaea (ankle) both questionable for Saturday's game. Hollins, an outside linebacker, said he might get some work on the inside this week.
Among the players forced out of the Colorado game were receiver Devin Fuller (ankle), receiver Stephen Johnson III (undisclosed), Woods (hamstring), cornerback Marcus Rios (undisclosed), cornerback Ishmael Adams (undisclosed), tackle Caleb Benenoch (leg) and tackle Kolton Miller (leg).
Defensive anchor
Colorado ran 114 plays against UCLA, and Kenny Clark was at nose tackle for the Bruins in 100 of them.
Defensive coordinator Tom Bradley said he couldn't afford to have Clark out of the game, and Clark's UCLA teammates agree.
"His importance to the defense rises every single week," Hollins said. "We are lucky to have someone like that in the middle. He's definitely an NFL-type player. That he can clog running lanes is really big."
---