Washington State's football team has gotten an attitude adjustment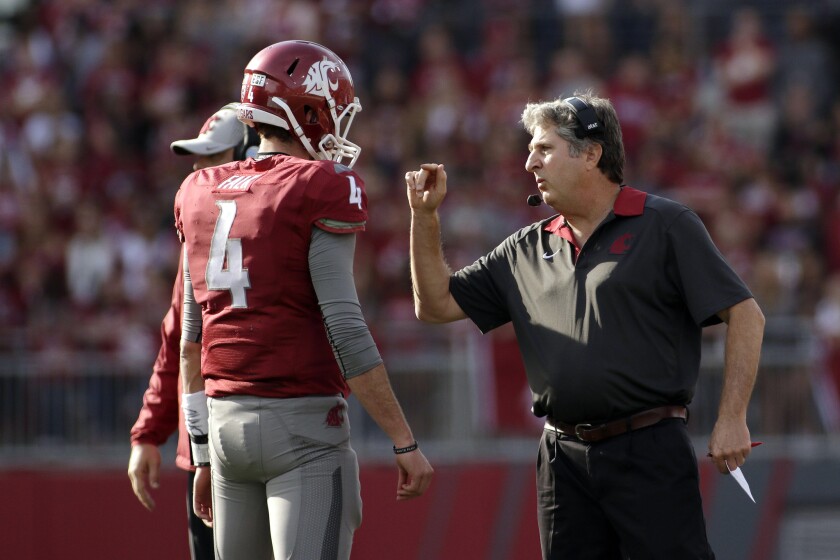 Washington State's football team appears to have found its footing in Coach Mike Leach's fourth season.
The Cougars won 19 of 88 Pac-12 Conference games from 2004-14, and they are early 9 1/2-point underdogs in Saturday night's game against UCLA at the Rose Bowl, but they will bring along a new and improved attitude.
"People probably don't expect much from us," senior linebacker Kache Palacio said. "We could be 20-point underdogs; it wouldn't matter. We treat the game the same."
The Cougars are 6-3 overall and 4-2 in Pac-12 play. A missed field-goal attempt in a 30-28 loss to Stanford is all that's kept them from being tied for first place in the Pac-12 North.
The Stanford loss was the kind of setback a lesser team might have carried into the next week and beyond. Washington State fell behind, 14-0, in the first quarter against Arizona State on Saturday, but raced back for a 38-24 victory.
"Obviously we didn't come out in the first quarter swinging like we wanted to, but 14 points is nothing," guard Eduardo Middleton said.
The victory made Washington State eligible for a bowl invitation — for only the second time in 11 seasons.
The first three seasons under Leach were rough. The high point was a 6-7 season in 2013, which ended in a loss to Colorado State in the New Mexico Bowl.
This season brought change, though it started with an embarrassing loss to Portland State in the opener. Even then, players felt a difference.
"There's team bonding, we all hang out with each other," receiver Dom Williams said. "In past years, I'd be with the receiver group. Now we watch movies, go bowling. I'll hang with [guard] Gunnar Eklund and listen to country music."
That closeness has been evident during games.
"We're playing the whole 60 minutes," Williams said. "Coach incorporates that into practice, especially at the end when legs are tired. He really pushes us. I still don't think we've played our best game yet, but as long as we get better each week the sky is the limit."
Call of duty
UCLA's offensive line performed well enough against Oregon State that the Bruins ran up 284 yards rushing and quarterback Josh Rosen passed for 333 yards in three quarters.
But the unit also had seven false starts.
Rosen said after the game that the Beavers defense had shouted out UCLA's snap cadence, which confused the Bruins.
"The rule book says if you simulate a snap count at all, it is supposed to be a penalty," UCLA center Jake Brendel said.
However, Brendel added that the tactic is not all that unusual. "It's something we have seen before," he said. "Our defense does it too. It's a way to throw an offense off."
The Bruins went to a silent count late in the second quarter, but still had three false-start penalties in the second half.
Defensive leader
Linebacker Jayon Brown had 10 tackles against Oregon State, the third consecutive game he has led the Bruins. He had 18 against Colorado and was tied for the team lead with seven against California.
Twitter: @cfosterlatimes
---
Get the latest on L.A.'s teams in the daily Sports Report newsletter.
You may occasionally receive promotional content from the Los Angeles Times.