Texas A&M receiver Christian Kirk could be a big test for UCLA's secondary
Demetrice Martin, UCLA's defensive backs coach, recently said he felt like "a kid at Christmastime getting to open up my packages" when it came to working with his players during training camp.
That could make Christian Kirk the Grinch who stole the season opener Sunday at the Rose Bowl. The Texas A&M junior receiver can sink a secondary into perpetual gloom with his play-making abilities.
UCLA coach Jim Mora labeled Kirk as "a legitimate Heisman Trophy candidate" even though no receiver has won that award since Michigan's Desmond Howard in 1991. Mora has known Kirk's capabilities since recruiting him out of Saguaro High in Scottsdale, Ariz.
"I remember going to one of his games at Saguaro," Mora said, "and I'm standing on the sideline and he scored three touchdowns in the first quarter and they were all just special type of runs, like, 'Oh, he's tackled — oh, no he's not, touchdown, no one touched him.' He's a special talent and he's a real challenge."
College defenses learned that when Kirk became the first player in Texas A&M history to make at least 80 catches in back-to-back seasons. Kirk led the Southeastern Conference with 83 catches last season for 928 yards and nine touchdowns. He also led the nation with three punt return touchdowns, averaging 21.7 yards per return on the season.
The big question is who will be throwing Kirk the ball. Texas A&M coach Kevin Sumlin told reporters he would not announce his starting quarterback before the game, forcing UCLA to prepare for the possibility of facing either senior Jake Hubenak, redshirt freshman Nick Starkel or true freshman Kellen Mond.
UCLA will counter with a secondary that could be even better than it was last season, when it led the Pac-12 Conference by allowing only 12 touchdown passes and ranked seventh nationally in pass efficiency defense.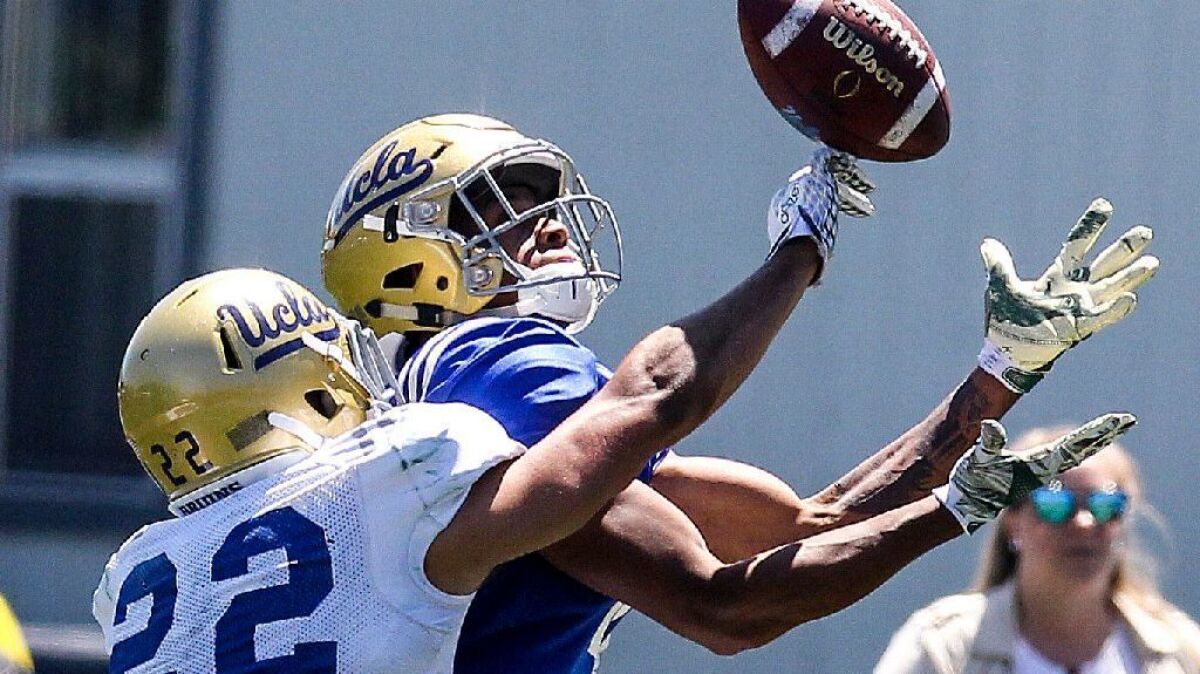 The Bruins have a few enticing options when it comes to offsetting Kirk, who had eight catches for 58 yards against them last season during the Aggies' 31-24 overtime victory. Will it be cornerback Nate Meadors, who made eight starts last season? Or might it be Darnay Holmes, who appears to be on the verge of becoming the first true freshman to start a season opener at cornerback for UCLA since Matt Ware in 2001?
Bruins safeties Adarius Pickett and Jaleel Wadood also figure to be heavily involved in the team's coverage plans concerning a player who likes to line up in different spots and even operates out of the backfield sometimes.
"You have to account for him," Mora said, "and if you don't account for him, you make a terrible mistake."
Hurricane relief
UCLA announced that fans will be able to support Hurricane Harvey relief efforts by making a financial gift to the American Red Cross via text message Sunday at the Rose Bowl.
UCLA will provide two complimentary tickets to its game against Hawaii on Sept. 9 at the Rose Bowl to fans who donate at least $10. To receive the free tickets, fans must display their donation receipt at one of three customer service booths on the Rose Bowl concourse before the end of the third quarter Sunday.
Fans will be prompted to text keyword "HARVEY" to 75759 during pregame and in-game announcements and video board reminders. Fans can help before the game by visiting www.redcross.org, calling 1-800-RED-CROSS or texting "HARVEY" to 90999 to make a $10 donation, which will be billed to their cellular provider.
UCLA has decided to solicit financial donations instead of clothing and food items at the request of the Red Cross because of logistical difficulties associated with getting items to Houston. A similar effort at the Rose Bowl in 2005 raised more than $39,000 for Hurricane Katrina relief.
Both the Bruins and the Aggies will wear a special helmet decal Sunday featuring the Texas state outline embedded inside a hurricane symbol, with a red heart placed over the Houston area.
Heat check
The forecast for Sunday in Pasadena calls for mostly sunny skies and a high of 93 degrees. That's hot, but nothing the Bruins said they can't handle with proper hydration. It also might help that UCLA is moving this season to the side of the field shaded by the press box.
If nothing else works, players could go to their fail-safe plan.
"You just kind of suck it up," quarterback Josh Rosen said. "It's football."
Follow Ben Bolch on Twitter @latbbolch
Get the latest on L.A.'s teams in the daily Sports Report newsletter.
You may occasionally receive promotional content from the Los Angeles Times.