UCLA's receivers were keys to success in comeback win over Texas A&M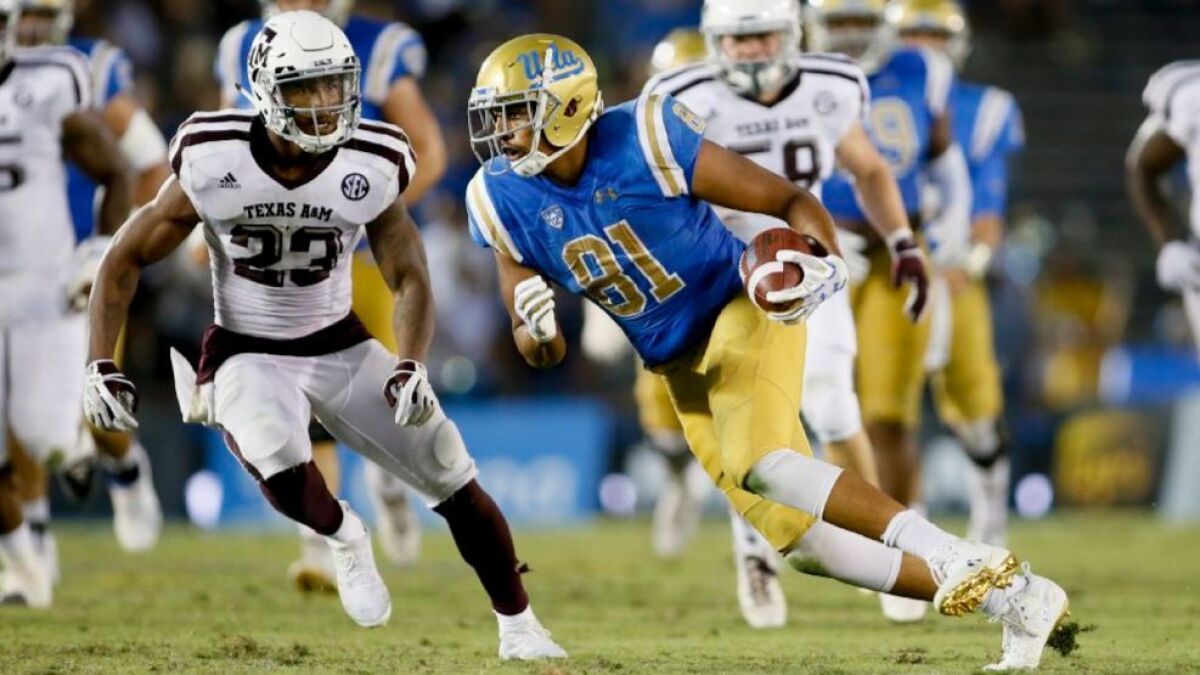 Josh Rosen's eyes momentarily shifted toward the television camera fixed on him before UCLA's game Sunday, the quarterback winking as one corner of his mouth curled into a smile.
It was as if he knew what was about to happen and who was going to help make it possible.
Rosen's career-best performance during the Bruins' crazy comeback victory over Texas A&M was created in large part by the success of his receivers.
Tight end Caleb Wilson's 15 catches set a school record and UCLA had three 100-yard receivers in a game for only the second time in school history, joining a 2005 triumph over Arizona State.
Wilson finished the game with a career-high 203 receiving yards. Receiver Darren Andrews set career highs with 12 catches and 142 yards and tied another career high with two touchdown catches. Receiver Jordan Lasley had four catches for 100 yards, including the tying touchdown in the back of the end zone with 43 seconds left.
"We needed it," UCLA coach Jim Mora said of having three receivers with at least 100 yards. "We wouldn't have won without that."
Rosen enjoyed most of his success in the fourth quarter, when he passed for 292 of his 491 yards and all four of his touchdowns. But Rosen and Wilson sparked UCLA's comeback from a 34-point deficit starting late in the third quarter when Wilson pulled in a 24-yard pass near midfield on the Bruins' first touchdown drive of the second half. On UCLA's next drive, Rosen completed a third-down pass underneath the coverage to Wilson, one of three consecutive plays in which they connected for first downs.
Wilson later made a 26-yard catch when facing a fourth-and-three situation. Rosen called Wilson one of the most deceptive players he had ever seen because of an ability to get open when "sometimes you really have no idea how he does it." Wilson routinely exploited the Aggies' zone coverage and displayed what might be the surest hands on his team.
Wilson credited his teammates' confidence in him and battles with linebacker Kenny Young in the offseason for a swift rise from his onetime status as a walk-on at USC before transferring to UCLA.
"They always believed in me," Wilson said. "If I dropped a pass in practice, they would be like, 'You're better than that, Caleb, that's not like you.' I think my team really pushed me."
UCLA's receiving corps also got a boost from running back Soso Jamabo, who caught a swing pass in the final minute to convert a fourth down. Another improvement: The Bruins dropped only three passes after routinely dropping at least twice that many during games last season.
Speed thrills?
If UCLA's game against Hawaii on Saturday at the Rose Bowl seems unusually zippy, it could be at least partially by design.
The game is part of the Pac-12 Conference's pilot plan to shorten nonconference games broadcast on the Pac-12 Networks. A variety of measures will be implemented, including a halftime that is 15 minutes instead of 20, a kickoff at 2:01 p.m. that will be one minute into the broadcast window and reduced time between quarters.
Both UCLA and Hawaii had to agree to the shortened halftime format beforehand.
"Doesn't matter, it's irrelevant," Mora said of losing five minutes at halftime. "NFL is 12-minute halftimes, so it's three minutes longer than an NFL halftime."
Pac-12 Commissioner Larry Scott said Sunday that the condensed format helped Pac-12 Network viewers catch the start of the USC-Western Michigan game last weekend after a close preceding game between Oregon State and Portland State. Scott said the average game length involving Pac-12 teams was 3 hours 26 minutes.
"In an ideal world," Scott said, "I'd like to get closer to three hours than 3 1/2."
Quick hits
UCLA did not schedule a game at Hawaii as part of its agreement to play the Rainbow Warriors, disappointing some of the Bruins. "The guys that are coming back next year, they're like, 'Dang, why can't we get to go to Hawaii next year?' " defensive end Jacob Tuioti-Mariner said. "So it's kind of a bummer that we don't get to go there." … UCLA distributed about 1,000 free tickets to the Hawaii game as a result of its Hurricane Harvey relief campaign offer.
Follow Ben Bolch on Twitter @latbbolch
---
Get the latest on L.A.'s teams in the daily Sports Report newsletter.
You may occasionally receive promotional content from the Los Angeles Times.