UCLA's Joshua Kelley takes it upon himself to provide a boost to running game
The UCLA tailback wore an easy smile and chuckled readily when he met with reporters only minutes after the Bruins had dropped a fourth consecutive game to start the season. He was not minimizing his team's struggles in the least.
It was Joshua Kelley being himself.
The naturally positive player remained upbeat after a bittersweet few hours. He had logged a breakthrough performance, running for 124 yards in 12 carries against Colorado on Friday at Folsom Field, but his team had faltered badly in the second half of a 38-16 loss.
"There's a lot of finger pointing and I know that's how it goes," Kelley said, "but you've just got to point the thumb at yourself and look at yourself in the mirror and say, 'All right, what can I do better?' If we can get the whole team to do that, top to bottom, we're going to be good. We can still turn this around."
Kelley, a junior transfer from UC Davis, had just completed his own personal turnaround. One game after going without a single carry against Fresno State, he recorded his first 100-yard rushing game as a Bruin. He also had three receptions for 10 yards.
Kelley broke a couple of tackles on a 29-yard run in the first quarter and amassed a team-high 59 yards rushing in only four carries by halftime.
He also burst up the middle for 44 yards in the third quarter on a run that set up the field goal that gave UCLA its first second-half lead of the season.
"I thought Josh gave us a little bit of a spark in the run game," Bruins coach Chip Kelly said. "There were some physical runs that he had to make and I think Josh did it."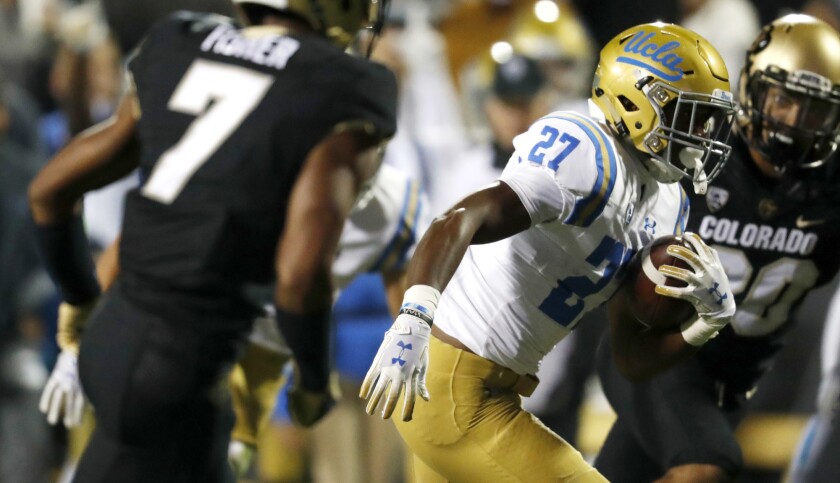 Kelley said his success was largely a function of a rejiggered offensive line featuring Boss Tagaloa at center.
"It's kind of easy for me to run through open holes because those guys were fighting their butts off," Kelley said, "so I appreciate them."
The increase in carries came from Kelley having upped his productivity in practice.
"I just looked at myself in the mirror and said, 'I need to be better,' honestly," Kelley said.
He was easily the best of the tailbacks Friday as the Bruins compiled a season-best 151 yards rushing. Nobody else accounted for more than Kazmeir Allen's 12 yards rushing.
Getting centered
Tagaloa appeared to make only one bad snap in his debut at center but blamed himself for calls that led to protection breakdowns in which quarterback Dorian Thompson-Robinson was sacked twice in the first quarter.
"That's on me, just like different calls that I have to make and I didn't get it done," Tagaloa said. "Everything is a learning curve and I'll make sure that doesn't happen again."
Thompson-Robinson was sacked only once more the rest of the game.
Tagaloa, a converted defensive lineman, said he was still adjusting to the increased responsibilities of his new position but was happy to be back after being suspended for the season's first three games for violating unspecified athletic department policies.
"It was tough, just knowing that I hurt the team just based off my decision," Tagaloa said. "I learned from that."
Nothing to see here?
Thompson-Robinson said he did not see his father's tweets from earlier this month that were critical of Kelly because he had been off his phone over the last two weeks.
"I rarely go on my phone now, just try to stay away from all the media and stuff like that," Thompson-Robinson said. "So I just try to focus on my team."
Thompson-Robinson said he also had not spoken to his parents recently or heard about the tweets.
"I really haven't been talking to my parents for the past few weeks," Thompson-Robinson said, "so I'm probably looking to do that when I get home now, talk to them about that. I really had no idea."
Etc.
J.J. Molson's 50-yard field goal in the second quarter was the longest of his career and part of a stretch in which he has made nine consecutive field goals. The kicker has made 33 field goals in three seasons, moving into a tie with Chris Sailer for eighth place on the school's all-time list. … Demetric Felton made a career-high three catches for 49 yards. … Devin Asiasi started at tight end in his Bruins debut but did not make a catch.
Follow Ben Bolch on Twitter @latbbolch
---
Get the latest on L.A.'s teams in the daily Sports Report newsletter.
You may occasionally receive promotional content from the Los Angeles Times.