UCLA's recruiting process should land one big catch, but being less than aggressive brings results that are less than impressive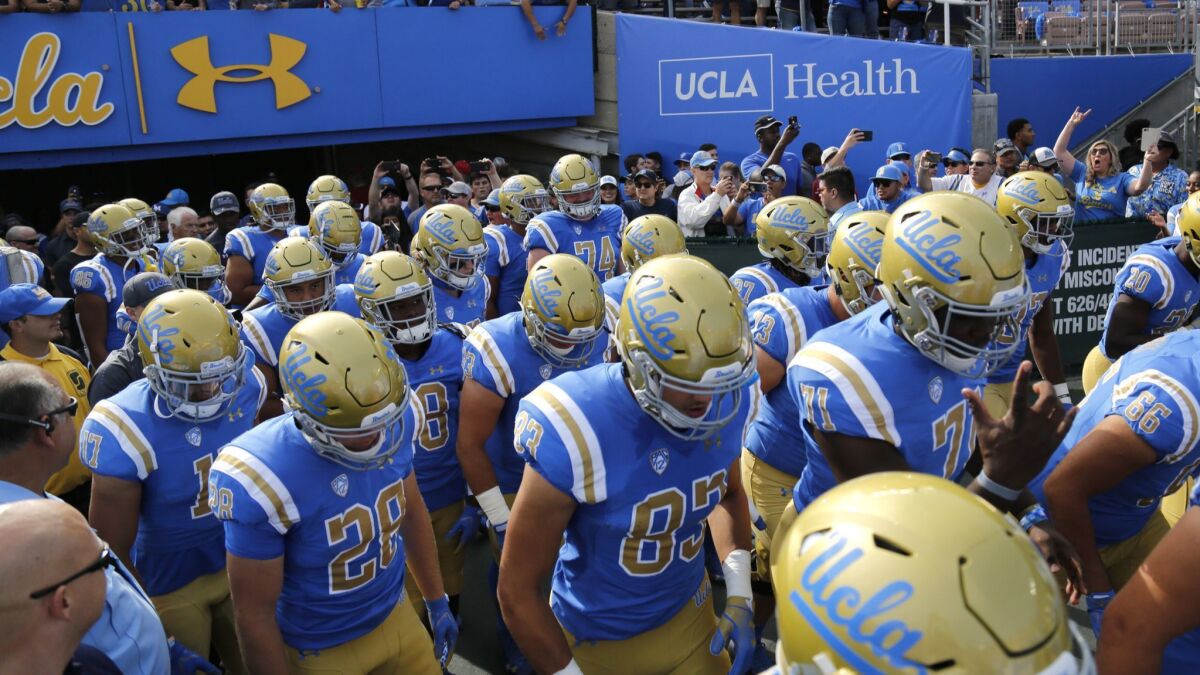 The text messages and eye-catching graphics from recruiters would bombard Sean Rhyan's cellphone, intended to lure the top high school prospect with constant attention.
Rhyan ultimately picked a college that used a more restrained approach in its pursuit.
"UCLA let me know that they were still there and they wanted me," said Rhyan, an offensive tackle at San Juan Hills High in San Juan Capistrano, "but they didn't overwhelm me with stuff."
Rhyan heard from Justin Frye, the Bruins' offensive coordinator and offensive line coach, every week or so. UCLA coach Chip Kelly would send along congratulations after victories involving Rhyan's team.
That was about it.
It was a courtship that is expected to result in Rhyan's signing a letter of intent with UCLA on Wednesday, the opening of the three-day early signing period.
Many other recruits have apparently found the Bruins' recruiting style less enticing.
Coming off a 3-9 season that showed a need to fortify its roster at multiple positions, UCLA has secured commitments from only 13 players — just over half the allowable number. While the Bruins appear to have addressed their needs along the offensive line, they lost out on their top quarterback target, Arizona State-bound standout Jayden Daniels, and are not on track to add much quality depth at linebacker.
Rhyan is currently the only four-star prospect on the five-star scale in a class rife with three-star players. UCLA's most recent commitment came from Hayden Harris, a two-star linebacker from Eastside Catholic High in Sammamish, Wash., who was also being recruited by the Colorado School of Mines, Redlands and Black Hills State. Those schools compete in NCAA Divisions II or III.
The Bruins' class is not shaping up as one that is going to challenge for national or even regional supremacy; 247Sports.com has ranked the haul of players No. 10 in the Pac-12 Conference and No. 60 nationally.
Part of the issue may be Kelly's deliberate approach. UCLA is meticulous in its evaluation of players, speaking with not only coaches but teachers and administrators, and selective in its scholarship offers, branding them as golden tickets. Each ticket bears a telling line at the bottom proclaiming it is "1 of 50."
But the Bruins have adopted what seems to be a slow-speed pursuit after identifying their targets.
"I think it's good to be deliberate and be really sure of your evaluation, but I think you've got to be a lot more aggressive when you recruit the kids," said Greg Biggins, a national recruiting analyst for 247sports. "When we talk to kids and ask them, 'Hey, who's recruiting you the hardest?' they'll never say, 'UCLA is.' So it's one thing to offer a kid, but you still have to go pursue that kid hard."
Kelly was unavailable to comment on his recruiting approach, an athletic department official said.
Rhyan said he liked UCLA's businesslike style because it jibed with his personality as a straightforward, academics-focused player. Knowing that he was one of only a handful of players the team was pursuing at his position also made him feel highly coveted.
"To get that offer from coach Kelly, who is a selective recruiter," Rhyan said, "was a good reassurance."
UCLA's class is strongest along the offensive line. In addition to Rhyan, the Bruins have commitments from Duke Clemmons, an offensive guard from Punahou High in Honolulu, and Beau Taylor, an offensive guard from Bishop Gorman High in Las Vegas who was a former teammate of UCLA quarterback Dorian Thompson-Robinson. The team also is considered to be leading for Sataoa Laumea, a four-star offensive guard from Rialto High in Eisenhower.
The Bruins are not faring as well in their efforts to restock at linebacker. They have a commitment from John Ward of Palmdale High, who projects to play at inside linebacker, and remain in the running for Dru Mathis of Moorpark College.
Perhaps the most puzzling aspect of UCLA's recent recruiting efforts is its conversion rate for players who have visited campus. The school recently hosted defensive linemen Nick Figueroa and Datona Jackson and was considered their top choice, Biggins said — until they visited USC, which did not have a defensive line coach at the time.
Both players intended to sign with USC until the Trojans reportedly pulled their scholarship offer to Jackson, who is expected to sign with the Bruins on Wednesday.
Biggins said UCLA is poised to sign less than half the players who took visits, which could spark a reevaluation of their recruiting tactics if that rate holds up through the regular signing period in February.
"I'm sure they're probably going to wait until after February," Biggins said, "and then [Kelly will] look back and see and then from there they'll decide on hopefully a new game plan that works better."
UCLA could improve its standing by the time its class will be finalized but probably not significantly given the players it's known to be pursuing. Biggins said he didn't expect the class to exceed 20 players one season after the Bruins signed 27 as part of a class that ranked No. 4 in the Pac-12 and No. 19 nationally.
"They're not going to get there on their first targets," Biggins said of filling out the class. "They're going to have to go to some Plan Bs and Cs to hit that number."
Biggins said the Bruins are thought to be preserving some scholarships for transfers under a new rule that allows college players to enter their names into a national database and take official visits to schools while enrolled elsewhere.
The question is how many Pac-12-caliber players the Bruins will be able to get to fill so many holes.
"On the one side they're going to have a whole lot of spots to go before February," Biggins said, "but that's not really a positive either, I don't think, because there's just not a lot of guys who are picking them right now."
Follow Ben Bolch on Twitter @latbbolch
Get the latest on L.A.'s teams in the daily Sports Report newsletter.
You may occasionally receive promotional content from the Los Angeles Times.