Column: Mora remains dignified in defeat as his job security becomes more tenuous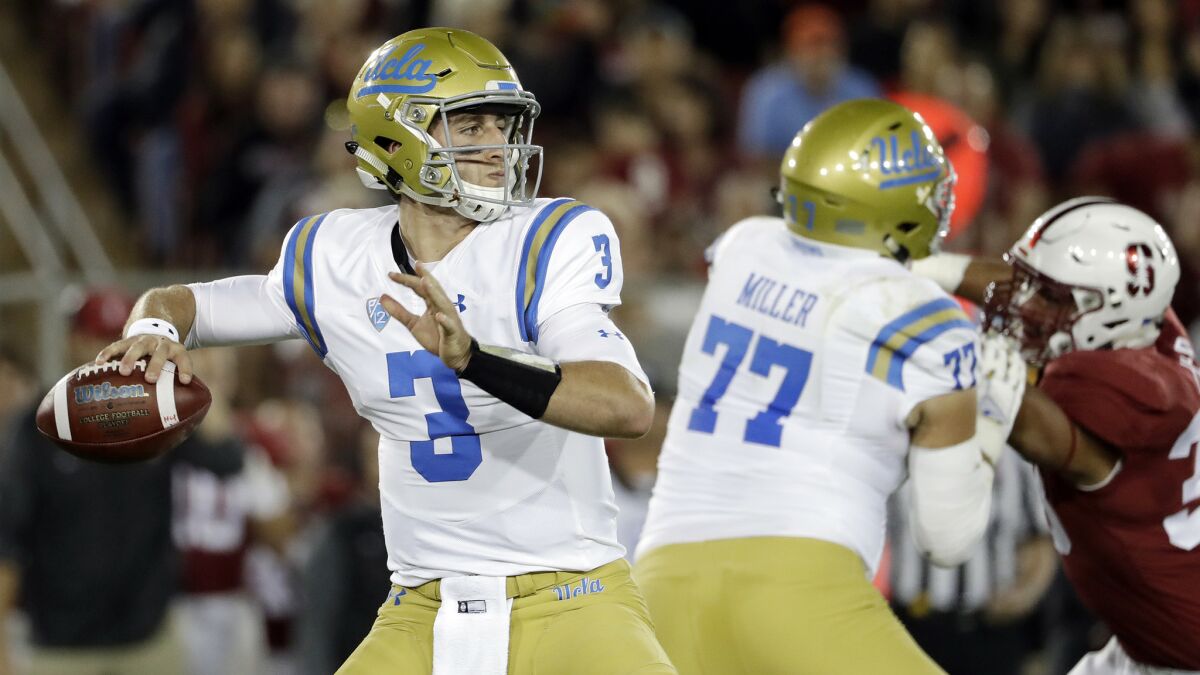 Reporting from Palo Alto —
The pledge Jim Mora made to UCLA's fans was a variation of a slogan used by the Atlanta Falcons, a team he coached more than a decade ago.
"We'll rise up," Mora said. "I promise UCLA fans we will rise up. We will absolutely rise up."
Watching his team being dismantled by Stanford on Saturday night, it was hard to imagine how. If anything, the demoralizing 58-34 defeat looked as though it could become the beginning of the end for a sixth-year coach whose reign started with so much promise.
The four-quarter nightmare at Stanford Stadium confirmed the worst of fears, that UCLA was lost and backsliding to where it was under Rick Neuheisel.
The calls for Mora's firing are certain to increase in volume after this defeat, a reality to which the coach sounded resigned.
"Here's my philosophy on life and in coaching, and this will never change," Mora said. "I go to work every day, and I have for the last 30-something years, and do the very, very best that I can. Every day. I never cheated a day and I'll never cheat a day. And I can live with that. I'll never cheat this university, I'll never cheat this team, I'll never cheat these fans, I'll never cheat the alums, I'll never cheat the students. I'll give them my very, very best every single second that I'm here."
He is in a results-oriented line of work, however, and the loss Saturday was the worst of his seven to the Cardinal. The margin of defeat wasn't the only reason why. This was the weakest Stanford team Mora has ever coached against.
The Bruins switched to more of a pro-style offense last season, in large part to compete with the Cardinal. If they couldn't beat this Stanford team, what does it say about the direction UCLA is headed?
Stanford is nothing like it was when it was nationally ranked in the top 10. It doesn't have the dominant offensive lines of past seasons. It can't stop the run, as USC demonstrated by rushing for more than 300 yards against it two weeks earlier.
If there was a time for Mora to win his first game against the Cardinal, this was it.
It didn't happen.
Running back Soso Jamabo ran for 100 yards, but that number was deceiving, as 49 of those were on a single first-quarter gallop. Without a reliable ground game, the offense remained overly dependent on Josh Rosen.
The defense maintained its porous form. Stanford quarterback Keller Chryst was injured on his team's second drive, and the Cardinal spent the remainder of the game alternating between backups K.J. Costello and Ryan Burns. The Bruins still couldn't stop their opponents, allowing 553 yards in total offense, including 405 on the ground. Stanford's last eight possessions resulted in seven touchdowns and a field goal.
"The big plays, you know?" Mora said. "The missed tackles, you know?"
The Bruins dropped passes on offense and missed tackles on defense. They committed 13 penalties, some of them extremely costly. They turned the ball over four times and the Cardinal scored 20 points on its possessions that followed.
"When you are struggling on defense, you just can't turn it over," Mora said. "You just can't turn it over and we've done that."
If not for the miraculous comeback against Texas A&M in the season opener, UCLA could be 1-3 right now. This after a 4-8 season.
Mora said he believed "great things" could still happen for his team this season. Did he think that was a requirement for him to remain UCLA's coach beyond this season? He is under contract through 2021.
"I don't worry about that," he said. "I'm worried about, right now, just helping our young guys recover from this, helping them get back on track. That's my concern. My concern is not with myself. My concern is with those 120 young men that are looking for someone to teach them how to handle adversity. That's what my concern is. Like I said, I do the best I can every day and I always will."
Asked what he would do to keep the noise out of his locker room, Mora said, "We don't listen to noise. We just don't. You'd be surprised. These guys, they don't read the paper."
What?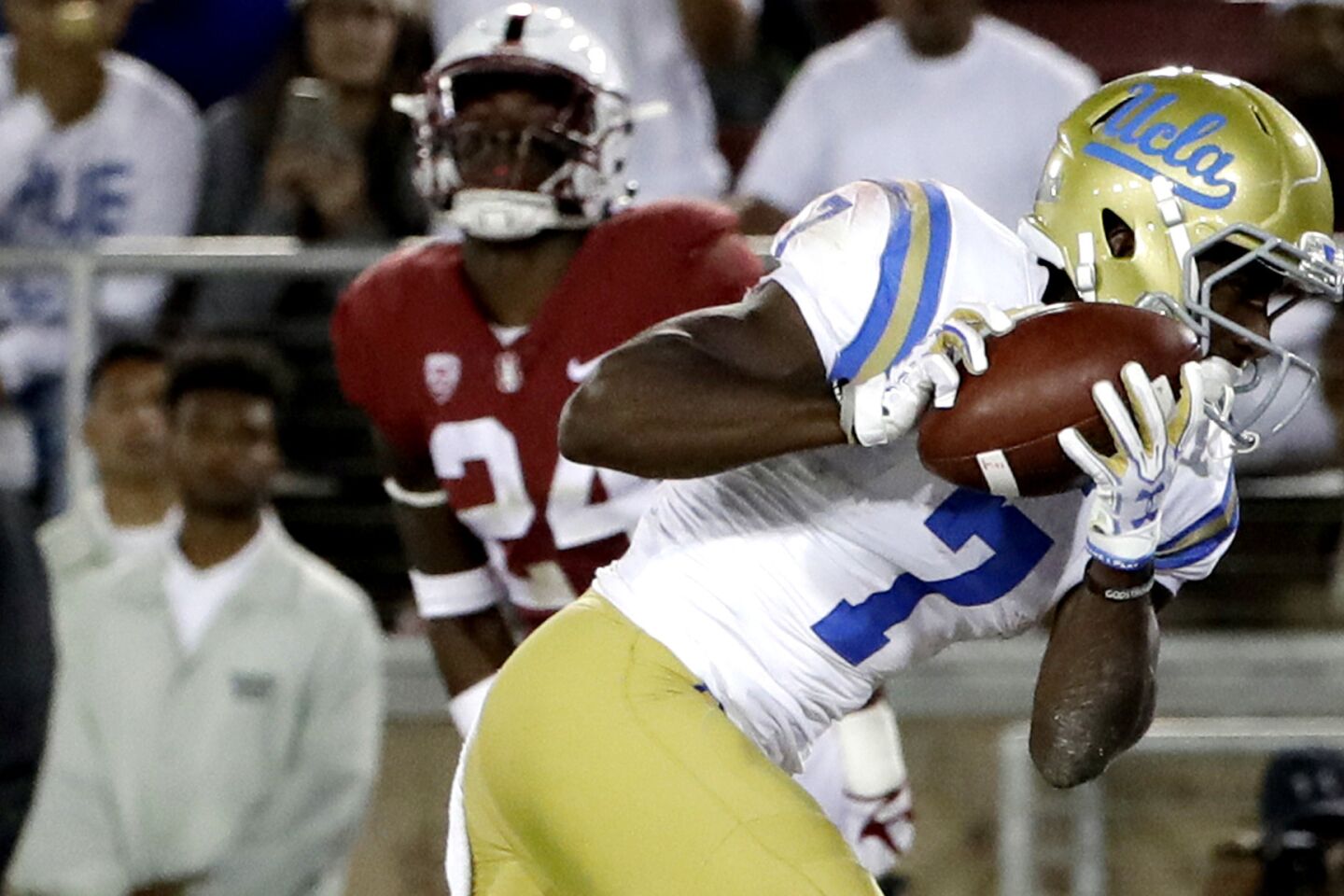 UCLA wide receiver Darren Andrews catches a touchdown pass during the first half.
(Marcio Jose Sanchez / Associated Press)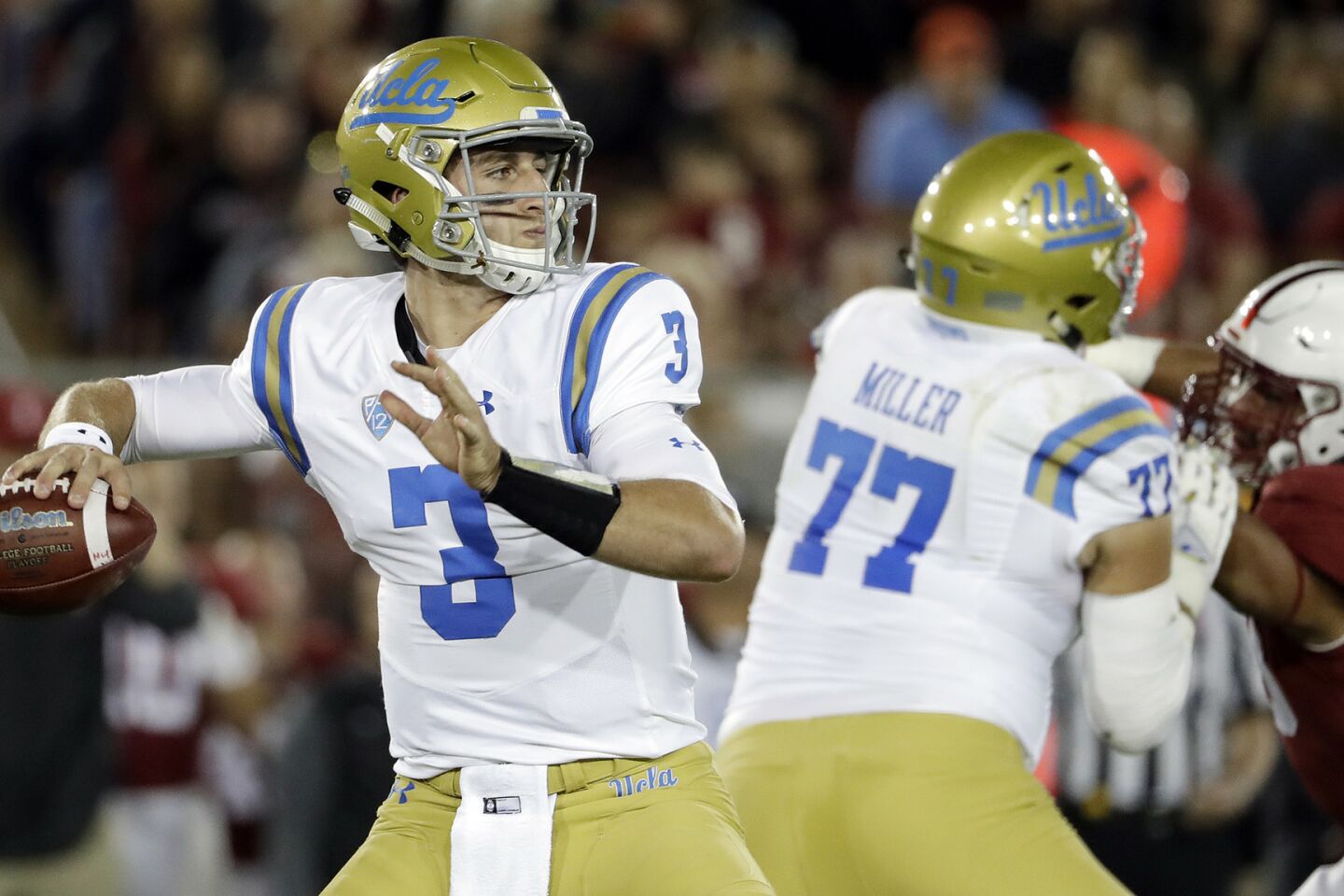 UCLA quarterback Josh Rosen prepares to throw a pass against Stanford during Saturday's game.
(Marcio Jose Sanchez / Associated Press)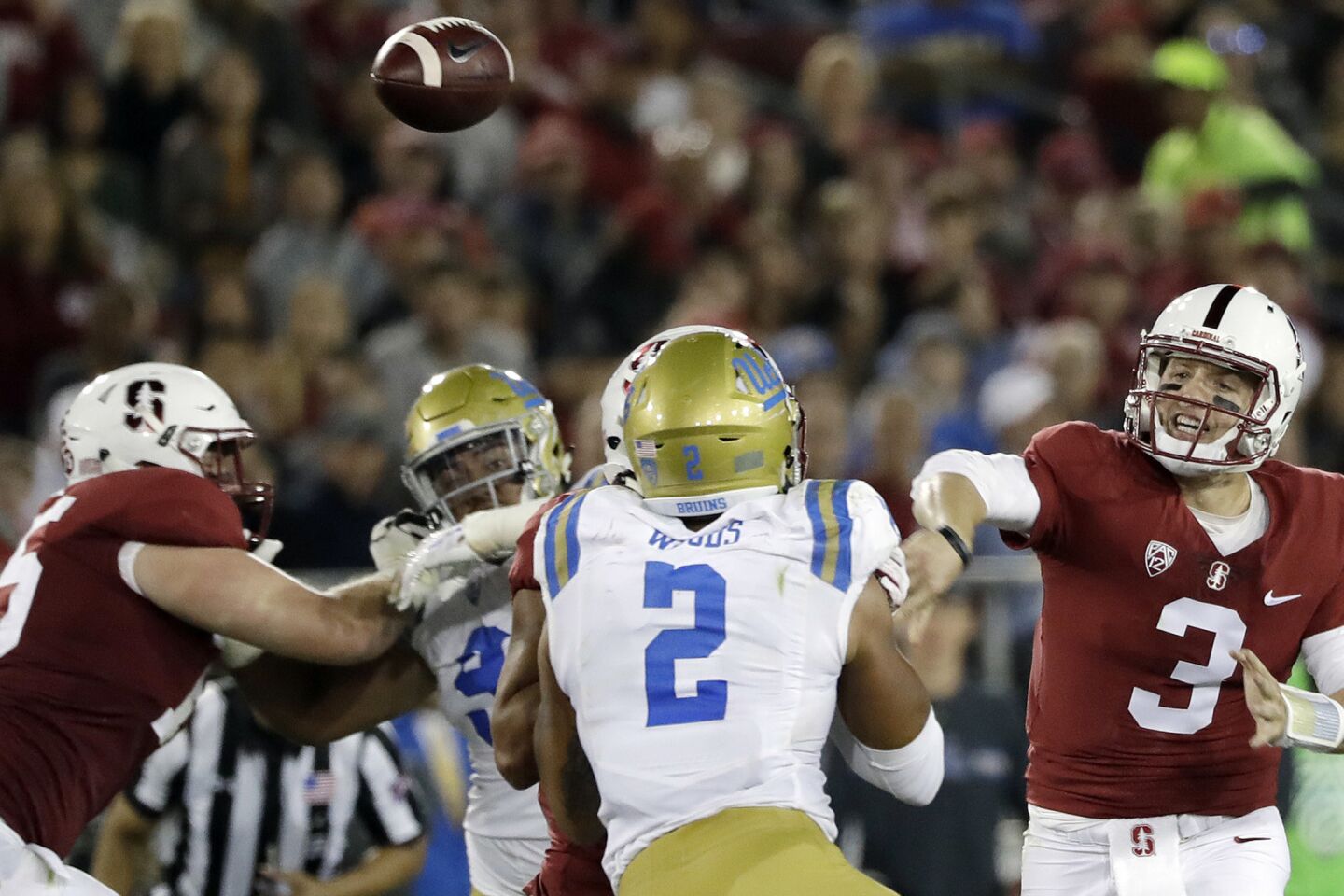 Stanford quarterback K.J. Costello throws a pass during Saturday's game against UCLA.
(Marcio Jose Sanchez / AP)
Cardinal running back Cameron Scarlett leaps over the Bruins' defensive line to score a touchdown during the first half.
(Marcio Jose Sanchez / Associated Press)
Stanford running back Bryce Love leaps past UCLA defensive lineman Jacob Tuioti-Mariner (91) during Saturday's game.
(Marcio Jose Sanchez / AP)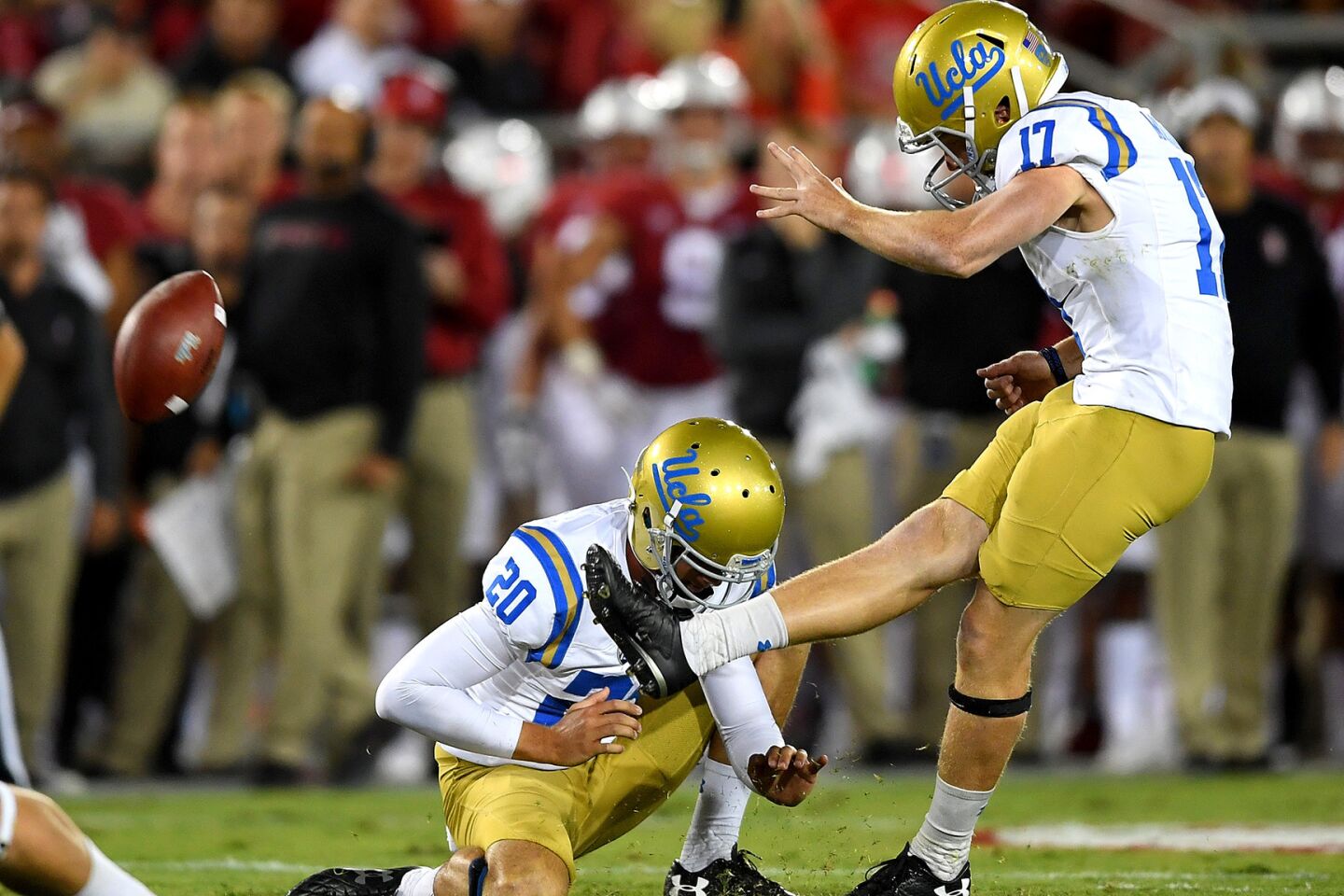 Bruins kicker JJ Molson converts a field goal against the Cardinal during the first quarter.
(Thearon W. Henderson / Getty Images)
Cardinal wide receiver Trenton Irwin makes against UCLA defensive back Denzel Fisher during the second half.
(Marcio Jose Sanchez / Associated Press)
UCLA wide receiver Jordan Lasley gets past Stanford cornerback Malik Antoine on a 39-yard scoring pass play during the second half.
(Marcio Jose Sanchez / Associated Press)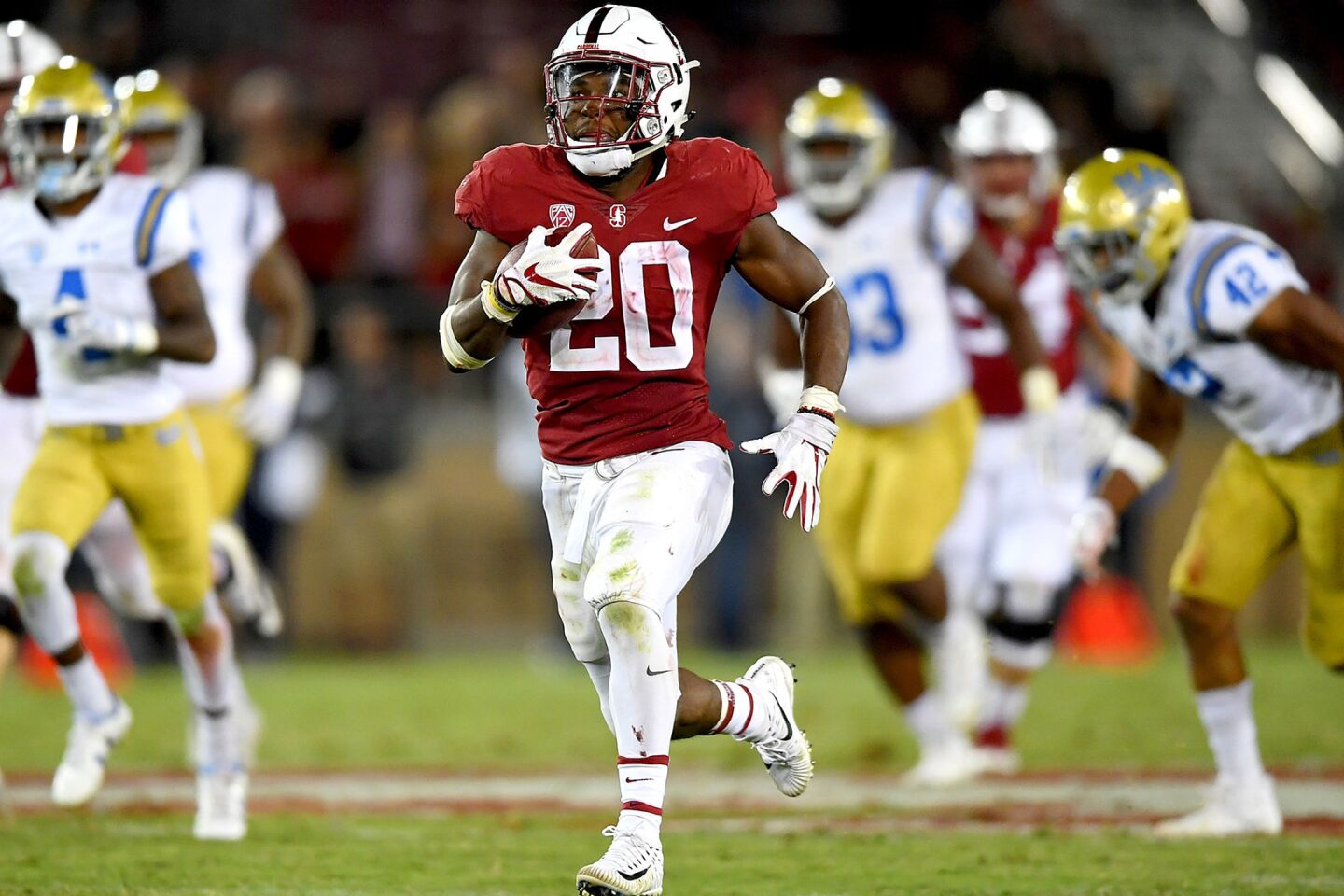 Cardinal running back Bryce Love breaks into the clear against the Bruins for a 69-yard scoring run to give Stanford a 51-34 lead in the fourth quarter.
(Thearon W. Henderson / Getty Images)
Mora smiled when told he should instruct his players to subscribe to this newspaper.
"This generation, it's a different generation, as you know," he said. "No, I don't worry about the noise, we don't worry about the noise. When it's going well, we try to shut the noise out and when it's going less than well, we do the same thing. … What matters is the voices within the locker room, not necessarily the voices outside the locker room, to us in what we're trying to get accomplished."
Mora was calm. He spoke matter-of-factly. He addressed his team's shortcomings and didn't back down from responsibility.
If his players watch a video of his postgame news conference, they will receive a lesson in how to remain dignified in defeat. That's worth something, but it's not enough. He has to win.
Get the latest on L.A.'s teams in the daily Sports Report newsletter.
You may occasionally receive promotional content from the Los Angeles Times.