UCLA football: They may not be first-rounders, but Bruins try to impress scouts at pro day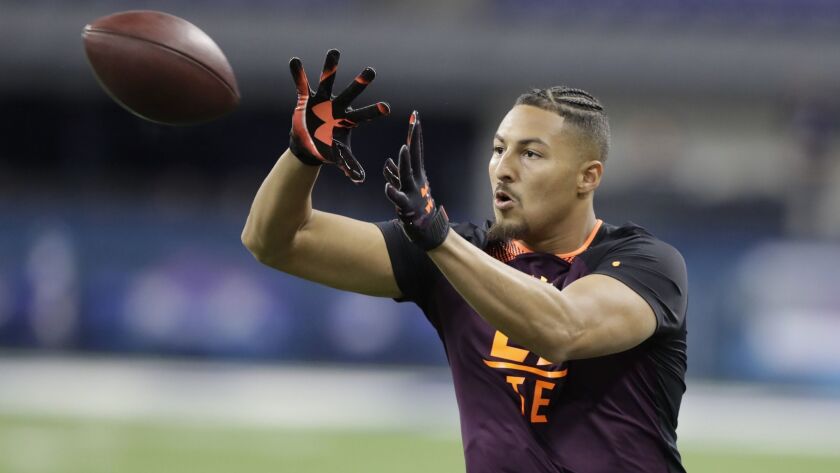 A year after a horde of NFL coaches, executives and scouts descended upon UCLA to assess quarterback Josh Rosen's potential as one of the top picks in the draft, the focus shifted to finding value at the fringes.
Tight end Caleb Wilson was the only one of the 12 current or former Bruins at the team's pro day Tuesday who is widely projected as having a chance to be selected in the first few rounds, though some mock drafts have him going much later.
Wilson said his father, Chris, the defensive line coach for the Philadelphia Eagles, advised him not to worry about the predictions of outsiders.
"The people who make up the mock drafts really don't make the decisions," said Wilson, whose 60 catches for 965 yards last season were school records for a tight end. "[The projections] can really get to you, so just focus on improving and you only need one team to fall in love with you, so that's all I'm trying to do."
Wilson sat out the 40-yard dash Tuesday after having clocked a time of 4.56 seconds that was the second-fastest for tight ends at the recent NFL combine. He did participate in the weightlifting at UCLA, bench-pressing 225 pounds 14 times.
Wilson and left tackle Andre James were the only Bruins invited to the combine. They were joined Tuesday at the team's practice facility by quarterback Wilton Speight; receiver Christian Pabico; punter Stefan Flintoft; running backs Bolu Olorunfunmi and Giovanni Gentosi; receivers Eldridge Massington and Alex Van Dyke; and defensive backs Adarius Pickett, Nate Meadors and Mossi Johnson.
Three players from Azusa Pacific and eight from Hawaii also participated in drills before about 60 NFL coaches, executives and scouts on a cool, breezy morning. Almost all the players were hoping just to slip into the final rounds of next month's draft.
"I'm not going to be a first-round or second-round or third-round guy," said Speight, the graduate transfer who also participated in Michigan's pro day last week, "but I might squeeze in there late in the draft or be a priority free agent."
Speight displayed good accuracy and arm strength on the deep passes he completed to his former teammates, and he hopes his injury-marred season at UCLA might be a prelude to greater things.
"Every obstacle that I've overcome since 2014, when I enrolled at Michigan, has been an uphill battle with the odds stacked against me," Speight said, "so I know this is no different and I don't plan on changing my ways in how I approach this."
Sign up for our daily sports newsletter »
Like Wilson, James departed UCLA with one season of eligibility remaining. James said family considerations nudged him toward the NFL after his father, Marcus, died from cancer in October.
"I would have loved to stay and stick around for another year," James said, "but my family comes first and that's something I want to take care of first, is my family, so that definitely was a big reason why I came out."
James called his decision "super tough," acknowledging UCLA's upward trajectory under coach Chip Kelly.
"I know that this program is going in the right direction," James said. "I've known it since the day coach Kelly got here."
Flintoft said he fully recovered from the hip flexor that forced him to miss the season finale against Stanford and recently worked out with a few NFL punters in Alabama. He did not like his performance Tuesday, however.
"I just wasn't in a groove, that's all," said Flintoft, who also attempted field goals and kickoffs to show his versatility. "But I think I still showed my leg strength."
If everything works out, he'll get another opportunity with an NFL team.
"Just whenever I get a phone call, whoever wants to take the chance," Flintoft said, "I'll show up and I'll try to outwork whoever it is I'm competing against."
Follow Ben Bolch on Twitter @latbbolch
---
Get the latest on L.A.'s teams in the daily Sports Report newsletter.
You may occasionally receive promotional content from the Los Angeles Times.